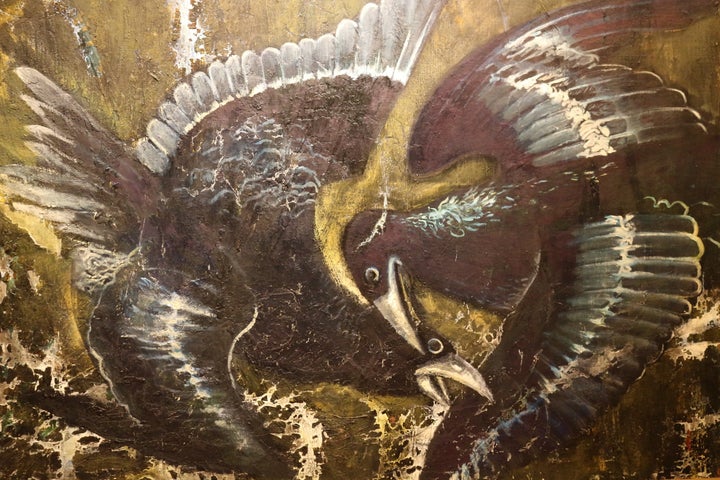 "I want the creatures to be the subject of my work, and I want to honor them. I want the strength of the spirit of each animal to come through in the work. I want them to be what they are and to have their own space. I will never create a piece without having a personal encounter or experience with the animal first."
R. Keith Rendall, Artist, Wiscasset, Maine
Artist R. Keith Rendall's life is an example of a life well lived. Keith has spent his time on earth wandering the deep forests of Maine, becoming acquainted with the animals who inhabit these spaces, and rendering them through his prints and paintings.
"Maine feeds the artist's soul," Keith says. "The wilderness of Maine gives me subject and purpose. My work here is alive because it is imbued with spirit. I've had countless encounters with creatures and want to share that with people. I want people to feel the way I do about nature. My art is a gift to the people of Maine."
I was drawn to Keith's large prints and oil color paintings of moose, turtles, birds, the moment I walked through the door to the Rendall Fine Art Gallery, located at 65 Maine Street in Wiscasset. I was on my way back from a Sonic Uplift event in Damariscotta when I stopped in Wiscasset to indulge myself in a bowl of homemade fish chowder at Sarah's Cafe. Then I needed to walk off the calories. As I wandered down Maine Street, I popped into a few galleries. I was put off by the typical lifeless Maine scenes of lobster boats and lighthouses in gilded frames. It is one of the ironies of Maine that although the bright northern light and scenic beauty of the state has attracted great artists for centuries, starting with the Wyeths through Dahlov Ipcar and countless others, yet the local galleries are dominated by cozy tourist-oriented kitsch.
When I wandered into the Rendall Fine Arts Gallery what I saw took my breath away: Two massive black birds locked in a dance of combat; a turtle, it's nose lifted just above the water line, so close we make eye contact; a duck within a ring of water emanating a maternal quality; the backs and heads of three moose companionably heading into the forest; a portrait of a regal white throated bird looking at me sidewise. I was entranced.
The artist was working on a print in a studio area at the back of the gallery. We sat down to talk. I asked Keith about his journey as an artist.
Keith's first childhood memories are of living at the Aqueduct, a real aqueduct outside of Princeton, New Jersey. When he was four Keith and his family moved into a house that was used by Einstein as his office. He spent his childhood on the Princeton University campus. The Graduate School and Theological Seminary were his playground. Discarded sets from the McCarter Theater were used by Keith and his brother and other children to craft their own "productions." Growing up in this academically and artistically rich environment, Keith was exposed to art and ideas and collegiate life. The family spent their summers at a camp on Mooselookmeguntick Lake in western Maine. There Keith learned to love nature and lose himself in the forest. Recently, he started a series of oil paintings based on memories of those days.
"My father would take us water skiing on the lake on calm days," Keith said. "I would look forward to days when the water was choppy and we could not water ski. Then I'd head out into the forest. But I never went out when it was windy. You need to be aware of your orientation in the forest, and you can't do that when it's windy. The wind throws you off. I've always been respectful of the wind."
In the forest he would wander, climb mountains, follow streams.
"I did a series of prints about the wood thrush," Keith says. "As a kid I'd go out and try to lose myself in the forest. When I heard the call of the wood thrush I knew that night was coming and that it was time for me to find my way home. The images I paint and make prints of today are based on my memories of those magical spaces."
Keith studied premed in college, but took an art history class, which he nearly failed, because he could not stay awake after studying all night to pass his premed courses.
"I realized there were cool piece of art out there and I could do the same," Keith adds.
He took his first drawing class and did well. Then he tried printmaking.
"The moment I walked into the print studio and smelled the ancient alchemy of the ink I knew that this was how I wanted to spend the rest of my life."
He changed majors and graduated with a Fine Arts degree from Kenyon College. After graduation a 92-year old letterpress printer in Princeton, who had done all the printing for Princeton University, sold him his letter press and all the equipment in his printmaking shop. For years Keith worked with making art combined with the old techniques of printing. Keith absorbed the mastery of the printers of a bygone era while working with his own themes. He has great respect for the Renaissance era printers and the legacy of printmaking. He established two letterpress facilities, as well as numerous printmaking studios.
Keith moved to Maine full-time in 1982. He has lived in western Maine and in mid-coast Maine. He has taught at University of Maine in Farmington and Lincoln Academy. He opened the gallery in Wiscasset four years ago. He works on his art seven days a week from 11 am to 6 pm. The gallery is open 11 am – 6 pm seasonally, and by appointment.
"I want to produce work, especially woodcut and graphics that will add to the legacy of printmaking," Keith says. He points to a 78" x 42" print of three moose and says, "It took me two years to carve that block. It does not bother me to spend two years of my life carving a single woodblock. It is a Zen experience. I have a need to work. The boredom does not bother me. I stick with it."
Keith Rendall is a master craftsman from another era. "Everything is instantaneous now," he says. "It is hard for people to grasp the process that goes into making a print."
He tells me an amusing story about a woman who wandered into the gallery and insisted that his prints were large photocopies.
"People don't want to believe that in the 21st century someone would spend three years carving one wood cut," Keith says and laughs.
"But isn't it hard to let the work go after spending so many years creating it?" I ask.
"By the time I'm done with a print or painting, it is an artifact, and I want to let it go. I am more interested in the new work."
I ask about a detailed large woodcut of a turtle.
"I was living on Rutherford Island. I thought, I've got to do a woodcut of a lobster. I went down to the lobster pound and bought myself a 3 ½ pound lobster and a bottle of wine. My studio at the time was in an old school house. On the way back with the lobster, I met a guy with a turtle. He gave me the turtle. So now I came home with a lobster and a turtle, and a bottle of wine. I planned to etch the lobster on copperplate. Whenever I do big works, I use two plates. So, I started drawing the lobster and had the turtle in my bathtub. I carved the block of the turtle for three days and then I released it into a local pond. It was a pond where herons would congregate, so I ended up doing a woodcut about those herons.
"Anyway, I etched my drawing of the lobster onto the copperplates and then I ate the lobster and drank the bottle of wine. It took me a few weeks to finish the copperplate of the lobster; I had to dip the plate 60 to 70 times in the acid bath before I felt the image was finished. I got organized to print the plate and went to bed. The next day I woke up in a panic. When you print an image it is inverted. Any lobsterman would see immediately that the crusher and the pincher were on opposite sides! I was ready to throw the plate away. I ran down to the lobster pound and studied the lobster in the tanks. I discovered that the crusher and pincher were interchangeable. I was relieved. I went back and made the print. I had to be right. I consider that lobster print my best work. It's extremely important for me to find out the truth."
Accuracy, precision, spirit—these are words that describe the prints and paintings of Keith Rendall. I ask him if he is concerned with an ecological message as well.
"I do not want to be pigeon-holed as an ecological or environmental artist, but my main concern and subject is the environment and threats to the environment. I want my message to be subtle. I want people to view my nature works and to come to their own conclusions," Keith says.
It is the loss of these great creatures that concerns me, or anyone who loves nature. Here in Maine, we live so close to nature. We feel the ravages of the extremes of weather; we are never more than two hours away from an encounter with a moose; we wake up each day to the brilliant northern light and go to sleep beneath a bed of stars.
I ask Keith about his thoughts to the threats to our natural environment.
Keith tells me about his next project for his gallery. It is titled, "Death of the Hive." The show will consist of a series of detailed linocut prints of bees printed on fine Japanese paper. The prints are meant to express how pollution and consumerism have led to the depletion of bee populations.
"I'd like to see my social ideas advanced," Keith says, "but I'm not using the artwork to move those ideas forward. I just want my work to be viewed in a little bit of a different way. People are blind to nature. They come to Maine to see it, and then they don't look up, and they miss seeing a bald eagle and a seagull fighting in the sky just over their heads."
"Those same people are the ones fueling the typical Maine landscape market," I say.
"If you are making art for a price range and a clientele," Keith says, "then you are filling a niche. That is not true creative expression. To be art it must be a true expression of the soul. To have integrity as an artist you have to be protective of the soul of your art."
"And what is the soul of your art?" I ask.
"I always carve or paint the eye of the creature last. The eye of a bird must have an expressiveness. When you are carving you can make so many errors and no one will notice the difference, but with the eye it has to be precise, believable, and that is because it is the soul of the creature. I will use a mallet and gauge to carve the eye. I take my time. I always save the eye for last. It honors the idea that the work is not done until the eye is complete."
I gaze around me at the prints and paintings on the gallery walls. As my eye roves along the three exhibition walls, I make eye contact with each creature, absorb their spirit, and feel that I have been initiated into their space.
R. Keith Rendall can be reached at: rendallfineart@gmail.com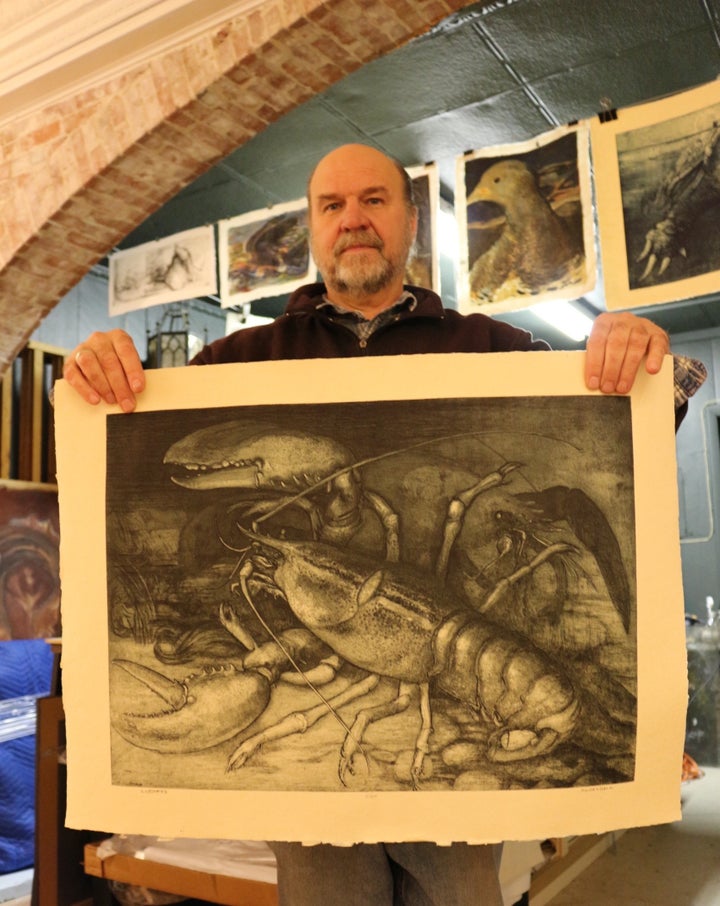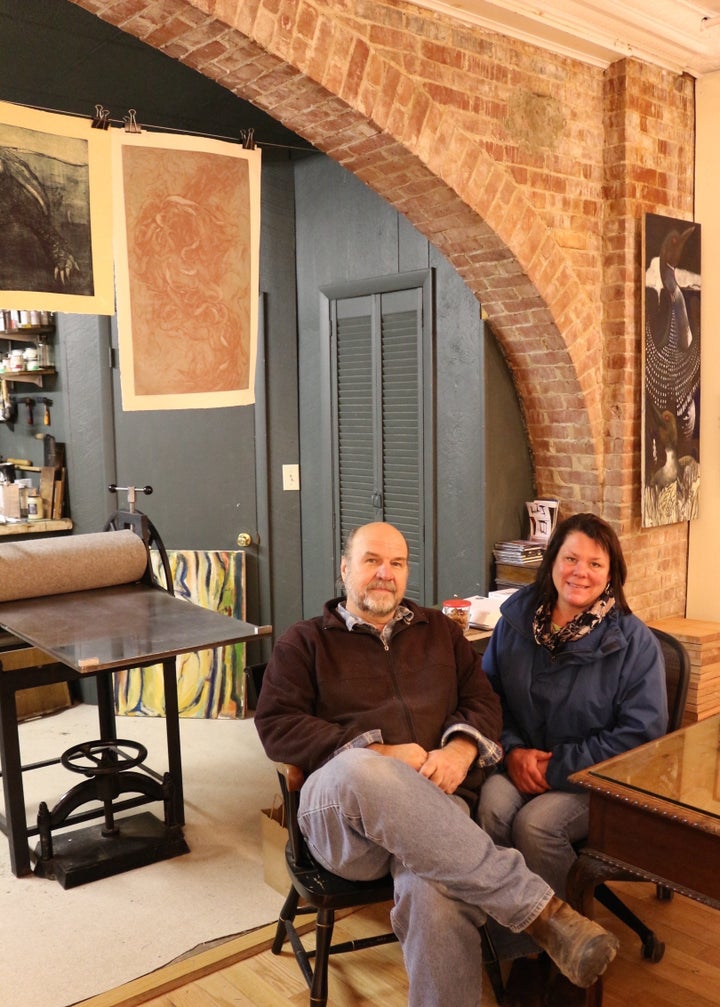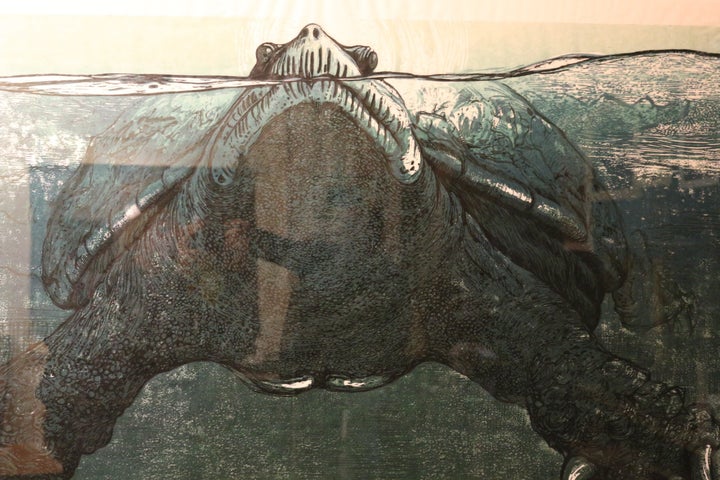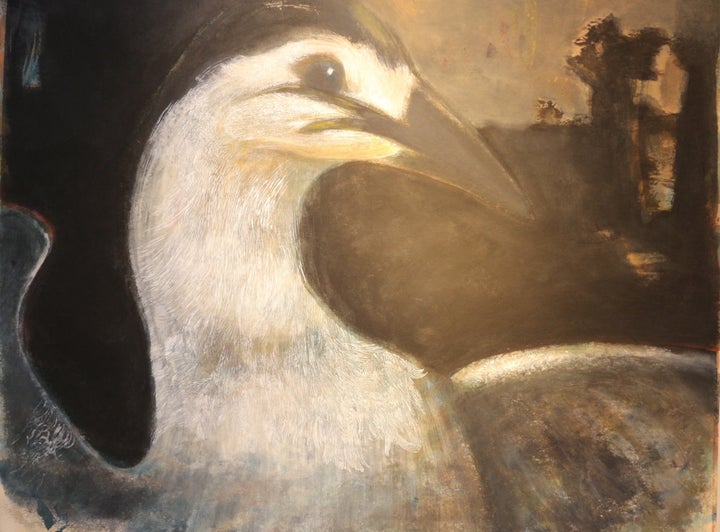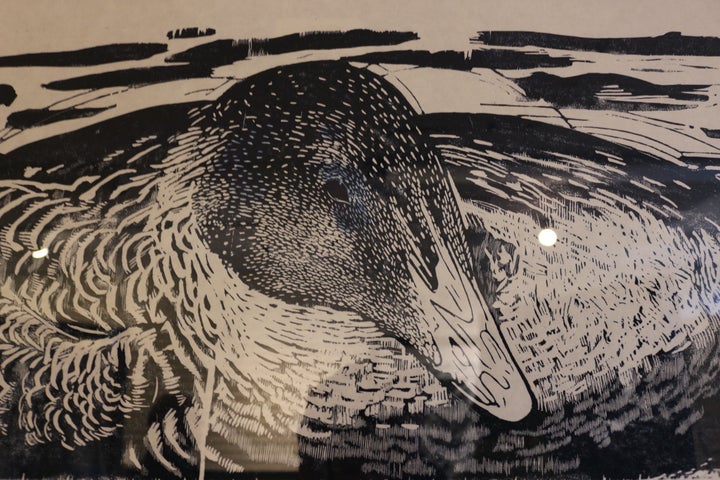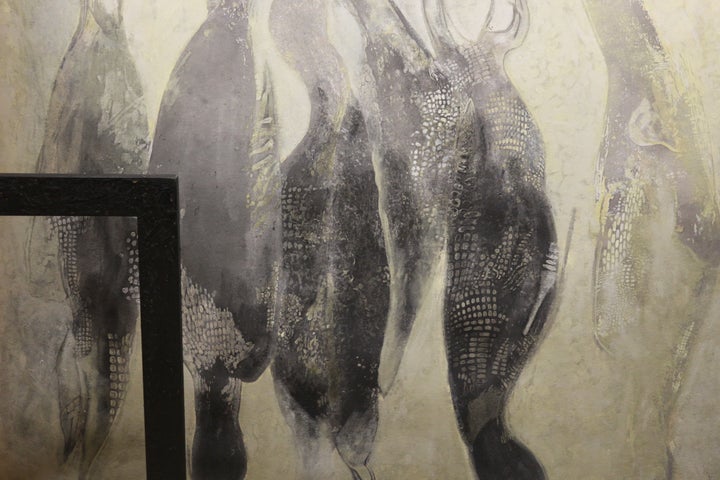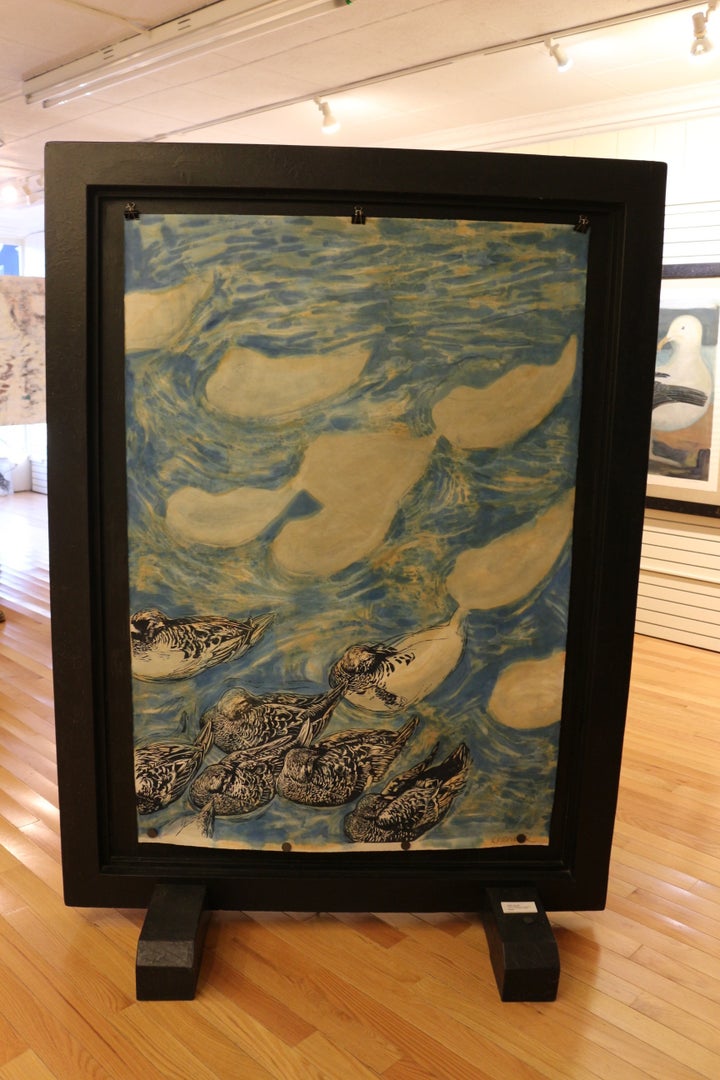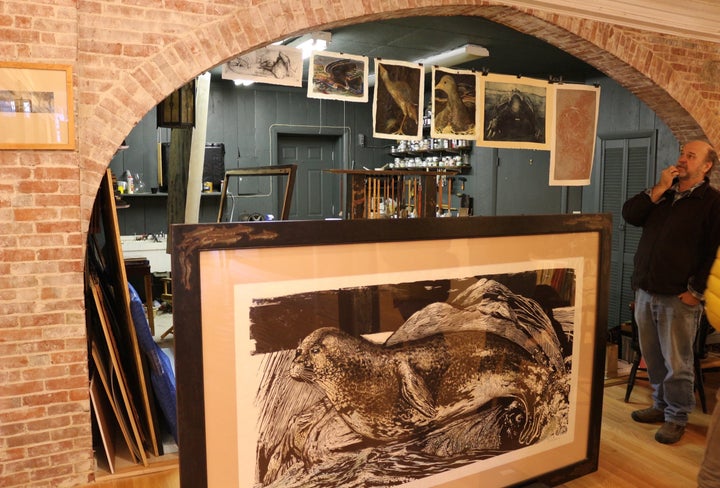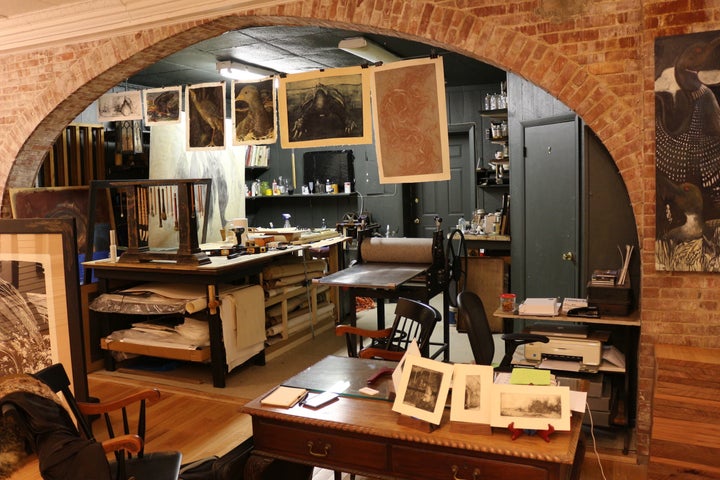 Popular in the Community