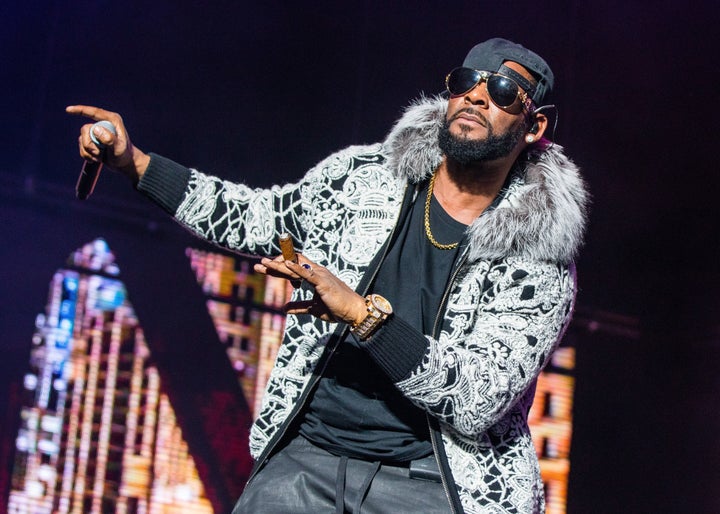 R. Kelly faces fresh allegations of sexual misconduct in a new BBC documentary — the latest in a decades-long string of sex abuse claims against the R&B singer.
The documentary, "R Kelly: Sex, Girls and Videotapes," released on Wednesday, features several people who accuse Kelly of predatory behavior. Kelly's musical career has been relatively unscathed by previous accusations, but the documentary raises the possibility he may finally face a Me Too reckoning.
Ex-girlfriend Kitti Jones says in the film that the singer forced her and other women to have sex with him in a "sex dungeon." She also said Kelly, whose real name is Robert Kelly, groomed an underage girl to be his sex "pet."
"I was introduced to one of the girls [in the 'dungeon'] that he told me he 'trained' since she was 14, those were his words," said Jones, according to The Guardian. "I saw that she was dressed like me, that she was saying the things I'd say and her mannerisms were like mine. That's when it clicked in my head that he had been grooming me to become one of his pets. He calls them his pets."
Jones, a radio DJ who dated Kelly for two years starting in 2011, said the singer once made the unidentified woman "crawl on the floor towards me and perform oral sex on me, and he said, 'This is my fucking pet, I trained her. She's going to teach you how to be with me.'" The Guardian reported that the age of the woman at the time of the encounter is not known.
Lovell Jones, a collaborator of Kelly's, says in the documentary that the singer's "liking for young girls" was "common knowledge." He said Kelly had instructed him to find girls who "looked young" at after-show parties.
Sexual misconduct allegations date back at least to 1994, when he allegedly married his protégé Aaliyah, who was then 15. In 2008, he was acquitted on child pornography charges after a video showed him allegedly having sex with and urinating on a 14-year-old girl. Kelly reportedly made out-of-court settlements with multiple women, including one who accused him of having sex with her when she was 15.
Kitti Jones, in interviews last year, described Kelly's sex "cult" involving several women.
"He controls every aspect of their lives: dictating what they eat, how they dress, when they bathe, when they sleep, and how they engage in sexual encounters that he records," BuzzFeed writer Jim DeRogatis wrote.
Jones told Rolling Stone Kelly forced her to "stand up and greet daddy" every time he walked into a room, physically abused her and forced her into uncomfortable sexual situations. She mentioned the incident in which another woman crawled toward her.
"I've trained this bitch. This is my pet," Jones quoted Kelly as saying.
Popular in the Community