Egypt woke up to a scene of devastation on Thursday, one day after security forces cleared two sit-ins occupied by supporters of ousted President Mohammed Morsi. According to Egypt's Health Ministry, the violence left more than 500 people dead and 3,700 injured.
A day after the bloodshed, little remained of the Rabaa al-Adawiyah mosque in Cairo's Nasr City, the epicenter of the largest Muslim Brotherhood protest camp. "They smashed through our walls. Police and soldiers, they fired tear gas at children. We are peaceful, no weapons, we didn't fire a shot, we threw stones. They continued to fire at protesters even when we begged them to stop," 39-year-old Saleh Abdulaziz told Reuters on Wednesday.
Take a look at these powerful photos, documenting the destruction of the religious shrine in Cairo.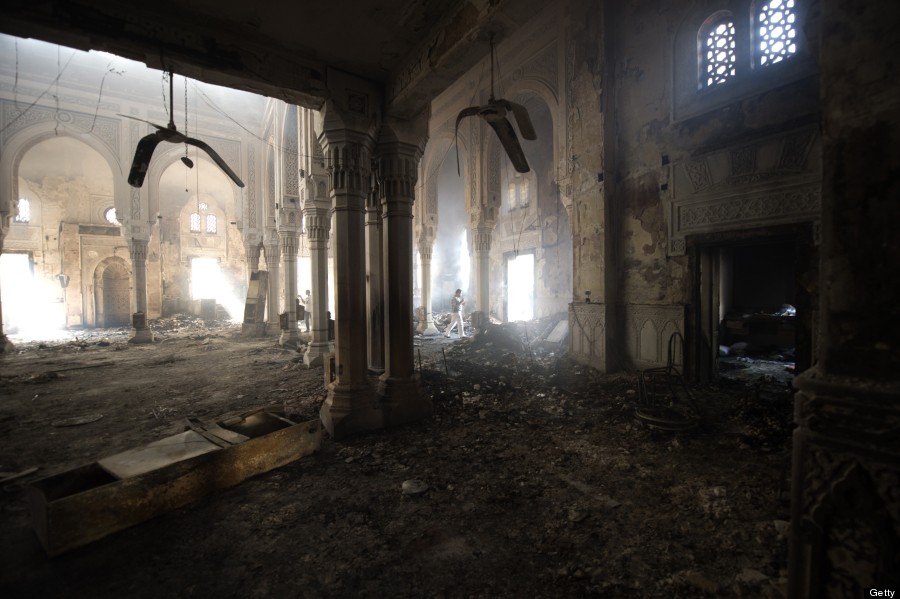 Egyptian men walk through debris and rubble inside the burnt down mosque of Rabaa al-Adawiya on August 15, 2013 in Cairo, Egypt. (KHALED DESOUKI/AFP/Getty Images) An Egyptian walks among the burned remains of the Rabaah al-Adawiya mosque, in the center of the largest protest camp of supporters of ousted President Mohammed Morsi, that was cleared by security forces, in the district of Nasr City, Cairo, Egypt, Thursday, Aug. 15, 2013. (AP Photo/Ahmed Gomaa) Egyptians inspect the inside of the burned Rabaah al-Adawiya mosque, where supporters of Egypt's ousted President Mohammed Morsi had a protest camp in Nasr City, Cairo, Egypt, Thursday, Aug. 15, 2013. (AP Photo/Khalil Hamra) Egyptian firefighters battle flames at the Rabaah al-Adawiya mosque, in the center of the largest protest camp of supporters of ousted President Mohammed Morsi, that was cleared by security forces, in the district of Nasr City, Cairo, Egypt, Thursday, Aug. 15, 2013. (AP Photo/Hassan Ammar) Egyptians walk among the burned remains of the Rabaah al-Adawiya mosque, in the center of the largest protest camp of supporters of ousted President Mohammed Morsi, that was cleared by security forces, in the district of Nasr City, Cairo, Egypt, Thursday, Aug. 15, 2013. (AP Photo/Hassan Ammar) Egyptians tour the inside of the charred Rabaah al-Adawiya mosque, where supporters of Egypt's ousted President Mohammed Morsi had a protest camp in Nasr City, Cairo, Egypt, Thursday, Aug. 15, 2013. (AP Photo/Khalil Hamra) Egyptians tour the inside of the charred Rabaah al-Adawiya mosque, where supporters of Egypt's ousted President Mohammed Morsi had a protest camp in Nasr City, Cairo, Egypt, Thursday, Aug. 15, 2013. (AP Photo/Khalil Hamra) Egyptians walk among the burned remains of the Rabaah al-Adawiya mosque, in the center of the largest protest camp of supporters of ousted President Mohammed Morsi, that was cleared by security forces, in the district of Nasr City, Cairo, Egypt, Thursday, Aug. 15, 2013. (AP Photo/Ahmed Gomaa)
Related
Before You Go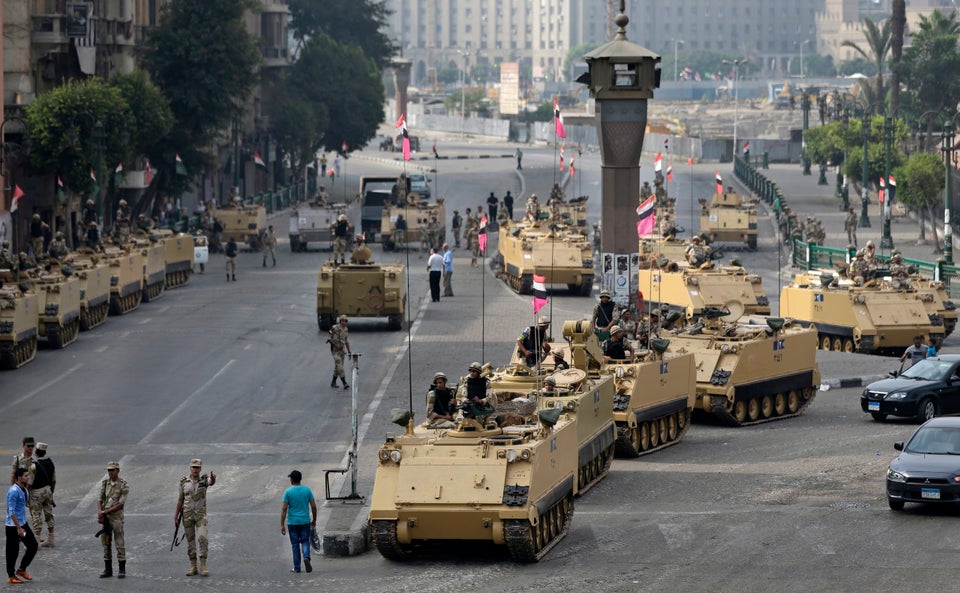 Clashes In Cairo (Warning: Graphic Images)
Popular in the Community