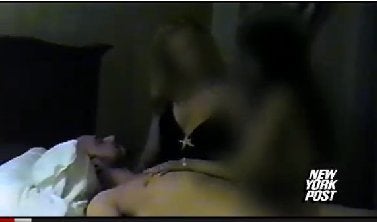 Rabinowich's estranged wife, Amora, managed to secretly film one of Rabinowich's scandalous hotel rendezvous's with a call girl after having heard of her holy hubby's penchant for prostitutes (he allegedly arranged the trysts after Sabbath services using his cell phone)-- and entered the photographic evidence into the record of a bitter custody trial.
"Since when are prostitutes kosher?" Amora told the Post, adding "And what kind of rabbi is he? He didn't even take these prostitutes to the mikvah [Jewish ritual cleansing bath] first."
The tapes, from a few years ago, weren't allowed in court and the couple was given joint custody of their three children. It seems Amora, a respected psychologist, released the tapes to the Post for fun, or perhaps in anticipation that the footage would further tarnish Rabinowich's reputation as she plans to make a motion in court to move the kids out to the West Coast.
The news is the latest in a series of New York area stories of Rabbis behaving badly. Rabbi Gavriel Bidany was convicted in May of fondling an Israeli Army officer on a JFK-bound plane. Brooklyn Rabbi Saul Kassin was convicted in June of using a charity he controlled to illegally funnel money to Israel. And also in June, David Twersky, a rabbi in Rockland County New York, was accused of ordering followers to burn down the house of a synagogue member who defected to another congregation.
WARNING: this video contains graphic content.
REAL LIFE. REAL NEWS. REAL VOICES.
Help us tell more of the stories that matter from voices that too often remain unheard.