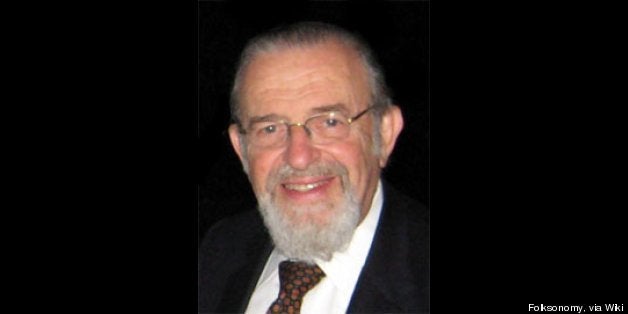 NEW YORK (RNS) The chancellor and head of the seminary at Yeshiva University, the flagship U.S. school for Orthodox Judaism, resigned his posts on Monday (July 1) and acknowledged that he had mishandled sex abuse allegations against staff members in the 1980s.
In a letter sent to students, faculty, alumni and donors, Rabbi Norman Lamm, 85, said that in failing to report the abuse complaints to police, he was acting "in a way that I thought was correct, but which now seems ill conceived."
"I understand better today than I did then that sometimes, when you think you are doing good, your actions do not measure up," wrote Lamm, for decades a leading figure in Orthodox Judaism.
"And when that happens — one must do teshuvah," he said, using the Hebrew word for repentance. "So, I too must do teshuvah."
Lamm's resignation comes more than six months after a Jewish newspaper, The Forward, revealed that university officials responded to complaints of sexual abuse by staff at an affiliated boys' school by quietly allowing at least two suspected abusers to leave and find work elsewhere.
More than 20 men have said that they were abused by either Rabbi George Finkelstein or Rabbi Macy Gordon and that the university knew about the allegations and covered them up; both rabbis, who now live in Israel, have denied the charges.
Kevin Mulhearn, a lawyer representing 22 men allegedly abused at Yeshiva University High School between 1971 and 1989, said Lamm's apology was "a positive first step" but said the university needed to do more.
"The conspiracy of silence at Y.U. involves many high-level administrators, not just Rabbi Lamm," Mulhearn told The Forward. "It is the institution as a whole, not just one man, which needs to make amends."
Lamm took over as Yeshiva president in 1976 and remained as chancellor and head of the prestigious seminary after he retired as president in 2003.
In his letter on Monday, Lamm did not directly say that he was stepping down because of the abuse scandal. He said the resignation was "in accordance with an agreement reached 3 years ago" and indicated that he was not in good health, saying that his family had to help him write the letter.
His discussion of the abuse episodes also took up just four paragraphs in a lengthy six-page reflection on his tenure.
The university said in a statement released to the Jewish Telegraphic Agency on Monday that Lamm had agreed to leave three years ago when his contract expired in June 30 of this year. The current YU president, Richard M. Joel, released a brief statement that made no mention of the abuse scandal and praised Lamm for guiding the university with "steadfastness and vision" and for making "unparalleled" contributions to Jewish life.
Still, Lamm's departure is another jolt to a cornerstone of the Modern Orthodox movement.
In May, The Forward reported that an investigation commissioned by Yeshiva's board of trustees to delve into the charges had stalled.
And in March a top rabbinic dean at Yeshiva's seminary gave a talk in which he said sex abuse charges can be "tall tales" spun by children and that they should be screened by a board of rabbis before being reported to authorities.
In the talk, Rabbi Hershel Schachter, one of the most respected members of the seminary's faculty, was also quoted using a derogatory Yiddish term for black people when he said that reporting abuse allegations is especially dangerous because officials could put a Jew "in a cell together with a shvartze, with a … black Muslim who wants to kill all the Jews."
The YU episodes also tracked reports that leaders in the ultra-Orthodox movement have covered up allegations of child sexual abuse in their insular communities, and may still do so.
These incidents, as well as reporting on sexual abuse scandals in schools, college football, the Boy Scouts and other organizations that work with children, have often mirrored the dynamic that led to the abuse crisis that has rocked the Catholic Church in the past decade.
Child safety experts say that broadening the focus on abuse to communities outside the Catholic Church would be a positive development if it prompts an awareness of the scale of the problem and the need to take action.
Related
Popular in the Community