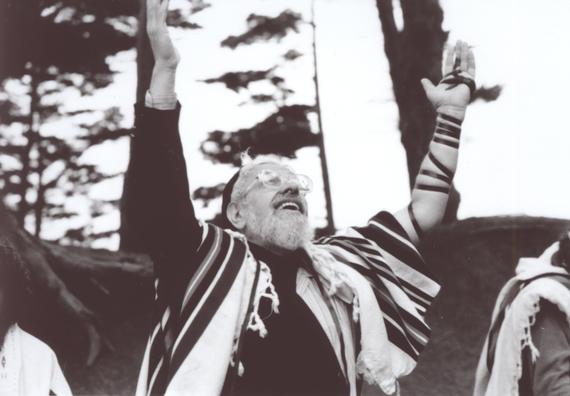 Rabbi Zalman Schachter-Shalomi, a spiritual innovator who developed a new trend in Judaism over the last half-century, passed away peacefully in his sleep on Thursday, July 3rd, 2014, at around 8:40AM in his home. He was 89. He will be buried at the Green Mountain Cemetery in Boulder, Colorado.
Schachter-Shalomi, better known as 'Reb Zalman' (a less formal title he preferred), was often a controversial figure in his lifetime, beloved of many and reviled by others. Those who loved him saw him as the visionary father of the Jewish Renewal movement, as a spiritual revolutionary who infused religion and inter-faith relations with a new vitality and contemplative depth. Those who opposed his innovative approach to Jewish spiritual practice felt he had betrayed the traditional values of Orthodox Judaism. Though this opposition diminished in his later years as former opponents came to appreciate his spiritual integrity and the need for new perspectives. But whether embraced or shunned, his impact upon Judaism and modern spirituality is undeniable.
Father of Jewish Renewal
Beginning in the 1950s, Schachter-Shalomi addressed himself to the masses of disaffected Jews who found their own religious tradition bereft of spiritual depth in the wake of the Holocaust. Along with his friend and fellow revolutionary, Rabbi Shlomo Carlebach (d.1994), he set out to find Jewish youth 'where they were' and to show them the depths and options still available within Judaism. For his currency and participation in the spirit of the times, some dubbed him the "Hippie Rabbi" in the 1970s, just as in the 1990s, many called him the "Cyber Rebbe" for his mix of Hasidism and technological savvy.
For the most part, Schachter-Shalomi's success was based in his liberal acceptance of people exploring alternate paths of spiritual awakening (from LSD to Yoga), and his legitimizing of alternate possibilities within Judaism (from the rabbinical ordination of women to the acceptance homosexuals), and not least on his making available to them the deepest teachings of Jewish mysticism and meditation.
Today, Jews the world over wear the B'nai Or 'Rainbow Tallit' (prayer-shawl) he designed, and Jewish Renewal rabbis and teachers are at the forefront of modern Judaism and its encounter with the changing nature of society. ALEPH: Alliance for Jewish Renewal, the organization he originally founded as B'nai Or Religious Fellowship, continues to serve the core of Jewish Renewal communities all over the world; and OHALAH: the Association of Rabbis for Jewish Renewal, originally begun by rabbis personally ordained by Schachter-Shalomi, meets every year for fellowship, learning and the ordination of new rabbis.
Innovator in Ecumenical Dialogue
From the earliest days of Schachter-Shalomi's career, he was continually involved in ecumenical dialogue with leaders and practitioners of other spiritual paths, from Trappist monks to Sufi sheikhs. These frequent forays into what was then forbidden territory led Schachter-Shalomi to describe himself as a "spiritual peeping-Tom." But far from being a mere browser, Schachter-Shalomi became deeply learned in the most minute aspects of the theory and experiential practice of these traditions, praying matins with the monks and performing dhikr with the Sufis.
This deeply personal approach to dialogue led to significant friendships with many of the world's great philosophers and spiritual teachers, including: Father Thomas Merton, Pir Vilayat Khan, Ken Wilber, and the 14th Dalai Lama.
The twin peaks of this ecumenical work had to do with the increasingly significant dialogue between Jews and Buddhists. Always sensitive and sympathetic to Jewish involvement in Eastern traditions, in 1990, Schachter-Shalomi was invited to a meeting in Dharamsala, India, between the Dalai Lama and Jewish leaders, to discuss how Tibetan Buddhism might "survive in exile." This dialogue, and Schachter-Shalomi's remarkable influence upon it, became the focus of a best-selling book by Rodger Kamenetz called The Jew in the Lotus. Immediately, the book became a catalyst for Jewish-Buddhist dialogue and the sensitive issue of why so many American Jews were involved in so-called 'Eastern' spiritual paths.
Within a few years, Schachter-Shalomi was invited to take up the World Wisdom Chair at Naropa University, the only accredited Buddhist-inspired university in the Western hemisphere. Naropa University in Boulder, Colorado became home to Schachter-Shalomi and a new phase of his teaching career. By the time of his retirement from Naropa in 2004, he had influenced thousands of students and spiritual seekers of all backgrounds.
Myriad Dimensions
Despite his profound impact upon American Judaism, his renewal teachings are still only beginning to take hold in Europe and Israel. To many, he remains a misunderstood figure, representing far more 'innovation' than they are comfortable with, and yet 'guilty' of far less than they usually suspect.
A charismatic and infinitely accessible teacher, he was able to tap-in to the particular need and interest of a generation ready for a paradigm shift in consciousness. His expansive personality and brilliantly creative mind never found a place to rest, but continued to push the margins of spiritual growth, using the language of emerging technologies and ecological awareness. Nevertheless, he was deeply committed to restoring vitality to as much of tradition as was possible, and to "re-formatting" it for modern use. In many ways, this was his particular genius, to build the "spiritual technology" of the future from the traditional wisdom of the past.
Life-Spectrum
Meshullam Zalman Schachter was born on August 17th, 1924 in Zholkiew, Poland, to Shlomo and Hayyah Gittel Schachter. In 1925, his family moved to Vienna, Austria, where he spent most of his childhood.
His father, a Belzer hasid with liberal tendencies, had him educated in both a 'leftist' Zionist high school and a traditional Orthodox yeshiva.
In 1938, when he was just 14, his family began a long and harrowing flight from Nazi oppression through Belgium, France, North Africa, and the Caribbean, until they finally landed in New York City in 1941.
In 1939, while still in Belgium, the young Schachter-Shalomi became acquainted with and began to frequent a circle of Habad hasidim who cut and polished diamonds in Antwerp. This association eventually led to his becoming a Habad hasid of the Lubavitch branch, in whose yeshiva he later enrolled in 1941, in Brooklyn, New York.
In 1947, he received his rabbinic ordination from the 'Lubavitcher Yeshiva' (Yeshivat Tomhei Temimim) and continued the outreach and teaching work he had begun the previous year in New Haven, Connecticut.
In 1948 or '49, he began to travel to college campuses with Rabbi Shlomo Carlebach at the direction of the Sixth Lubavitcher Rebbe and took up a post as a congregational rabbi in Fall River, MA. From 1952 to 1956, he was a congregational rabbi in New Bedford, MA.
By 1956, he had acquired a Master of Arts degree in the Psychology of Religion (pastoral counseling) from Boston University and had taken up a teaching post in the Department of Religion at the University of Manitoba, Winnipeg, Canada, which he would hold until 1975.
In 1958, with the blessing of the Seventh Lubavitcher Rebbe, he wrote and privately published what was perhaps the first book on Jewish meditation in English. Later reprinted in The Jewish Catalog, this little manual would be read by an entire generation of Jews, and would reach individuals as diverse as President Zalman Shazar of Israel and the Christian monk and spiritual activist, Thomas Merton.
In 1964, inspired by examples of Trappist spirituality, the Dead Sea Scrolls, and the Hasidism of his teachers, Schachter-Shalomi founded the neo-Hasidic B'nai Or Religious Fellowship with a small circle of students.
By 1968, he had earned his Doctor of Hebrew Letters from Hebrew Union College and was effectively 'divorced' from the Lubavitcher hasidim over issues relating his controversial engagement with modern culture and other religions. Nevertheless, he continued on as an 'independent' hasid, teaching the experiential dimensions of Hasidism as one of the world's great spiritual traditions. That year, he was also influential among the group who formed Havurat Shalom in Boston.
In 1974, he ordained his first rabbi, Rabbi Daniel Siegel of British Columbia (one of the current leaders of ALEPH) and helped to found the Aquarian Minyan of Berkeley, California.
A few years earlier, he had begun to study Sufism and meet with Sufis in California's Bay Area. This eventually led to his being initiated and ordained as a Sheikh in the Sufi Order of Pir Vilayat Khan in 1975. That year, he also became professor of Jewish Mysticism and Psychology of Religion at Temple University, where he stayed until his early retirement in 1987, when he was named professor emeritus.
1984 saw the birth of a new period in Schachter-Shalomi's life. That year, he took a forty-day retreat at Lama Foundation in New Mexico and emerged with a new teaching about "spiritual eldering," which later developed into his popular book, From Age-ing to Sage-ing, and led to his founding the Spiritual Eldering Institute, whose work is now carried on by Sage-ing International.
In 1986, B'nai Or ('children of light') Religious Fellowship became P'nai Or ('faces of light') Religious Fellowship, which would later undergo one more transformation and take up its current name, ALEPH: Alliance for Jewish Renewal.
In 1995 he accepted the World Wisdom Chair at the Naropa Institute (now Naropa University) from which he officially retired in 2004.
In 2004, Schachter-Shalomi participated in the Vancouver Peace Summit, where he gave an address to the session on "Balancing Educating the Mind with Educating the Heart" at the Chan Centre for the Performing Arts and dialogued with Nobel laureates, the 14th Dalai Lama and Bishop Desmond Tutu. He also co-founded the "Sufi-Hasidic," Inayati-Maimuni lineage of Sufism, reviving the medieval tradition of Rabbi Avraham Maimuni and allowing the Hasidic lineage of the Ba'al Shem Tov to integrate with the Sufi lineage of Hazrat Inayat Khan.
In 2005, he witnessed the creation of The Reb Zalman Legacy Project, an initiative of the Yesod Foundation "to preserve, develop and disseminate" his teachings, which eventually led to the donation of the Zalman M. Schachter-Shalomi Collection to the University of Colorado at Boulder in 2011 and the creation, in cooperation with the Program in Jewish Studies, of the Post-Holocaust American Judaism Archives in 2013. Since then, the University of Colorado has hosted an exhibit on his life and work, as well as a symposium on his influence upon Jewish music.
In 2012, Schachter-Shalomi was awarded an honorary doctorate of theology from the Starr King School for the Ministry in Oakland, California, and gave a popular series of lectures on the "Emerging Cosmology" as a part of its inaugural symposium, "Living in the Differences."
In 2014, he was again awarded an honorary doctorate from Hebrew College in Boston, Massachusetts, for his many contributions to global Judaism and his influence upon the college itself. Shortly thereafter, he traveled to Connecticut to lead a Shavuot retreat at the Isabella Freedman Jewish Retreat Center. After this retreat, he fell ill with pneumonia. He recovered sufficiently to return home to Boulder on June 19th, and seemed to be improving steadily, before passing in his sleep two weeks later.
His greatest interest in his last years was to articulate the foundations of a new manifestation of Hasidism, which he called "The Fourth Turning of Hasidism," and to contribute to the evolving understanding of religion and spirituality. At the time of his passing, after hundreds of hours of dialogue on the subject, Foundations of the Fourth Turning of Hasidism, a short statement of principles written with a student, was being prepared for publication, the last writing he read and approved.
A few of Schachter-Shalomi's most significant books include: Spiritual Intimacy: A Study of Counseling in Hasidism (1991), Paradigm Shift: From the Jewish Renewal Writings of Reb Zalman Schachter-Shalomi (1993), From Age-ing to Sage-ing: A Profound New Vision of Growing Older (1995), Jewish with Feeling: A Guide to Meaningful Jewish Practice (2005), A Heart Afire: Stories and Teachings of the Early Hasidic Masters (2009), Sh'ma': A Concise Weekday Siddur for Praying in English (2010), Gate to the Heart: A Manual of Contemplative Jewish Practice (2013), and The December Project (2014).
He is survived by his wife, Eve Ilsen (married in 1994); ten children, Mimi Gess of Israel, Shalom Schachter of Toronto, Joseph Schachter of Calgary, Yale Schachter of Vancouver, Tina Duskis of New York, Jonathan Schachter of Vancouver, Lisa Vito of Vancouver, Shalvi Schachter of Israel, Barya Schachter of Israel, and Yotam Schachter of Boston; and his child by donation, Rosi Greenberg of Philadelphia; numerous grandchildren and many great-grandchildren; a brother, Joseph Schachter of Israel, and a sister, Dvorah Kieffer, also of Israel.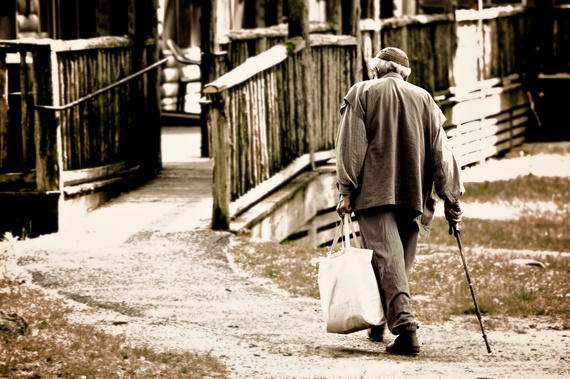 Related
Popular in the Community