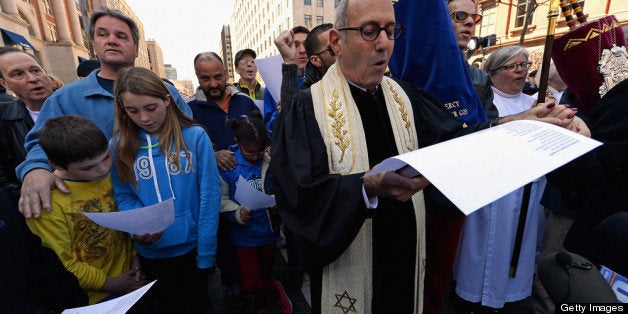 On Parshat Emor in the Book of Leviticus
Once upon a biblical time, as the narrative in Emor tells us there was a particular kind of Jewish leader called the kohen hagadol, the big or great priest. Ostensibly, he was not a "high" priest: He used but frankincense, myrrh, saffron, cinnamon, galbanum and a pinch of the salt of Sodom.
Do not confuse the Kohen with the kahuna, a Hawaiian term for healer, priest, sorcerer, magician or expert. Do not confuse him with the "Big Kahuna," from a 1959 Gidget film, referring to the leader of a group of surfers, a term now used in urban slang for a big shot, perhaps in the same way that Jews speak of "big machers." (I confess, I did do a Google search, and on a personal ad, I found someone named Kahuna Kohen, and he is Hawaiian.)
The Kohen's position in the ancient temple was inherited; surely he was groomed from birth to one day wear the priestly breastplate, to sacrifice and stand in the holy of holies, perhaps not unlike the way a lama is brought to a monastery and is prepared for the spiritual life ahead. We still have the ancestors of kohanim, but they are rarely raised or treated differently. Nowadays, any Kohen can come off the street and enter our synagogue; we take the word of his lineage without question, we put a yarmulke on his head if he lacks one, we supply him with the blessing for the first aliyah, or a transliteration if he needs it. Up to the bima he goes, and back down. In Orthodox settings, you get more of a taste of the Kohen's former power and splendor. At a point in particular services, the local Levites actually wash the feet of the Kohanim before they cover their heads with their prayer shawls and, with their fingers in what most know as "Star Trek" formation, they drone a priestly blessing. The congregants pointedly do not look lest, as my grandmother would warm, they would be blinded.
The Kohen of old needed to observe particular rules of purity still followed by some Kohanim to this day. He resisted sources of defilement so he could enter into God's presence. Except for those of his closest of kin, he avoided dead bodies, standing beyond the gates of the cemetery. He could marry only a virgin or widow of a Kohen -- no divorcees for him. No creating bald spots either; no shaving the edges of the beard. A physical defect and he was disqualified.
Holy were the Kohanim to their God on account of the fire offerings they brought near to God. For the food offerings the brought near. They were holy.
The connection between the Kohen and God could take place only at a set time, in a particular chamber--with libations and smoke. Through symbolic ritual, the Kohen could vicariously assuage guilt, effect atonement, and demonstrate gratitude. He was a cultic intercessor. God did not speak directly to the Kohen as he once spoke to prophets, and before them, the biblical figures, such as Abraham, Sarah and Moses. God's connection to the Kohen was attenuated, more distant, as Rabbi Yitz Greenberg has elegantly described it.
Once upon a rabbinic time, a long period that preceded and followed the final destruction of the Temple in Jerusalem, there was another kind of leader -- a Rabbi. The Rabbis of that period were neither like the Kohanim or the rabbis of our day. The capital-R Rabbis studied the tradition and made it up too as they went along: their base of power was determined by their knowledge, charisma and, sometimes, lineage. As Yitz Greenberg put it, God was even less present to the Rabbis than God was to the Kohanim. Still, the redactors of their collected teachings over the ages did claim, that their teachings were as sacred as the Torah. Though spoken by flesh and blood people over generations, the teachings were referred to as having been given to the Jewish people as an oral Torah at the very same time that the written Torah was delivered. (Talk about a strategy to establish one's powerbase.) God spoke to the generations to come through their words. The Rabbis argued, debated, sometimes they hated each other and behaved badly. Many went about collecting money and negotiating with the authorities on behalf of their communities; some worked miracles and performed healings and dream interpretations, they preached and took questions and gave responses. They taught, but most practiced trades. By some miracle and by a great deal of improvisation, at least as the story has been told by rabbis of generations to come, their debates, stubbornness and compromise created a template for a post-temple religion that could unfold and be flexibly maintained in exile. There was enough raw material for a theology that explained why, despite the many facts that seemed to indicate that God had abandoned the Jews, this was actually NOT the case. The Rabbis were the ones shaping what we would look back and call rabbinic Judaism. From Talmud and Mishna, one might think that what the capital-R Rabbis decreed, everyone did. That is unlikely, for they differed even among themselves.
Some say that the period of Judaism we are now in, its institutions and leaders, are on the verge of major transformation. Jewish institutions are definitely changing: in the past days and months, Jewish federations have let go their staff with donations decreasing and pledges unfulfilled. The doors of JCC's are closing, Jewish day schools with impossible tuitions are closing too, though some have merged with others to survive. In the 1980s, Rabbi Greenberg predicted that that the synagogue would cease being the main address of Jewish community: more secular "third" spaces would take over: The Federation, the JCC, the Holocaust museum and Jewish Studies departments. He predicted that laypeople would become so learned and so particular in personalizing Judaism for their own needs that they would become their own rabbis, and the real rabbis, now rabbis' rabbis, would probably want to spend more time on spiritual retreats and sabbaticals, where they could study Torah with other rabbis' rabbis. Meanwhile, the lay rabbis, with their easy access to Jewish learning, would have no more, but no less access to God than their own rabbis. Needless to say, yoga and meditation were available for all.
The liberal rabbis and many Modern Orthodox rabbis of this modern era got college degrees, then went on to rabbinical seminaries. They learned how to learn the sacred texts that most of their congregants had little appetite to learn, let alone master. They learned, more likely in the field, how to be CEOs of institutions, to get along with boards that hired them, to do social work and family therapy, and to run schools. They learned how to live as practicing Jews; many to wrap their minds around doing so as among the few members of their congregation living in such a way.
I don't know that the models of the last hundred years for synagogues or for rabbis have much more steam left. I am sure that when rabbis go to rabbinical conventions, they hear the language being used, often inflected with the language of Silicon Valley. Forget about being on the cutting edge -- that's so last year, and pushing the envelope is a decade old. "We must foster periodic and enduring relationships and partnerships; we must go to where people are, innovation, incubation, new models and paradigms, social networks, information shared and not owned." The president and CEO of the Jewish Funders network suggested this month that we needed "meta-innovation" in developing new theologies -- concepts of God and the quest for meaning -- even more than we need "innovation in programs and services."
If there's a major Jewish change ahead of us -- some Jewish prognosticators use the term tsunami, which makes the possibility of future change seem life threatening and not life enhancing -- if there is change ahead of us, many of us don't see it coming. This is the case for my community in Charlottevsille. We might have too little space one season, and too much another; too little money or not quite enough in our coffers -- but by and large, we have a robust enough community. And maybe for us, things might just go rolling on in their way for quite some time as we have integrated our share of the same incremental changes other communities have embraced: a solar Ner Tamid, various prayer options and the books to match them, strengthened community partnerships for the good of our city, the best pre-school, bar-none. We do not have a "mishna garden" that supplies organic food to a local food bank, but if we had a little plot of land, surely we'd be hoeing and planting. But maybe there are big possibilities of change ahead of us. New institutions, or shared community infrastructures, Judaic entrepreneurs instead of rabbis, even a new thinner, quicker, God, with or without a service contract -- one who is more powerful, ultra-fast, interactive and fun! Maybe technology will bring us back full circle to direct communication with a God whom we will hear and see with our Google glasses. Who knows? Come what may, I trust our current rabbis' rabbis are preparing us. I share the prayer of my own rabbi, Rabbi Daniel Alexander:
May we turn inward, renewing our faith in ourselves.

May we turn upwards, renewing our faith in the God of compassion.

And may we turn outward, renewing our faith in the human capacity for goodness, for sharing, and for love.
Calling all HuffPost superfans!
Sign up for membership to become a founding member and help shape HuffPost's next chapter