A man who earlier claimed to be the person featured in a viral video showing someone rescuing a rabbit from the side of a highway during a southern California wildfire may not be the celebrated bunny savior after all.
On Friday, Oscar Gonzales told NBC Los Angeles that he was the rabbit rescuer, saying he was motivated by his love for animals. He said there were two rabbits — which sounded like lost domestic pets, not wild rabbits — and that he was able to grab at least one, then release the bunny in a fire-free area. His story appeared to change when he later spoke to the Daily Mail, telling them he saved an entire "rabbit family."
Now, a second man has told HuffPost that he's the one really featured in the video. And his story is backed up by a local veterinary office and a wildlife rehabilitation center.
Caleb Wadman, 21, told HuffPost that he was on the highway in La Conchita earlier this week when he spotted a small wild rabbit "in significant distress."
He acted instantaneously when he saw the panicked animal.
"I just ran out," he said. "I had faith … and that's when the bunny ran back towards the flames. And I was like, 'No, baby bunny, I'm here. I'm going to take care of you.'"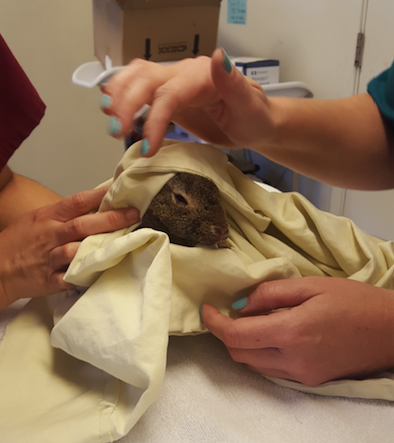 Wadman reached out to HuffPost after being given contact information by Duane Tom, the director of animal care at the California Wildlife Center, where the bunny he saved is being treated. Tom told HuffPost that the rabbit, a wild female cottontail suffering from burns and heat damage, had been transferred to the center after the man later identified as Wadman brought her to Conejo Valley Veterinary Hospital.
Staff at Conejo Valley Veterinary Hospital did not mention Wadman to HuffPost by name, though their account of what happen suggests that Wadman, not Gonzales, was the man in the video. The rescuer who brought the rabbit in was wearing the exact outfit seen in the clip, and he reported he had saved the bunny from the same location where the video was shot, said receptionist Montanna Harrington. This man could not have been Gonzales, since he has said that he simply released the rabbit outside.
This information doesn't mean that Gonzales lied about saving a rabbit: It's possible that more than one rabbit rescue occurred that night. However, it appears only one was on camera. NBC Los Angeles did not reply to a request for comment about how they confirmed Gonzales was the man seen on camera.
As for the rabbit Wadman rescued, Tom told HuffPost on Friday that she was improving, but it was too soon to tell how fully she'd recover. And though some naysayers criticized the rescue, saying that a wild rabbit surely didn't need human assistance, Tom says that in this case, those people are wrong.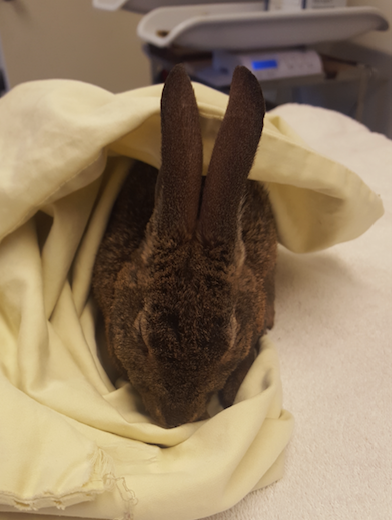 While Tom said he would not necessarily advise that anyone put themselves or others at risk in similar situations, he said that in this case, the bunny "definitely" needed medical help.
UPDATE: Dec. 11 ― NBC Los Angeles, which originally identified Gonzales as the rescuer, said it used enhanced video technology to confirm that the man seen in the video was actually Wadman. The station has corrected its earlier report.
Related