Friday, July 12, 2013, is one of those immortal days where you will remember exactly where you were and what you felt when six jurors (all non-black females) acquitted George Zimmerman of the crime of killing the unarmed, African-American teen, Trayvon Martin. As fate would have it, I was in my seat at the Rogue Machine Theater in Los Angeles, waiting for the all-black cast of One Night in Miami to take the stage.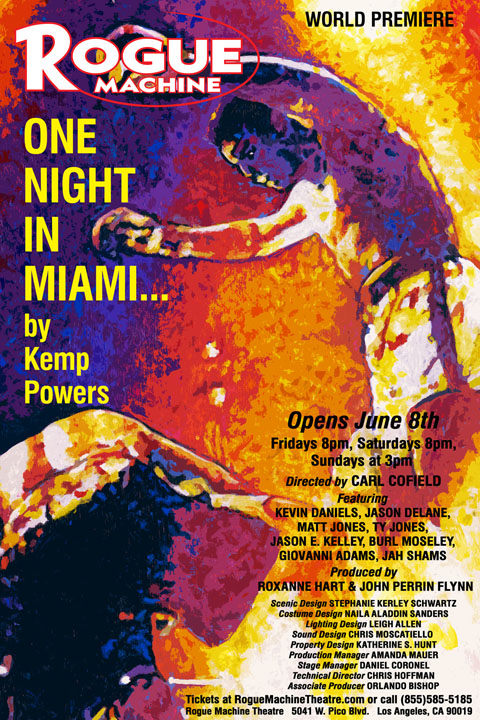 One Night in Miami is historical fiction that takes place directly after the fourth greatest sports moment of the Twentieth Century (according to Sports Illustrated). Feb. 25, 1964 was when a braggadocio 22-year-old Cassius Clay, who was dismissed by almost everyone as "The Louisville Lip" -- all mouth and speed - stepped up to defeat one of the most formidable fighters the ring has ever known -- Sonny Liston. It was also the night that Cassius changed his name to Muhammad Ali and announced officially that he had joined the Nation of Islam, at the urging of his friend, Malcolm X. Mike Wallace described The Nation of Islam, at the time, as "preaching a gospel of hate that would set off a federal investigation if it were preached by Southern whites."
Most people would be partying with their friends on such a joyous occasion of winning the heavyweight boxing title of the world. However, Malcolm X, Sam Cooke, Jim Brown and Cassius Clay had even more important things to consider. How could they use their collective power, celebrity and popularity to dismantle the discrimination that persisted a century after slavery was declared illegal? Today, we have the first African-American attorney general, who is serving under the first African-American President of the United States, pondering the same question. And yes, as indicated in spades by the country's leadership, great strides have been made, though clearly not enough, when a black teen can be shot and killed by the neighborhood watchman, while walking home in his own neighborhood, with a soda and a bag of Skittles in his hand.
Race relations in the early 1960s were, sadly, akin to scenes from Django Unchained. Football hero Jim Brown was an icon to plenty of white folk, who would never dream of letting him step a foot in their house. Malcolm X, an erudite, moral man who left the Nation of Islam after discovering that Elijah Muhammad was the father of eight children by six different teenage girls, was assassinated on Feb. 21, 1965; Martin Luther King Jr. was shot dead on April 4, 1968.
In the 1960s, the press described Sonny Liston as a gorilla. Pulitzer Prize-winning editor Murray Kempton would be fired today for using the language he used to describe the Clay-Liston fight, when he wrote, "Liston used to be a hoodlum; now he is our cop; he was the big Negro we pay to keep sassy Negroes in line." Is it the law that must be changed in Florida, as Juror B37 recommends, or is it, still, our prejudicial assumptions that must be? We've scrubbed the N word from our mouth, but have we scrubbed it from our mind?
One Night in Miami offered the perfect setting to reflect on race. Kevin Daniels (Jim Brown), Jason Delane (Malcolm X), Matt Jones (Cassius Clay) and Ty Jones (Sam Cooke) are lightning in a bottle. You are trapped inside, where the blazing light, the beauty, the fear, the cacophony, the narrow escapes, the explosive laughter, the wisdom and the helplessness of being at the whim and mercy of the storm -- this debate on race relations and what to do about it -- rages. You cannot escape. We cannot escape. Transformation calls us to rise out of the slumber of our own comfort and face these things. Young Cassius, dancing with delight at his victory, must, nonetheless, step out in the morning as Muhammad Ali.
The talented, experienced, infectious ensemble of One Night in Miami could make a reading of the dictionary interesting. Imagine arming them with the bravado poetry of Ali, the melodic mastery of wordsmith Cooke and the erudition of Malcolm X. Carl Cofield's direction sets a pitch-perfect pace. Playwright Kemp Powers tempers Malcolm X's intensity with Ali's crowing, and gives us hope at the height of the foreboding that "Change is Going to Come." Kevin Daniels as Jim Brown towers over the scene, offering a touchstone where each of the others can ground themselves -- Malcolm X's insistency, Ali's infectiousness, Cooke's entrepreneurship. Though all of these actors own the stage, without once becoming a caricature of the legends they have the challenge of portraying, Ty Jones' is a real rock star. He makes you want to dance in the aisle, and when you do, before you know it, he's standing there with your heart in his hand, vulnerable and weary.
I don't have the answers to Trayvon Martin. But I, like many people who want to dissect this question of race and how far we've really come and what work remains to be done, encourage the Justice Department to examine, in depth, whether a human rights violation occurred the night that George Zimmerman shot and killed Trayvon Martin. And I encourage Los Angeleanos to check out One Night in Miami, where these questions of race are asked and debated by the men who fought for and won equal rights, a century after it became the law.
One Night in Miami plays at 8 p.m. on Fridays and Saturdays and 3 p.m. on Sundays now through August 18, 2013 at the Rogue Machine Theater, located at 5041 Pico Blvd. LA, CA 90019. For more information, go to RogueMachineTheater.com.
Calling all HuffPost superfans!
Sign up for membership to become a founding member and help shape HuffPost's next chapter