On Sunday April 30, 2017, I heard from my friend Nicole that her sister, Lauren Chapman, had been involved in a shooting at an apartment complex in La Jolla, California. Chapman was attending a pool party with friends, when Peter Selis, a 49-year-old man, began shooting people at random. In total, seven people were shot, one person was injured in trying to flee, and one woman, Monique Clark, 35, died of gunshot wounds. Selis was fatally shot by police on the scene.
As local media initially reported on the incident, I noticed a trend. Selis was identified as a White man and the victims were initially identified as Black or Latino. Yet, there were few mentions of the possibility that the shootings were racially-motivated. In fact, the San Diego Police Department said that race was not a factor for the shooting ― citing that the gunman was distraught over a breakup and that victims were targeted for their mere presence.
According to Chapman, she and her friends were celebrating the birthday of Kion Gould (who lived in the apartment complex with two other roommates). Gould approached Selis, who was sitting alone, to invite him to join the party; Selis shot him in the abdomen and in the arm. After hearing those gunshots, Chapman and others ran, with some successfully hopping over the 6-foot fences of the gated area. While some details of the tragedy are blurred, Chapman asserts several facts regarding race:
There were about 25 people in the immediate area, majority who were Black and only 3 who were White.
Two White women, who were sunbathing about 20 feet from Selis, were the nearest people to him, as the rest of the party was on the other side of the pool.
There were about 4 non-Black people who were in the whirlpool, who reported that they froze when they heard the gunshots; they later told Chapman that they perceived the gunman was not targeting them specifically and escaped quietly.
One White woman, who was among the party, tried to render aid to Clark. Multiple witnesses report hearing the gunman instructing her to leave.
One biracial woman, who was on the ground, tried to comfort Clark after she was shot. Selis instructed her to not touch her.
Chapman and other witnesses held a press conference on Tuesday night to plea that police recognize that race was a potential factor and to consider implicit bias as a factor of how Selis chose his targets. However, the San Diego Police Department maintains that race was not a factor, citing that at least one of the injured was White.
Perhaps one of the reasons why it is difficult for certain incidents to be labeled as "hate crimes" is because each state has different hate crime laws, with required criteria to be labeled as such. For most, a criminal offense is only labeled a hate crime if the assailant confesses bias, or if there is sufficient evidence that bias exists. Usually, this bias needs to be overt (e.g., racist or homophobic statements heard by victims or multiple witnesses). The bias can also be tangible (e.g., the journal entries and manifestos that Dylann Roof wrote before he killed 9 Black churchgoers in South Carolina in 2015).
If such evidence does not exist, most cases are not charged or labeled as hate crimes – despite popular opinion or logic. For instance, in 2016, when Omar Mateen killed 49 people at Pulse, a gay nightclub in Orlando, Florida, most people presumed it was a hate crime. Yet, in spite of various accounts of Mateen's homophobic biases or the fact that he drove 125 miles to target this group, there was insufficient evidence to support it as a hate crime.
Given the limitations of Hate Crime Law, the La Jolla shootings would not have enough overt or tangible evidence to prove conscious or hostile racism. Selis did not scream any racist anti-Black rhetoric as he shot his victims. There is a lack of tangible evidence of bias – at least not through an initial investigation of his possessions and social network. Police will also likely assert that having one White woman who was injured constitutes that the event was a random act of violence – in spite of common knowledge that innocent bystanders are often victimized for crimes not intended for them.
While we may never know the exact motivations of the crime, we must consider other factors. First, scientific research on implicit bias find that most people are socialized to hold negative prejudices about certain groups; in fact, because most people are aware of the social consequences of discrimination, they tend to deny or hide their explicit biases. Thus, whether Selis admitted any racial biases toward Black people, there is still a possibility that he targeted them. Second, reports indicate that hate crimes have increased significantly since the Presidential Election, with perpetrators feeling emboldened to target historically marginalized groups like Black Americans and Muslims. Given this, police should investigate Selis' political beliefs and if those impacted how he chose his victims. Third, La Jolla is an affluent part of San Diego County, with a population that is 83% White. It is possible that Selis reacted negatively to seeing a large group of Black Americans at the apartment complex; so, it would be crucial for police to examine his relationships or interactions with Black people in general.
Finally, research has found that implicit bias occurs on all levels of the justice system – from policing to prosecuting to judging to juror decision-making. Therefore, I call on the San Diego Police Department to perform its due diligence in investigating the crime and to not simply write it off because of their false assertion of colorblindness. While they can never charge Selis for his actions, they can do everything in their power to find answers, which might help Clark's family and the other survivors in their healing processes.
Ultimately, we need to advocate for better Hate Crime Laws, in order to prevent instances like these, while also accurately advocating for justice. Dr. EJ David, a professor of psychology who studies systemic oppression writes: "Given our current sociopolitical and cultural climate, a serious discussion about hate crime law reform is very much needed. The reform needs to tilt toward protecting victims of potential hate crimes, instead of protecting the perpetrators."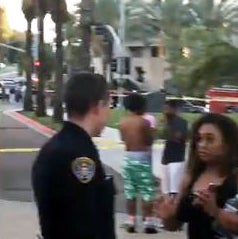 Related
Popular in the Community