WASHINGTON -- Facilitating meaningful conversations about race isn't an easy feat, but a local collaborative effort is up to the challenge.
Black Lives/White Light and TABLETRIBES, a D.C.-based tech startup, are coupling art and technology to create The Radius Project, which aims to take conversations surrounding Black Lives Matter beyond newsfeeds and comment sections.
The collaborative is setting up three panel discussions in the Washington, D.C., area in hopes of turning online interactions into more meaningful face-to-face conversations .
"A meaningful face-to-face conversation is a singular point of contact that has the power to activate a ripple effect in our communities," Hosan Lee, the founder and CEO of TABLETRIBES, told The Huffington Post. "If we all work together, how far outwards can we extend the radius of progress?"
Pretty far, it seems. The Radius Project grew from a series of four discussion panels following Black Lives/White Light's April exhibition showcasing the artwork of eight white artists. Sheldon Scott and Deirdre Darden, two D.C. artists who curated the exhibit, hoped the show would introduce an alternative perspective to the conversation surrounding the Black Lives Matter movement.
"For me, Black Lives Matter -- way before it became this social media movement, before it became a hashtag -- it's always been a part of my work," Scott said. "We've been saying these things for years about … mistreatment and injustices."
Black Lives Matter has achieved global reach, he added. This influence inspired Scott to seek out white artists who may not have been aware of racialized police brutality before seeing the hashtag and see how they would respond to the movement artistically.
It worked. Powerful, conflicting reactions to the April exhibit encouraged Scott and Darden to set up the panels to continue delving into how America confronts race and justice and its relationship with violence.
"We need to be able to have this conversation about race on many different levels simultaneously. We have to be able to talk to people who have a lower understanding of race at the same time we should be able to communicate to people who have a heightened [understanding]," Scott said.
The success of Black Lives/White Light provoked Lee to reach out to Scott and ask if he was interested in letting the conversation continue using TABLETRIBES, a digital platform that brings online conversations into the real world. Their goal is to globally scale empathy development by developing opportunities for users to exchange ideas and information in person.
The Radius Project hopes its efforts will get a better reception than Starbucks'f did. The coffee chain launched Race Together Initiative earlier this year to encourage customers to discuss racial matters, a move that was quickly written off as a marketing ploy and called off by the company.
"Starbucks' intentions with [Race Together] around trying to start civic conversations felt like they were in the right place, but the execution wasn't designed to facilitate deeper engagement in a way that was productive or appropriate. For us, it reaffirmed our approach and the need for what we're building at TABLETRIBES," Lee said.
TABLETRIBES is a social networking app that allows users interested in similar topics to connect with each other offline. People who RSVP for this month's events will be helping the startup test the app, which is currently in beta. Lee said the app will help users find others in the room to discuss specific topics relevant to each evening's civic-minded theme during the event itself.
"We're gathering people because they want to talk these issues, but what we want to do with the app is allow these conversations to happen beyond the room itself," she said.
Panels are scheduled for June 9, 16 and 23. Interested parties can RSVP here.
Before You Go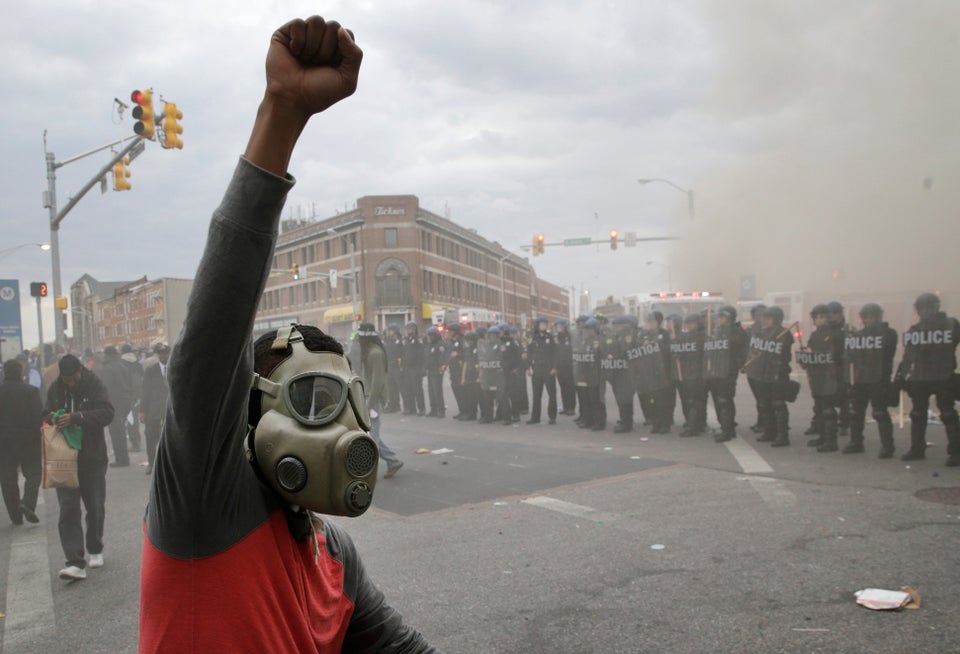 Baltimore Protests
Popular in the Community