Alabama is known for its hospitality, deep fried food, and conservatism. The state has a historic relationship with racism and prejudice which I believe it is trying to shed. I am American by birth and Pakistani by ethnicity with an Indian husband; I live here and until recently, hadn't encountered any direct racial hostility.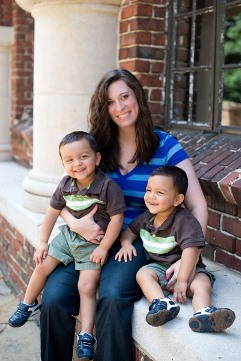 I have twins -- fraternal twin boys who recently turned two. Many say they look identical, but of course, I think they look completely different from one another. My children have a creamy brown complexion which some people have difficulty identifying. "Are they mixed?" I have never taken offense to the question; I find multiracial children astonishingly beautiful -- I absolutely take it as a compliment.
To care for the boys while my husband and I are at work, we have a nanny -- I'd be willing to bet one of the best nannies in the world. I brought the boys home on a Friday, and she started on the following Monday. In essence, she acts as a third parent. Heather and I are used to people looking at us curiously. Since children fly free prior to age two, Heather has accompanied me to numerous destinations for volunteer work. Some folks assume we are a same-sex couple, others think whatever they think. It typically doesn't matter.
However, two weeks ago, Heather took the boys to Wald Park in Vestavia Hills, Alabama. Vestavia is a suburban neighborhood with some affluence situated right outside of Birmingham. As Heather was pushing my boys on the swings; she heard this woman, within earshot, say, "Those poor biracial children. Their unwed mother is so lazy -- babies having babies. She did not even change them out of their pajamas. They never had a chance." Wait, What?!
Why would anyone assume children of color are automatically disadvantaged? Furthermore, there are plenty of nannies in the neighborhood, why would someone assume that a White woman couldn't be a nanny for a non-white family? Heather is unwed, but she isn't their mother. Furthermore, she is completing an advanced degree in education making her absolutely old enough to have graduated from college, gotten married, and then to have had children. Finally, I was shocked that this woman felt the need to criticize the fact that my children were wearing pajamas -- clean pajamas at that. The boys received new bear pajamas, and wanted to change into them that morning. We didn't give it any real thought. They're children, let them be happy.
Heather, usually mild mannered, made a passing comment to this women as she left. Heather, initially upset, was fine two hours later, but two weeks after the incident, I'm still not. My husband and I are well educated, try to be good neighbors, contribute to the community, and advocate for the disadvantaged; however, that's clearly not enough. The color of our skin (and that of our children) continues to define us, particularly in this southern state.
I can only hope that as Birmingham commemorates 50 years of the civil rights movement, little suburban enclaves get with the program and internalize that skin color shouldn't matter, because I want to raise my children in a community which accepts us without bias towards race and ethnicity.