On Friday evening at the Hyatt Regency Century Plaza, the 17th Annual Race to Erase MS gala, co-chaired by Nancy Davis and Tommy Hilfiger, was just getting started with a star studded orange carpet. That was followed by a dinner, fashion show, live auction and performances by Heart and Avril Lavigne.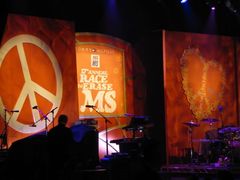 I must admit that I originally expressed interest in attending the gala due to the celebrity factor, but quickly became ashamed of the fact as I listened to the reasons why they were involved in this charity, as it seemed almost everyone there had some sort of personal connection. It's easy to see why when you consider that MS affects close to two million Americans, primarily between the ages of 20 and 40, and three times as many women as men.
Paris Hilton, who caused a huge stir with the photographers the minute when she entered the room, lost her grandmother after a long struggle with multiple sclerosis.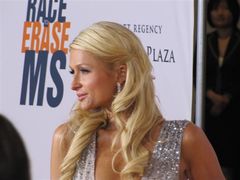 Melrose Place actress Stephanie Jacobsen also said she has a friend with MS, as did many others there. Even actor David Faustino, who played Bud on Married with Children, told us that he's been attending this gala since he was 16 years old.
Also in attendance were Buzz Aldrin, Tom Arnold, Brooke Burke, Anne Heche, Kelly Rutherford, Loni Anderson, The Bachelor's Melissa Rycroft, Dancing with the Stars' Louis Van Amstel and Tony Dovolani and Olympians Lindsey Vonn and Apolo Ohno.
Of course not all of these celebrities had a personal connection to the disease. Instead, some were there to promote themselves, but I guess in being there they are helping the cause, thus, a selfish catch-22. Although -- as you learned from the first paragraph -- I shouldn't talk. In my defense, most of the Hollywood news crews, celeb blogs and magazines on the press line weren't asking questions about the disease, but about their thoughts on Jesse James' infidelity.
There was a live auction with big items, like tickets to the American Idol finale, and a Lamborghini Gallardo LP 560-4 Coupe (the minimum bid started at $150,000).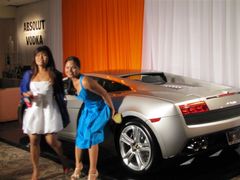 All funds raised through the annual Race to Erase MS event support The Nancy Davis Foundation for Multiple Sclerosis, a program dedicated to the treatment and ultimate cure for MS. Funding research is the core focus of the Foundation and significant strides have been made to find the cause and cure of this devastating disease. Currently, there is no cure for MS.
The foundation's founder Nancy Davis started the organization in 1993, after being diagnosed with multiple sclerosis, and has since raised over $30 million for research to date.
Related
Popular in the Community