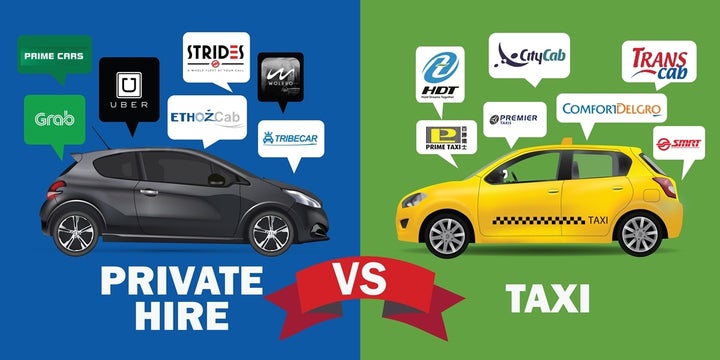 Traditional Incumbents vs New Kids on the Block
The private-hire car (PHC) industry, driven by the phenomenal impact of ride-booking apps, has taken on a dynamic and high profile in Singapore's transport scene with challenges and opportunities for both businesses and commuters. The PHC industry sits at the intersection of numerous socio-economic trends in Singapore and other cities worldwide – technological breakthroughs and disruption, globalised economic competition, sharing economy, and regulatory challenges, among others. With so much going on, it helps to take stock of the rise of PHC services, their impact on the taxi industry, and ultimately, what it means for commuters.
According to statistics by the Land Transport Authority (LTA), Singapore's taxi fleet was 27,354 strong last year and comprises seven operators. ComfortDelGro dominates the market operating through the well-known Comfort and CityCab brands. Its combined fleet accounts for almost two-thirds of the total fleet here.
With these numbers, Singapore has the largest taxi population per capita among its developed city peers – there are 5.2 cabs per 1,000 residents in the Lion City compared with 3.3 in London and 2.6 in Hong Kong. So, you would think that the taxi-filled streets here do not have room for a PHC boom. And yet, defying expectations in true Singapore-style, the PHC fleet has trebled in size since 2013 to become a serious rival to taxis. The old commuter gripe about not getting a cab during certain hours or a downpour explains why PHCs have emerged – a lack of quality service and choices provided by the traditional incumbents.
Previously, if you wanted a private car to commute, you had to rent a car as a chauffeured limousine or self-drive it without the lower costs and convenience that ride-booking services offer on a per-trip basis. Now, ride-booking apps such as Uber and Grab, and PHC operators such as rental firms have firmly established their presence in the last few years by offering commuters greater choices and service standards. The number of rental cars has skyrocketed from 18,847 to 51,336 between 2014 and 2016, with as many as 30,000 attributable to ride-booking apps and rental car operators such as Uber, Grab, ETHOZCab, Strides, Prime, Tribecar and Wolero. It is crystal-clear that commuters and drivers alike have bought into the proposition offered by PHC services.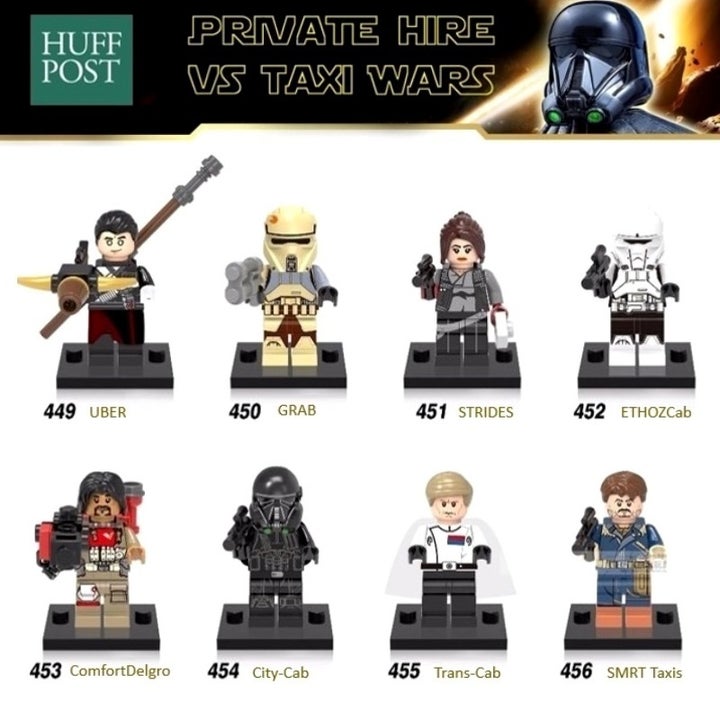 Innovators and Disruptors – Uber, Grab and Friends
The ride-booking apps currently in almost every smartphone in Singapore are unmistakeably Uber and Grab. Other apps which have since closed shop here include Easy Taxi, Hailo and Karhoo. The San Francisco-headquartered Uber, a global behemoth that operates in approximately 500 cities hit Singapore's streets in February 2013. Uber's business model is to be the ultimate outsourcer. It needs few staff to operate but generates revenue by taking a cut for each journey that thousands of its freelance drivers around the world complete. For competitive reasons, Uber has declined to reveal its fleet size in Singapore. As of 2015, Uber was known to have 29 rental firm partners, with Lion City Rental considered the largest.
Uber's aggressive global expansion is driven by constant innovation that leverages on technology such as big data, algorithms, and cashless payment in serving consumer segments in different markets. We all know Uber's concept of "surge pricing", an automated algorithm that adjusts surcharges based on supply and demand in the market, and attracts more drivers during times of increased demand. It offers a variety of ride services for different needs – In Singapore, it offers UberX, UberTaxi, UberXL, UberExec and even UberEATS food delivery (we are a nation of foodies after all). In the United States, Uber is also working to develop a fleet of autonomous vehicles.
Touted as Southeast Asia's largest car-booking app, Grab operates in 30 SEA cities and launched in Singapore in October 2013. Given the competitive landscape in Singapore, Grab does not publicly list its rental partners, only saying that it has "a few". Like Uber, Grab has expanded its array of localised services from just taxi services to private-hire rides, car-pooling and motorbikes. In addition to GrabTaxi, GrabCar, GrabHitch and trials for autonomous vehicles, Grab also launched GrabCoach here in February 2017 to digitise the coach-chartering business. Upping its stake in taking on rival Uber globally, Grab last year teamed up with Lyft - Uber's main rival in the US - to allow Lyft users to book rides via the Grab app, and vice-versa. Not wanting to fall behind the technology race, Grab opened a SGD$136 million research and development centre in Singapore focusing on data analytics.
While Uber and Grab provide software-based services and manage drivers, private car rental firms bring the hardware - rental cars and support services like maintenance. One of these firms, ETHOZ Group - an automotive and financial services firm part-owned by Tan Chong International - launched a new PHC rental service named ETHOZCab in June 2016. Targeted at drivers looking to become part of the driver network of ride-booking apps or provide chauffeured services, it offers cheaper rental rates than taxis: rates for a new car start from $56 a day, compared to a taxi from Comfort which charges $100 to $130 a day for its standard models.
Regulations - Speed is Nothing without Control
The disruptive effect from PHC services has affected the incomes of taxi companies and its drivers, leading to calls by the National Taxi Association (NTA) for the government to better regulate the industry for fairer competition and to protect the interests of taxi drivers. Regulatory compliance is indeed relevant to the PHC industry which needs to work with the authorities to ensure they play by the rules and win the trust of customers in areas such as safety.
Taxi operators and drivers generally face more requirements compared to PHCs. This comes even as the government introduced a new licensing framework for PHC drivers this year that requires them to obtain a vocational licence. A major reason taxis have more requirements is that they have street-hail privileges unlike PHCs which rely solely on ride-booking apps. Taxi drivers undergo more training to get their vocational licenses as training covers more areas such as fare collection. The taxi driving licence takes about 25 hours to complete, compared to 10 hours for the new PHC Driver's Vocational Licence (PDVL). Taxis have to undergo more frequent inspections as they cover greater distances - about five times as much – compared to PHCs. Taxi companies also pay an operating licensing fee, which stands at 0.3% of gross annual revenue in 2017. PHCs are currently not required to pay licensing fees as the government prefers to let the industry continue innovating for the benefit of commuters.
That said, changes have also been made to level the playing field between taxis and PHCs. The government relaxed the availability framework for taxis from January 2017 – cabbies are no longer required to clock a minimum daily mileage of 250km, and meet availability standards during "shoulder peak periods" of 6am to 7am and 11pm and 12am. However, they still have to adhere to availability standards during the peak periods of 7am to 11am and 5pm to 11pm.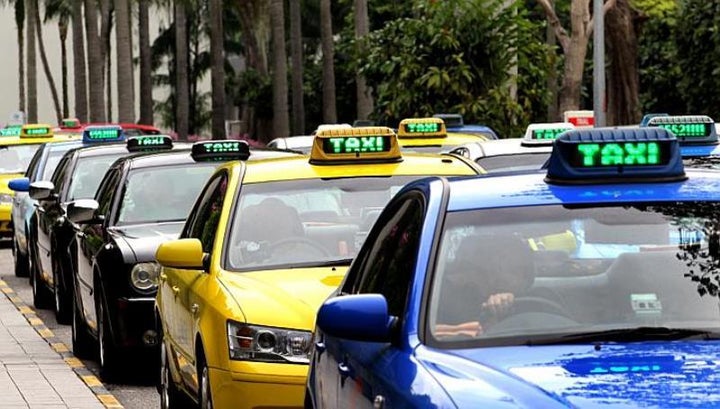 However, taxis may not need to rely on regulations to level the playing field against PHCs much longer. Recent reports on the rising number of unhired rental vehicles for PHC services could mean the market has hit saturation point. Market leaders Uber and Grab also engaged in a price war in April 2016 cutting their PHC fares by an average of 15% for Uber and up to 14% for Grab. With prices remaining stable since then, it is possible that the rivals have called a "truce" on further price wars neither of them can afford.
Internationally, Uber faces many obstacles in maintaining and enhancing its position as a market leader. Last year saw an end to Uber's unsuccessful attempt to break into the China market after Chinese ride-hailing service Didi Chuxing acquired Uber's China business following an intense two year battle that saw Uber lose USD$2 billion. Competition is heating up in SEA as Grab raised $750 million late last year to expand its footprint in the region. Policies and incidents related to Uber also place the company under relentless pressure – the most recent string of controversies involved a recorded argument between Uber CEO Travis Kalanick, known to have a fiery personality, and an Uber driver over falling fares; Uber's reaction to the Trump administration's refugee ban; and sexual harassment of its female employees. Together, these points highlight the competitive and high-pressure landscape Uber has to navigate, and crucially, the need to keep on its toes if it wants to continue doing well in the lucrative Singapore market.
Putting aside the challenges PHCs face, traditional taxi operators are still under greater pressure to innovate and stay competitive. A survey by the Public Transport Council last year showed greater commuter satisfaction with PHC providers than traditional taxis. If the survey is accurate, it means that in just over four years since they arrived, Uber and Grab have overtaken taxis in winning over commuters. This begs the question – how can taxis adapt to stay market competitive?
Adapting their business models promptly must be a vital part of any strategy. Simplifying the currently complicated fare structure would be one way to win back commuters lost to PHCs. The mind-boggling fare structure has long been a bugbear of commuters – there are multiple flag-down rates, metered-fare structures and surcharges. Following previous attempts to unravel the fare structure, the government decided that it was up to taxi operators to fix the issue. And doing just that in the face of intense competition is ComfortDelGro, which is working on a "simpler and flatter" fare structure. Other innovations to the fare structure are also underway with ComfortDelGro, Trans-Cab and Premier Taxi proposing dynamic fares, similar to Uber's "surge pricing", that fluctuate according to demand.
While fare structure changes would be aimed directly at the commuter, more flexible rental schemes aimed at taxi drivers would help retain existing ones, attract new ones and win back those who had crossed over to PHCs. Market leader ComfortDelGro rolled out a new flexi-rental scheme last year to help cabbies lighten the burden of paying full rental fees. More than 1,000 of its cabbies have signed up for its "25CJ" initiative which allows them to pay a lower rental fee - by as much as half - every day if they complete at least 25 booking jobs, also called Current Jobs (CJ), in a week. Other players such as Trans-Cab have similarly slashed rentals.
It goes without saying that taxi companies have to keep up with the likes of Uber and Grab in the technology race. Investments that allow them to harness the potential of big data, algorithms, cashless payments, and even autonomous vehicles should all be part of the strategy for a better commuter experience.
At the end of the day, the ultimate winner in the race between PHCs and traditional taxis should be the commuter who can be assured of a reliable, convenient and affordable ride no matter the location, time of day, or weather.
Related
Popular in the Community