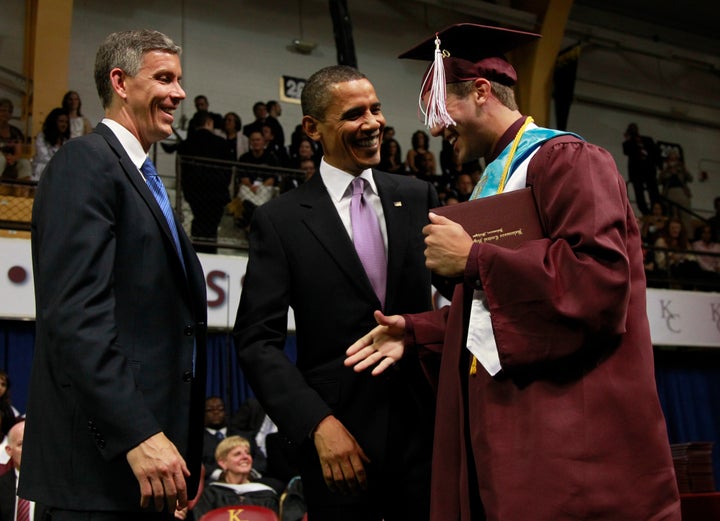 A $500 million federal competition for early education money will stress assessment, teacher training and program alignment, according to an announcement Thursday by officials from the White House, the Department of Education and the Department of Health and Human Services.
"We're really announcing something historic," Roberto Rodriguez, special assistant to the president for education in the White House Domestic Policy Council, said during an evening call with reporters to announce more details about the government's Race to the Top program. "We believe that this ... can really have the same kind of impact around some of the core challenges that we faced around our early learning community."
The Race to the Top competition, he said, is a White House priority, as it relates to Obama's goal of producing the highest proportion of college-educated people in the world.
"On behalf of the president, I just want to emphasize how important this Race to the Top program really is to our larger education agenda," he said.
The draft criteria for the early education competition, which is the third round of the Race to the Top program, stress quality programs, teacher training with a clear set of credentials, family engagement and assessments of student learning from a young age.
"The Race to the Top-Early Learning Challenge can transform the quality of early learning programs across the country," U.S. Secretary of Education Arne Duncan said in a statement. "The proposed criteria aim to establish a comprehensive approach that better coordinates, implements and evaluates high quality early learning and development programs with a focus on giving families the information they need to select the best program for their child."
The criteria are open to public comment, and the final guidelines will be released in August. States must submit applications in October and grants ranging from $50 million to $100 million will be rewarded before the end of the year.
"I think it is the beginning of the breakthrough," said Pedro Noguera, an education professor at New York University. "The fact that they're putting money into early education is a good thing."
Steven Barnett, co-director of the National Institute for Early Education Research, said in an email statement that federal dollars "can help offset some of the dramatic state budget cuts we have seen over the last few years, particularly in state-funded pre-K. We are optimistic that Race to the Top will help states expand upon their existing spectrum of programs or give a jump start to those states who have not yet prioritized early learning."
Earlier iterations of Race to the Top stressed education standards and teacher evaluations, resulting in a slew of new laws that, in some cases, tied educator management to student performance on standardized tests. Michigan's RTTT-inspired law enabled a recently announced state takeover of Detroit's lowest-performing schools. The teacher review legislation created in New York as part of the earlier RTTT application sparked a lawsuit over its implementation this week.
With nearly $4 billion in funding, the competition has had a tremendous impact -- but has been met with mixed reviews. "Simply making more money available to states when they're so desperate is a good thing. Focusing on underperforming schools is a good thing," Noguera said.
"The bad thing is prescribing the remedies they have, which are way too narrow and don't get at the underlying causes of school failure," he continued. "I don't like the idea of a competitive grant process when all the states need help. I don't like the idea that the federal government is dictating strategies that are based on little research. There's very little research on judging students based on test scores."
This time around, the focus is on unifying a disparate system of pre-K programming, improving the quality of educators and expanding accessibility for impoverished children.
"We know that disparities in access to high quality early learning programs pose a significant challenge to our economic competitiveness moving forward," Rodriguez said.
According to the new guidelines, state applications must also establish metrics for kindergarten assessment. While Noguera said assessment can be important, he added that too much assessment could distract from the bigger picture.
"Collecting data is good. What's more important is to get kids the help they need," he said. "Some means of tracking is certainly important. These days, we spend more time tracking and monitoring than we do actually helping. I hope we find the balance we need."
The guidelines give budget caps for each state and emphasize a focus on "states with large, high poverty rural communities," even if those states' applications rank lower than others.
"Meeting the needs of our youngest children so they are healthy and learning is critical to our nation's competitiveness," U.S. Health and Human Services Secretary Kathleen Sebelius said in a statement. "This public comment period will provide us with vital input from states and communities, from child, family and education experts, and from teachers and program directors. Together, we can work to improve standards, promote health, engage and support families, and provide children with the building blocks for success."
This story has been updated to include a link to the Department of Education's new details on Race to the Top.

Related
Popular in the Community