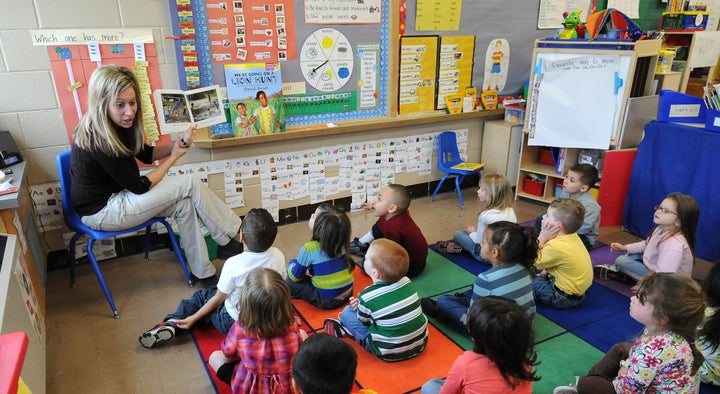 36 states and Washington, D.C. have announced their intention to apply for a piece of the $500 million to be split amongst the winners of the Race to the Top Early Childhood Challenge.
The Obama administration's Race to the Top competitions, which began in 2009 and awarded nearly $4 billion dollars in 2010, are intended to bait state's into improving their students' test scores and overhaul their public school system- firing failing teachers and administrators and replacing underperforming school's with privately run charters.
This newest, third round of grants, will award the winning states between $50 million and $100 million each depending on their size, with winners being chosen from those that best fit the initiative's criteria. According to a statement from the Department of Education, the Early Learning Challenge grant competition will support states' efforts to:

1. Increase the number and percentage of low-income and disadvantaged children in each age group of infants, toddlers, and preschoolers who are enrolled in high-quality early learning programs;
2. Design and implement an integrated system of high-quality early learning programs and services;
3. Address the health, behavioral, and developmental needs of high-need children to improve school readiness; and
4. Ensure that any use of assessments conforms to the recommendations of the National Research Council's reports on early childhood.

"Our goal is to transform from a patchwork of disconnected programs often of uneven quality and uneven access into a coordinated one that truly and consistently prepares our nation's young people for success in school and life," Secretary of Education Arne Duncan told The New York Post. "This is a game changer."

"The Race to the Top program expands the federal role in education by offering pieces of silver in exchange for strings attached to Washington. More federal money for education will not solve our problems. Schools need less, not more, federal intrusion to increase student achievement. The previous two rounds of Race to the Top were not competitive grant programs; they were top-down directives forcing states to adopt programs favored by Washington. Respectfully, South Carolina will not apply for this money."

Others, like Becca Freeburn, executive director of the Wyoming Early Childhood Partnership, told the Billings Gazette, "If we want to improve our schools, we need to first improve the students that we send to them."
Popular in the Community