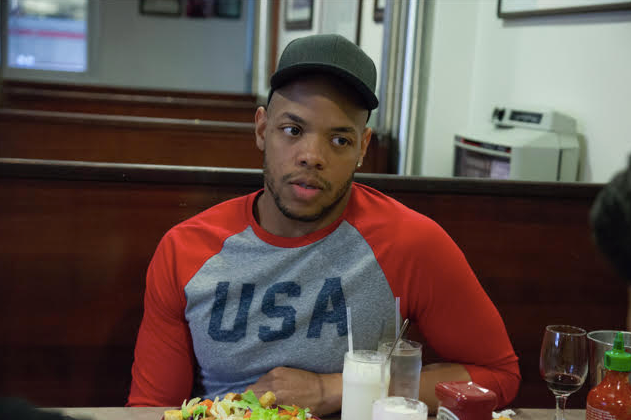 Being called a "nigger" by a white person is, unfortunately, nothing new to me (I have twitter after all). But being called a nigger by a white person during sex was a very new experience. Even now, it's hard to express just how caught off guard I was in the moment that it happened. To be clear, "Fuck me, you nigger!" were his exact words. And there I was, hunched over, sweating, mildly intoxicated and confused. I still look back, and even though I didn't do it, I see myself glancing over my shoulder and surveying the room, searching for who else the white guy beneath me could have been talking to.
There's actually quite a lot I didn't do in that moment that I wish I had. I could've spit in his face and called him a racist asshole. I could have taken the opportunity to slap a white man for the first time in my life (although that may have turned him on even more) or, I could have just stopped, and explained to him why calling me a nigger wasn't exactly curling my toes. I didn't do any of that. Instead I replied with "Huh?" And when he responded with a similarly dumb sounding "Huh?" I silently continued my robotic motion, avoiding eye contact like a stranger on the subway, till it was over.
Afterward, as I did what I jokingly refer to as my "walk of shame," I realized that for the first time, I actually felt shame. It was like something had been taken from me and I wasn't quite sure what. I certainly wasn't raped and the word "violated" seemed a bit too strong for the situation as well. But whatever had just happened, it happened without my consent and it wasn't sitting right with me. Of course I've always been familiar with racial fetishes, in the abstract, which I stand against on the principle that racial identity is not a sexual "type" but the experience of being actively, vocally fetishized during sex now put real emotion behind a belief I always had. I felt objectified, literally. I wasn't certain of much at that point but I was sure that whoever that guy back there was having sex with, it was not me. It was a thing ― a Mandingo fantasy without a name or any desires of its own. That's the insidious thing about categorizing people by their race; the erasure of everything that makes them who they are and the inhuman feeling they're left with.
"I wasn't certain of much at that point but I was sure that whoever that guy back there was having sex with, it was not me. It was a thing..."
It wasn't until sometime later, after I finally decided to bring up the incident to some friends, that I realized just how many gay men of color I knew who had similar encounters with white men. It was also the first time I heard the term "race-play." Urban Dictionary's top definition for race play is: "An avant-garde, but increasingly accepted form of sexual role play in which people of different races consensually reject all political correctness... in favor of sexual pleasure and fulfillment." I'd bet you everything I own that a white person came up with that bullshit. Calling black people nigger is avant-garde now? At least that explains the recent resurgence of Mel Gibson. My feelings of disgust and shame were now mixed with confusion. Just how many people were into race-play and how long has it been a thing? And who were these black men that were active participants in this white supremacist fantasy? It seemed that none of my friends had had more than one experience with this sort of thing and were short on answers so I turned where anyone does when they want to find out more about deviant sexual behavior, Google.
Of the nearly 300,000 search results for "gay race play," most link to sites featuring a handful of amateur videos which overwhelmingly feature black men in positions that aren't so much passive as they are abject, regardless of the sexual position of the participants. They usually feature white men with the physiques of slave owners (ironic?) calling their black sex partners things like "coon," "ape," "gorilla," "boy" and the oh so avant-garde, "nigger." I realized quickly that I wouldn't find much in the way of "insight" or a race play "community," as even those who seemed self-assured enough to post videos of themselves engaging in this play went through great pains to hide their identities with the use of everything from pixelation to ski masks. A few Facebook groups claiming to be race play themed were private and by invite only. Imagine my mix of disappointment and relief when I realized I wasn't friends with any members.
"To understand the true nature of racism is to acknowledge that it isn't just the act of doing mean things to people because they're different. It's a worldview in which anyone of another race is something less than human."
Even though most of the videos I found were posted by people who obviously do this sort of thing regularly, there are a few pay sites that, while they don't self describe as race play sites, make it clear black subjugation is what they're selling. One site has only videos depicting white guys in police officer uniforms accosting unsuspecting young black men, most of whom could pass for teens, and forcing them into group sex. A description on the site reads in part: "See these power hungry and horny cops take control of our black population and fuck them." Now the problematic nature of these videos considering our nation's recent focus on law enforcement's treatment of black men and boys should be apparent. But even in light of this, I don't begrudge anyone the freedom to explore their fantasies with other consenting adults. It takes a lot to come to terms with being a man who loves men in this society, so I understand why gay men get so touchy when you put a critical lens over their sexual desires. However, the intersection of race and sex is one area where the gay community could benefit from further self examination. The fact that race-play is a thing, let alone a semi popular thing, is scary to me as a black man because it shows just how deeply racism can be rooted in the psyche and further illustrates that our sexual desires are, in fact, susceptible to the racist structure of our society.
To understand the true nature of racism is to acknowledge that it isn't just the act of doing mean things to people because they're different. It's a worldview in which anyone of another race is something less than human. And as understanding as I am when it comes to the sexual fantasies of others, it's hard to imagine that any white person engaging in race play sees their sexual partner (not to mention POC in general) as a complete equal when they flip that light switch back on.
For my part, I've continued to struggle with my actions that night. Why I didn't speak up or act out continued to nag me. So I did what I usually do when things happen that I don't like ― I re-wrote it! In the first scene of "No Chocolate, No Rice," my upcoming film, I recount my experience with race-play in much more dramatic fashion. Not to titillate but, hopefully, to begin the discussion I couldn't find in myself to start back then. As for the guy who uttered the word that night in bed, even though we never had sex again, I did maintain contact. I once asked him about that night and all he could say in his defense was that he wasn't a racist. I don't like to toss that word around either but I'll tell you what I told him. Whether it's getting off on calling black men "nigger" during sex or barring POC from your bed altogether, you don't get to do the things that racist people do and not get called a racist yourself.
Popular in the Community