Rachael Denhollander, the first woman to publicly accuse Larry Nassar of sexual assault, paid tribute to a detective who worked on the case by naming her newborn daughter after her.
Denhollander, 33, praised Michigan State University detective Lt. Andrea Renee Munford in the Friday birth announcement of her third daughter, Elora Renee Joy.
Munford "fought for us and made redeeming so much evil possible," Denhollander tweeted. "Just need a few more babies so we can have namesakes for the others who fought for us too."
Denhollander was the first to go public with accusations against Nassar, the former sports doctor for Michigan State University and USA Gymnastics who pleaded guilty in November to sexually assaulting his patients.
She reported to MSU police in August 2016 that Nassar had molested her when she was seeking treatment for back pain in 2000. She was 15 years old.
Denhollander and another woman, who chose not to be named, filed complaints against Nassar in September 2016. Over a year later, in February 2018, after hearing impact statements over seven days from more than 100 accusers, a judge sentenced Nassar to 40 to 175 years in prison.
"These women display love, courage and sacrifice more than anyone will ever know," Denhollander tweeted in April about Munford and Michigan Assistant Attorney General Angela Povilaitis, who led the prosecution against Nassar.
"Heroes long before the media attention, fighting for those with no voice and little strength left," she wrote. "So thankful for them."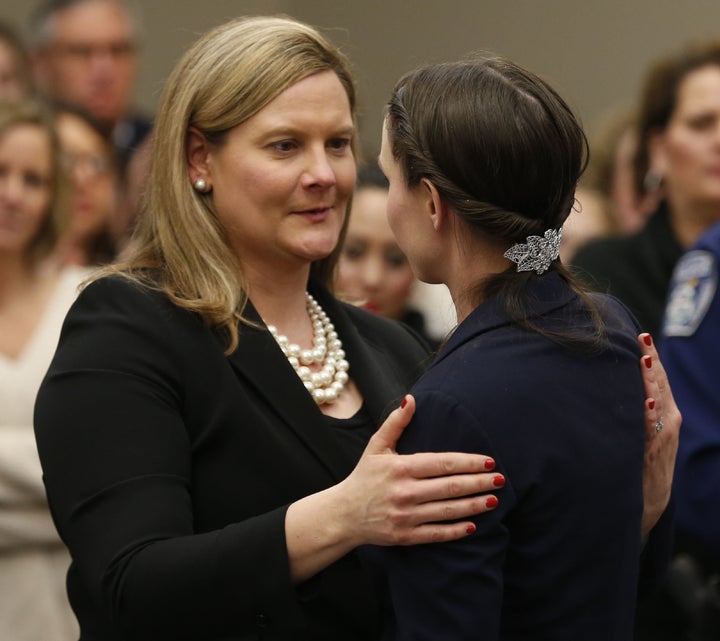 Povilaitis welcomed Denhollander's new addition to the family in a heartfelt tweet on Friday.
"I have such happy tears right now. What a beautiful & perfect name!" tweeted Povilaitis, adding that she shared Denhollander's post with Munford, who isn't on Twitter.
A representative for Munford did not immediately respond to a request for comment.