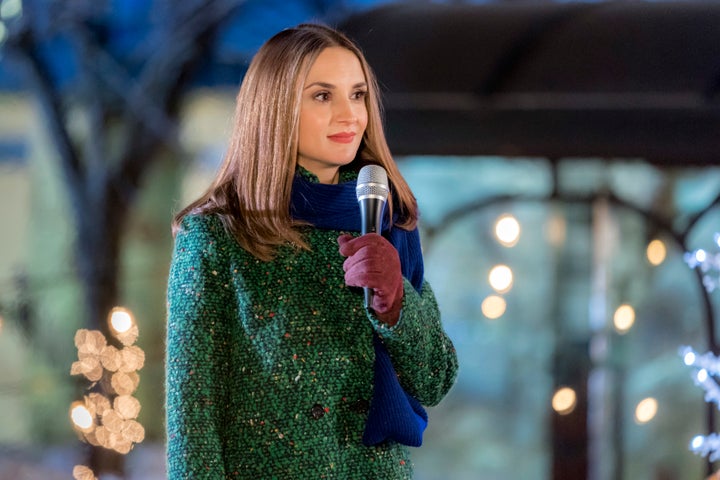 Rachael Leigh Cook has enjoyed an eclectic acting career since she first appeared on the silver screen as Mary Anne in "The Babysitter's Club" when she was in her early teens. Her latest movie, "Frozen in Love", airs on Hallmark as part of its Winterfest on Saturday, January 13. Rachael has a deep connection to this movie, and I was excited to chat with her about a role that she first imagined playing nearly a decade ago.
"This movie is based on an idea I had all at once many years ago. I remember I'd been watching the TV show 'Frasier'. I really liked the idea of playing a character who is a little too smart for their own good, a little too tightly wound. I loved the work that David Hyde Pierce got to do on that show. I wished I could do something with tones of that. I was also obsessed with sports movies, so I wondered how I could mesh those things together. Then I had the idea all at once, which was the best mini-thunderbolt. I always let it sit in the far reaches of my mind."
Rachael decided to pitch her idea to Hallmark. They loved the idea, and Rick Garman wrote the screenplay that Rachael considers stellar. It stays true to her vision. "Frozen in Love" is the story of a rebellious hockey player whose life changes after he meets a one-of-a-kind bookstore owner. Rachael plays the bookstore owner Mary.
The creative actress mused, "It's just the craziest thing to have had this germ of an idea and to picture it in my mind, then to be standing on a set that really looks like I meant it to in my head…It's the coolest kind of mini-power trip in the world. I loved the whole experience. It felt really enchanted."
Speaking with affection for her character, Rachael explained, "I love that she believes that there's an answer for everything in a book. In the beginning of the movie, she thinks that everything can be discovered there in a book. Yet she's deeply curious and wants to explore outside that. She thinks that she's a little bit cool, and she's the least cool person in any given room. That's a lot of fun to play."
What's also fun is Rachael's favorite scene. It's one where her character puts on full pro-hockey gear on her 5'2", petite frame. She recalled, "I put on hockey skates, and people would just look at me and burst out laughing. I thought to myself, 'I think we're on to something here.' Yeah, that was a fun day. I didn't know I could be such a good sight gag. It made me glad to bring that kind of joy to people."
So, what surprised Rachael the most about making the movie? "I think I expected that it wouldn't feel as special as it did. I think I thought that I was going to be able to read this script that really moved me and excited me. I feared I would then get on set, and it would just feel like people looking at their watches wanting to go home. I was afraid that would color my experience. Happily, my rose-colored glasses stayed firmly on. Everyone seemed to have a really great time. This had a really enchanted feeling."
"My favorite scene is the scene where they meet. The hockey player character just has no idea why my character wouldn't be selling coffee in her bookstore, and they have this amazing exchange that seems like something out of a 1950's old school studio film. It's the most awesomely written, classic banter I've probably ever had the pleasure of performing."
Of all the characters Rachael has played in her career, she observed that her characters in "She's All That" and "Frozen in Love" are the two who are most like her. Fans may be surprised to see that the movie brings out a new side to this dynamic actress.
When it comes to her career, Rachael has a fresh perspective. She explained, "I think my life sort of felt like a long hallway filled with doors on either side. You think, 'Oh, these doors look intimidating.' However, I tried the handle and it opened. When it opens, you walk through and do the best you can. Success is a pay now or pay later thing in terms of luck. I've had my ups and downs in my career, but I'm having a lot of fun at the moment."
Rachael finds a lot of her inspiration close to home. When asked about her inspiration, her thoughts quickly went to Daniel Gillies, her husband of nearly 14 years. "My husband is really inspiring. He works harder than anybody I've ever met. A hundred percent is a jumping off point for Daniel. I thought I was working hard until I saw what he does in a day."
Rachael is also in awe of her two small children, calling them her proudest accomplishment. She also spoke of how she's happiest when she's squeezing one of her kids, and they let her kiss their faces as much as she wants. She said, "I don't know how they turned out as good as they have. They're remarkable. It's absolutely true."
She also finds inspiration in Hollywood. Her favorite movie is "Being There" with Peter Sellers, and it helped inspire her to do "Frozen in Love". Ultimately, making her latest movie was a dream come true for the down-to-earth actress.
"Frozen In Love" airs on the Hallmark Channel as part of the Winterfest on Saturday, January 13th at 9:00 p.m. EST. You can follow Rachael on Instagram and Twitter.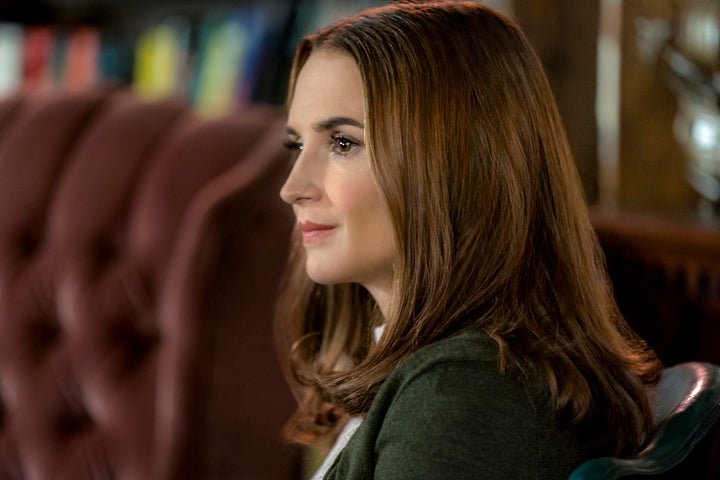 Popular in the Community