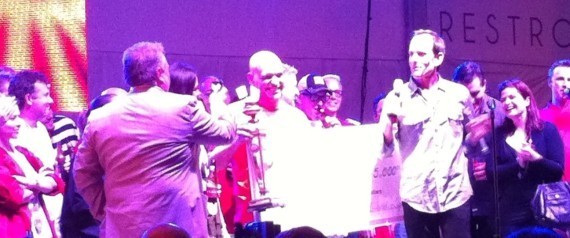 Nearly 30 chef & restaurant competitors served up their signature burgers to throngs of fans, including Michael White and his Ai Fiori dry-aged 'White Label' burger, 2009 winner Spike Mendelsohn (dressed as the Hamburglar), Lonesome Dove's Tim Love serving up a well-received elk burger with foie gras and huckleberry jam, Morimoto and his wagyu burger with fried egg, Michael Schwartz, Laurent Tourondel, the esteemed Shake Shack burger (and winner of the inaugural Burger Bash in 2007), and the GQ-named best burger of 2010, Umami Burger out of LA.
In the end, though, these worthy competitors took the top honors:
The 'Best-Dressed' Burger, for achievement in condiments, went to Michael Symon and his shasha sauce topping, a hot mustard sauce with hungarian peppers.
The 'Judges Award' went to Marc Murphy and his 'Big Marc' burger, of New York's Landmarc restaurant.
And, envelope, please... the coveted 'People's Choice Award' went to last year's winner Michael Symon, marking the first ever back-to-back Burger Bash wins, and surely rendering Symon a shoo-in for the as of yet non-existent Burger Bash Hall of Fame. His winning burger was dubbed the Yo! Burger, which had fried salami, provolone cheese, the aforementioned winning shasha sauce and pickled onion.
Accepting the award, Symon credited his meat-on-meat strategy, explaining, "Last year it was the pastrami, this year it was the salami. It's all about meat on meat, baby!"
Congrats to Chef Symon on his big win, and for some iPhone-quality (viewer beware) photos of Thursday night's event, check out the slideshow below (Update: now includes higher quality photos as well!), and for more behind-the-scenes photos check out Slashfood's excellent set of photos here.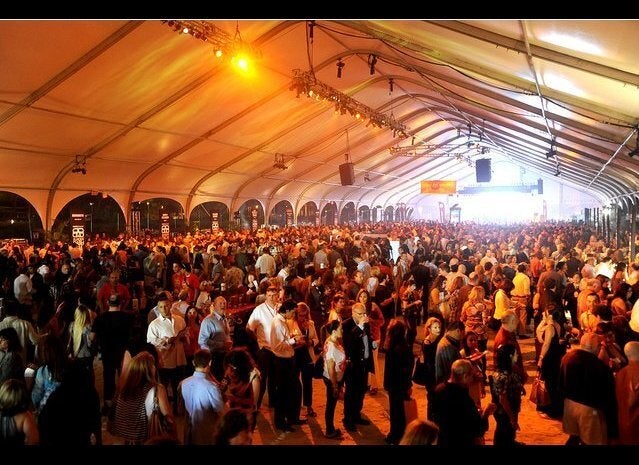 2011 SoBe Burger Bash
Related