As Father's Day nears, grilling season is upon us. And just in time, our good friend and one of America's favorite cooks, Rachael Ray, has come out with her 20th cookbook, The Book of Burger. Her first single topic book covers in over 300 recipes "burger and his buddies -- dogs, sandwiches, and sides." What better choice of subject? As Rachael puts it, "Burgers are iconic because they say who we are. Everyone is included. You can afford this. It's a moveable feast." Ain't that the truth? Travel across America, and everywhere you go, you'll find stops you have to make on the iconic food pilgrimage: Louis' Lunch in New Haven to taste the original burger, according to local lore; Hot Dog Johnny's in Buttzville, New Jersey, for a chili dog with a birch beer in a frosted mug; and you can't go to the Jersey Shore without having a Taylor Pork Roll sandwich. And I'm not even out of the Northeast!
You can find your way across this country using burger joints
the way a navigator uses stars. Charles Kuralt
As kids growing up in Scranton, Pennsylvania, we enjoyed burgers two ways: in the backyard on the grill, or at the local diner, coffee shop, or drive in. At home, everyone had their own preferred way to cook them. My dad ate his seared and blue; my mom liked hers well done. Condiment additions were crucial. It was all about the meat then. There is something about a classic beef hamburger that satisfies the human animal -- that charbroiled meat from the fire. It's been immortalized in American film and television. Who can forget Arnold's burger joint in Happy Days or The Olympia Diner on Saturday Night Live with John Belushi behind the counter? There was only one offering available to the customers there:
Cheeseburga, cheeseburga, cheeseburga. John Belushi
Today there is every kind of burger available -- Kobe beef, pork, salmon, tuna, turkey, chicken, veggie, and grain, to name a few. Rachael features them and others in The Book of Burger: a Wellington Burger with steak and pate; Cuban Patty Melts with yellow mustard slaw; and a Spanikopita chicken burger with spinach and feta. Plus there are all kinds of hot dogs and sloppy sandwiches. Even homemade pickles. And since Rachael has been hosting the Burger Bash at the South Beach and New York Food and Wine Festivals for years, she includes the winning burger recipes from famous chefs. As Rachael points out, "Great food has hit the streets, and in this economy, the top chefs have brought their food to the people."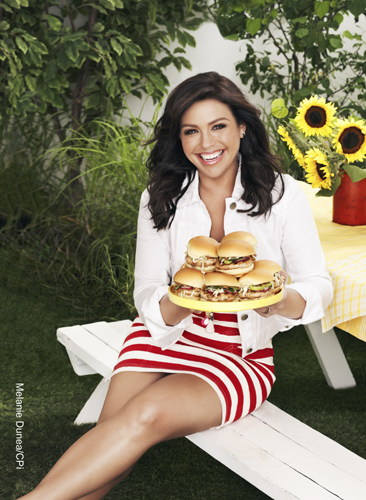 Photograph by Romulo Yanes
I think that one of the biggest innovations of the day is the rise of the small burger, the now ubiquitous SLIDER. Once found only at cocktail parties and fancy bars, today you can get slider patties and rolls in your local supermarket. They are the perfect size for eating in combination with other favorite foods. This Father's Day weekend, most Americans will pull out the grill at some point. And we all know that Dads love burgers. With sliders, you can make a few different kinds easily. I personally love being able to have a slider, a dog and a sausage sandwich! And here's some great news: Rachael said that she is planning to open a slider bar with specialty fountain drinks and Bloody Mary flights on Sundays. I, for one, can't wait. The plan is to open in New York, and eventually move to several cities. Now that would make Charles Kuralt happy!
To help with your menu planning for Father's Day, Rachael is sharing a recipe from The Book of Burger with us. It's a 5- Spice Burger with Warm Moo Shu Slaw. It's the perfect twist on your favorite Mu Shu Pork or Chicken, served up on a bun. Enjoy, and Happy Father's Day to all of you Dads, Grandfathers, and Fathers-to-be!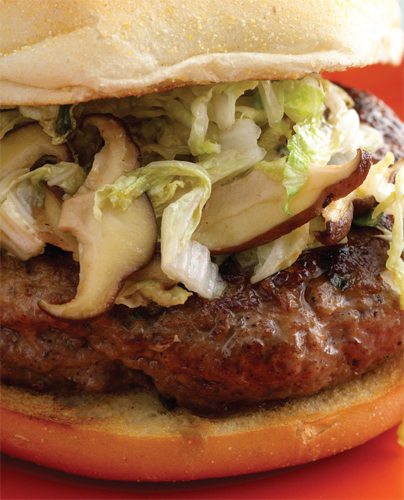 Photograph by Romulo Yanes
5-SPICE BURGERS with WARM MU SHU SLAW
Serves 4
Ingredients:
BURGERS:
1 1⁄2 pounds ground pork or chicken
1 teaspoon Chinese 5-spice powder
2 cloves garlic, grated or
1-inch piece fresh ginger, peeled and grated or minced
2 scallions, whites and greens, finely chopped
3 tablespoons tamari or soy sauce
Vegetable oil, for drizzling
MU SHU SLAW:
2 tablespoons vegetable oil
12 fresh shiitake mushrooms, stems discarded, caps thinly sliced
1⁄3 to 1⁄2 pound cabbage, such as napa or Savoy, shredded
2 or 3 scallions, whites and greens, thinly sliced on an angle
3 tablespoons hoisin sauce
4 cornmeal-dusted or sesame kaiser rolls, split and lightly toasted
Preparation:
Make the burgers: In a large bowl, combine the pork or chicken, 5-spice powder, garlic, ginger, scallions, tamari, and a drizzle of oil; mix thoroughly. Score the mixture into 4 equal portions and form them into patties slightly thinner at the center than at the edges for even cooking and to ensure a !at surface burgers plump as they cook). Drizzle the patties with oil.
Heat a large nonstick skillet or grill pan over medium high heat. Cook the burgers, flipping once, 10 to 12 minutes, or until the juices run clear.
While the burgers are cooking, make the slaw: Heat the oil, 2 turns of the pan, in a nonstick skillet over high heat. Cook the shiitakes 2 minutes. Add the cabbage and stir-fry 3 minutes. Add the scallions and hoisin sauce, toss to combine, and remove from the heat.
Place the burgers on the roll bottoms and pile high with slaw. Set the roll tops in place.
Copyright © 2012 by Rachael Ray from THE BOOK OF BURGER published by Atria Books, a division of Simon & Schuster, Inc.
This recipe and many other family favorites are available on DishandDine.com. Stop by and become part of this grass roots global food community!
DishandDine -- It's All About Food
http://www.dishanddine.com
http://www.facebook.com/DishandDine
http://www.twitter.com/DishandDine
REAL LIFE. REAL NEWS. REAL VOICES.
Help us tell more of the stories that matter from voices that too often remain unheard.