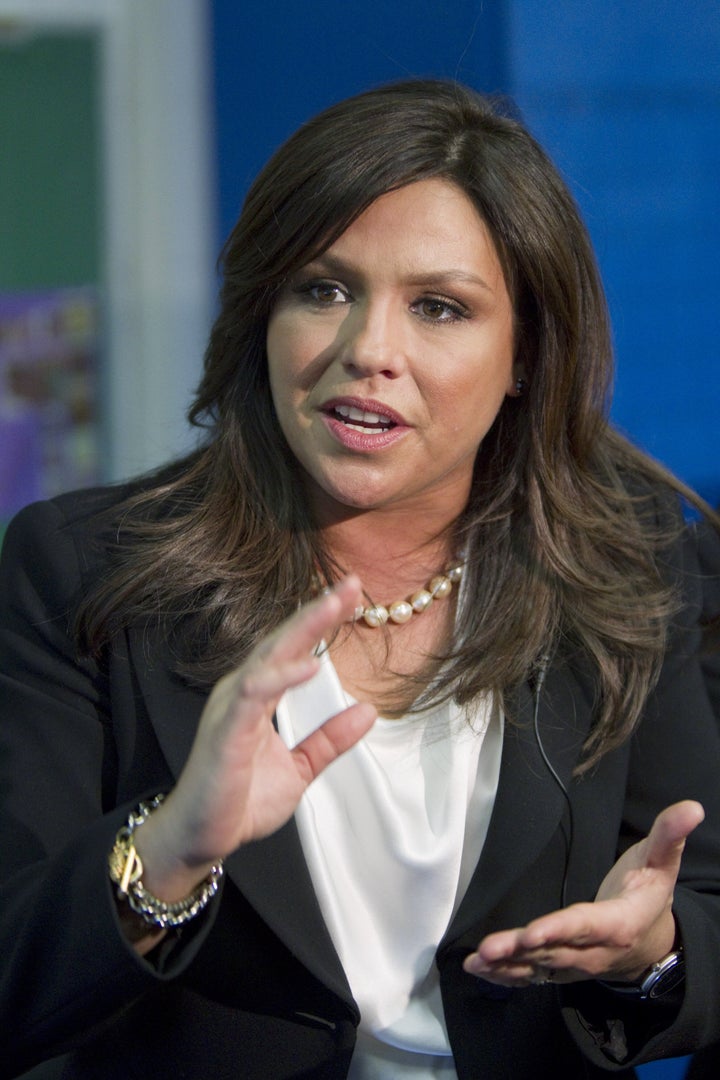 Remember when Fox pundit Michelle Malkin accused Rachael Ray of being a terrorist sympathizer because she wore a Middle Eastern-ish scarf in a Dunkin' Donuts ad? I'm not sure what was more absurd about that episode: Malkin's unhinged hysteria, or Dunkin' Donuts' profile in cowardice (they yanked the ad.)
But Malkin got one thing right: Rachael Ray is far more radical than I even dared hope. She took Capitol Hill by storm Monday, armed with some very sharp talking points, and fired them directly at the lawmakers who actually have the power to improve the lousy school lunches we're dis-serving our kids:
"How could you go to any state in the union and say you are not for an extra couple of cents to eradicate hunger, to make our kids healthier, stronger, better focused? It doesn't make any sense that you would even have to have a long conversation about that, to me."
Why? Because the USDA has a bad case of schizophrenia: it's supposed to look out for the 'little people' -- presumably that includes our school children -- by helping us eat healthy, but it's simultaneously tasked with championing the interests of Big Ag, which profits from turning commodity crops into cheap processed foods that cause ill health.
So the USDA has historically marginalized fruits and vegetables as "specialty crops" and encouraged our farmers to grow more feed corn and soy. And Congress won't allocate sufficient funds to pay the cost of feeding those "special" fruits and vegetables to our apparently not-so-special kids.
Ray teamed up with another powerful New Yorker, Senator Kirsten Gillibrand, to lobby the folks who hold the purse strings to the Child Nutrition Act. I had the opportunity, thanks to my Living Liberally colleague Claire Silberman, to meet Gillibrand at a private lunch in NYC last week, and was gratified to hear firsthand about all the initiatives she's spearheading to transform the way we feed our kids.
Why do we even have to debate the notion that we should feed our kids real food? It shouldn't be a partisan issue, and it shouldn't be a regionally divisive issue pitting the Corn Belt against the Arugula Belt (i.e., any community with a population dense and affluent enough to support a farmers' market and/or a Whole Foods.)
But we live in such a bizarrely partisan era that a humble salad green like arugula has become shorthand for supposed liberal lunacy. James Godsil, the Milwaukee mover and shaker behind the awesome urban ag project Sweet Water Organics and Growing Power board member, is on a mission to rescue arugula, aka "rocket," as it's known in Europe, from its current status as a symbol of all things socialist and restore it to its rightful place on our plates, regardless of region or social status. As he wrote on the Milwaukee Renaissance website:
It is a stupefying fact that our president was mocked for sharing his love of arugula.
Godsil's "Arugula as Birthright" campaign seeks to get kids all over the country psyched about growing, and savoring, fresh salad greens, while also learning invaluable lessons:
Imagine a school with a principal and one teacher committed to affording each and every student a taste, for starters, regular tastes eventually, and growing classes, ultimately, of arugula and spinach.

Then imagine a school with a composting and vermiculture program that gave our students a chance to learn about turning urban waste streams into the world's most nutrient-rich soil, and then some hands on experience in science, math, biology, chemistry, and construction, creating raised bed gardens, even hoop houses, for their school edible playgrounds.
We need grassroots activists with Godsil's vision and passion, we need celebrities like Ray who is willing to use her star wattage to turn up the heat on Congress, and we need politicians like Gillibrand, a mother of young children who appears willing to challenge our long-entrenched Iowa-based cornarchy.
To see Ray bounding through the Beltway demanding that our politicians start showing true family values by allocating more money to give our kids better food is a dream come true for me.
Will Agribiz astroturfers accuse her of treason for conspiring in a a terroirist plot -- with a Brit, no less -- to foist fresh, healthy foods on America's youth?
No matter where your representatives or your congress people are from, this is something we all care about as a country, and we're not asking, we're demanding change!
I was duly impressed by her genuine enthusiasm for the First Lady's endeavor, and I also applauded her for enlisting the resources of her non-profit Yum-O! and the powerful platform of the Rachael Ray show to reward one of my own personal heroes, Pressure Cooker star Wilma Stephenson.
But I had no idea Ray would put her money where her self-proclaimed "big Sicilian mouth" is. Will wonders never cease? Let's give Ray a shout-out, and while we're at it, let's let Senator Gillibrand know we're thankful for her efforts as a member of the Ag Committee to bring "specialty crops" out of left field. And speaking of bringing greens out of left field, won't you please join James Godsil in his quest to stop shameless partisans from soiling arugula's reputation? Please email him at godsil.james@gmail.com if you share his conviction that arugula should be a uniter, not a divider.