"The Marvelous Mrs. Maisel" star Rachel Brosnahan remembered her aunt Kate Spade in happier times with a moving tribute on social media.
The New York-based designer was found dead in her apartment on Tuesday at age 55 in a reported suicide. The fashion community mourned the loss of the womenswear giant, extending condolences to her friends and family.
Brosnahan, whose mother Carol was Spade's sister, on Wednesday shared a video on Instagram of the designer dancing with husband Andy as a mariachi band plays in the background.
"Knowing Katy, this is how she would want to be remembered. She had a light that words can't capture but touched everyone she came into contact with," Brosnahan wrote alongside the video. "She was exceedingly kind, beautifully sensitive, insanely talented, funny as heck and one of the most generous people I have ever known. She was effervescent. Hug your loved ones extra tight today."
Spade's family confirmed her death in a statement to The New York Times.
"We are all devastated by today's tragedy. We loved Kate dearly and will miss her terribly," the statement read. "We would ask that our privacy be respected as we grieve during this very difficult time."
Over the years, Brosnahan and Spade appeared together on red carpets and other events as the actress' star rose. She went on to win a Golden Globe for her role in the celebrated Amazon series, which made her late aunt "insanely proud."
"I am beside myself! My daughter and I jumped up and down when she won," Spade gushed to Page Six about Brosnahan's big win at the time. "She deserves this recognition as she's put her heart and soul into the role."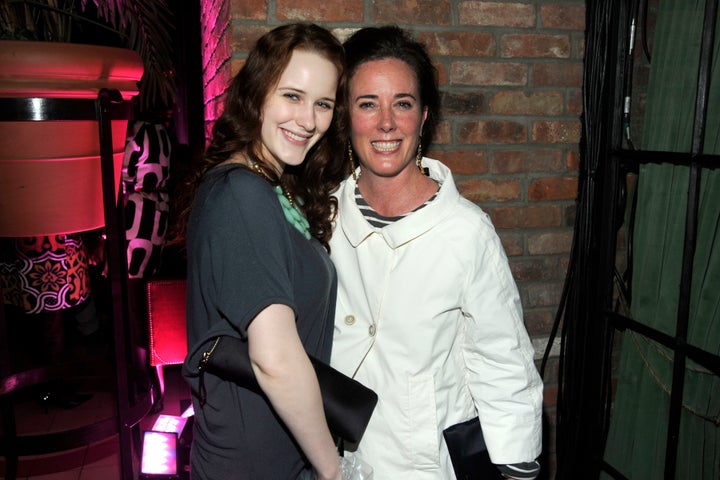 Brosnahan, like many women who've spoken out about Spade since her death, credited her aunt for inspiring her sense of style.
"People around me have said I've inherited little pieces of Katy's style," she told WWD in 2016. "For example, I love a good shoe and a good bag, and I know that she was largely influenced by my grandmother, her mother, June."
Spade, who's survived by her husband Andy and 13-year-old daughter Frances, also was memorialized by another famous family member, brother-in-law David Spade. The comedian shared multiple photos of the two smiling together, describing the designer as "so sharp and quick on her feet."
"Its a rough world out there people," David Spade wrote. "Try to hang on."