Rachel Dolezal, until recently the president of the local NAACP chapter in Spokane, Washington, was at the center of a firestorm of criticism last week after her white parents claimed that she'd risen through the ranks as a civil rights leader by misrepresenting herself as a black woman. And a closer inspection of Dolezal's upbringing reveals that she wasn't the only one in her family on a mission to save the world.
Dolezal's biological parents, Ruthanne and Larry, are deeply conservative evangelical Christians whose faith has inspired them to personally seek out ways to redeem and save humanity -- whether it's by evangelizing on a mission trip or bringing four adopted black children into their home.
"[Rachel's] social justice advocacy is just a carry-over of the values within her home," Larry Dolezal told The Huffington Post on Tuesday.
The NAACP has stood behind Rachel throughout her fall from grace. The historic civil rights association has emphasized that "one's racial identity is not a qualifying criteria or disqualifying standard for NAACP leadership."
"The NAACP Alaska-Oregon-Washington State Conference stands behind Ms. Dolezal's advocacy record," the group said in a statement Monday.
Rachel's father also said that he supports his daughter and is "very pleased with all of her advocacy work."
"But when it gets to the point where she misrepresents her identity and ethnicity and is trying to reinvent reality -- well, let's be honest and truthful," he said.
Ruthanne and Larry Dolezal, both residents of Troy, Montana, have been advocates for social justice in their own way. They practice Young Earth Creationism, a fundamentalist branch of Christianity that takes the Bible's stories about the beginning of the world quite literally. Young Earth Creationists believe that God created the world in six consecutive 24-hour days, that humans and dinosaurs once walked together and that the Earth is only about 6,000 years old. To Young Earth Creationists, the great flood described in the Bible isn't just poetry -- it's historical fact.
The Dolezals were so committed to their faith that they moved to South Africa in 2002 to spread the gospel, taking their adopted children with them. Larry worked as a general manager at the Cape Town office of Creation Ministries International, an international organization that promotes the creationist message. He also said he did aid work for disadvantaged people in the region.
Larry confirmed to HuffPost that he and his wife's religion played a big part in the adoption of their four black children -- Ezra, Izaiah, Esther and Zach. The children were adopted in rapid succession between 1993 and 1995, with three coming from the United States and one from Haiti.
"We share a very strong, faith-based, pro-life conviction, and our older children shared that conviction with us at the time we adopted our four children," Larry said. "If you save [children] from abortion, we're willing to adopt them and raise them. It's putting our pocketbooks where our words are."
In recent decades, many influential evangelical leaders, like Russell Moore of the Southern Baptist Convention and Rick Warren of Saddleback Church, have urged their flocks to consider adoption as a way of practicing their faith. The drive to adopt comes partly because of parents' desires to expand their families -- but also because of this framing of adoption as a spiritual act, according to Kathryn Joyce, a journalist and author of The Child Catchers: Rescue, Trafficking, and the New Gospel of Adoption.
It's not just about adopting children -- it's also about "saving" or "redeeming" them, Joyce said.
"There's a whole sort of theology that talks about adoption as this perfect mirror representation of how Christians are adopted by God, which evangelicals would call vertical adoption. And this would be reflected in child adoption, which they'd call horizontal adoption," Joyce told HuffPost. "Adoptive parents would be emulating God and Jesus and becoming that role for their children."
Some evangelical churches are interested in adoption as a form of racial reconciliation, according to Joyce -- a way for white evangelicals to atone for the sins of the past.
The Dolezals said they weren't motivated by race when they chose to adopt black children. Larry was already 40 by the time they decided to adopt, and they wanted to do it quickly.
"We discovered that minorities are often hard to place," Larry told HuffPost. "We adopted African-American children because they were available and we were willing."
He said that Rachel, who was about 15 when the Dolezals began adopting, quickly fell in love with her new siblings.
"Rachel also felt the same compassion to embrace any ethnicity," Larry said. "When we ended up adopting African-American children because they were the ones available at the time, Rachel gravitated to that community and to that people group."
Izaiah Dolezal, one of the couple's adopted sons, reportedly sought emancipation from his parents in 2010. According to CNN, Izaiah, who is now 21, claimed the Dolezals "had sent his brother and sister away to group homes because they didn't cooperate with the couple's religion and rules."
Larry said that his kids were expected to participate in church events. However, he said, there was "no enforcement" in their house growing up. For the most part, he said, his children seemed to accept their parents' interpretation of the Bible.
As for Rachel, Larry said that "only the Lord knows her heart."
"Where she stands with him, I can't tell you," he said.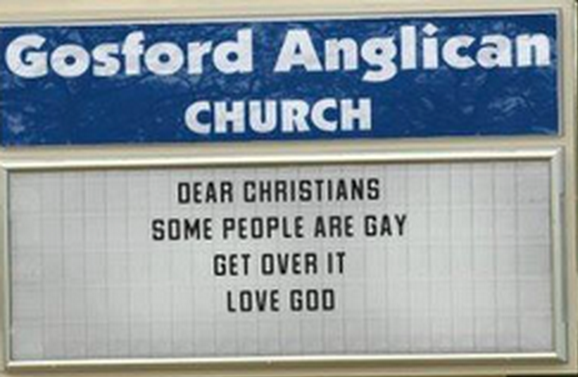 Controversial Church Signs
Popular in the Community