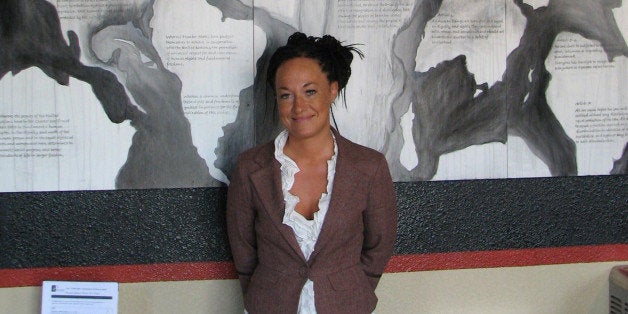 Rachel Dolezal, who resigned her NAACP position Monday after questions about her race, appears to have once filed a race discrimination lawsuit against Howard University, according to The Smoking Gun.
Dolezal, who received a Master of Fine Arts degree from Howard in 2002, apparently sued the historically black university in Washington, D.C., that year, alleging Howard discriminated against her by blocking "her appointment to a teaching assistantship" in 2001, rejecting her application for an instructor position and denying her scholarship aid as a student.
The plaintiff in the lawsuit, filed in Washington Superior Court, was Rachel Moore, according to court documents posted on The Smoking Gun website. Defendants were Howard and Alfred J. Smith, head of the arts department.
The Huffington Post confirmed the lawsuit, but was unable to confirm that Rachel Moore and Rachel Dolezal are the same person.
"We consider this matter closed and have no further comment," a Howard spokesman said Monday. Smith didn't return a request for comment. Dolezal couldn't be reached.
The court ruled Moore failed to show that race was a substantial factor in Howard's decisions denying her a position or scholarship money. The fact that a part-time instructor was hired after she inquired about a teaching job didn't prove discrimination, the court said. Smith testified he didn't know Moore was interested in a teaching assistant position until "after he had allocated the available slots for the fall semester," according to court documents.
The court ruled in 2006 that Moore had to pay Howard's legal fees.
UPDATE, 6/16, 1:45 p.m.: Rachel Dolezal acknowledged Tuesday on NBC's "Today" show the lawsuit filed against Howard University was hers.

Popular in the Community