As Mark Twain wrote, "truth is stranger than fiction." In fact, truth can also be much funnier and often more surreal. Such is the case in the new comedy Tail! Spin! The Off Broadway show craftily tells the stories of the high-profile political scandals of Mark Sanford, Larry Craig, Anthony Weiner, and Mark Foley -- all from their actual words, revealing e-mails, racy texts, wacky interviews and saucy tweets. Four actors (Arnie Burton, Sean Dugan, Tom Galantich and Nate Smith) portray these politicians to a T as Rachel Dratch plays a mistress, several wives done wrong, Barbara Walters, and even a stripper. "This play goes back to my days at Saturday Night Live where I got to be a whole bunch of different characters in sketch comedies. It's so fun doing it," says Dratch, who appeared on SNL for 7 years. The actress answered questions about her life and career.
Q: You play 16 characters in Tail! Spin! from a stripper to a page to a lawyer. Do you have a favorite?
Rachel Dratch: My favorite is Barbara Walters (who interviews Jenny Sanford in the show). It's fun to channel her. I played Barbara Walters on Saturday Night Live.
Q: What do you love about doing Tail! Spin!?
Rachel Dratch: I really like watching the other actors in the show, seeing what they bring to their performances and how funny they are. I learn so much from them. One thing I always loved at SNL was what you learned from watching fellow performers. I like always working with different expert people. You learn a little something every time from everybody.
The Tail! Spin! cast (from left): Nate Smith, Arnie Burton, Rachel Dratch, Sean Dugan and Tom Galantich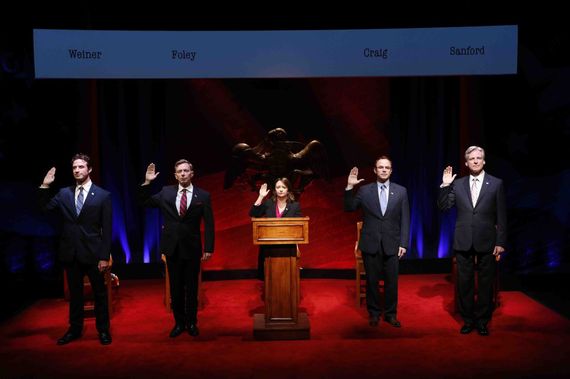 Used with permission/Photo credit: Carol Rosegg
REAL LIFE. REAL NEWS. REAL VOICES.
Help us tell more of the stories that matter from voices that too often remain unheard.