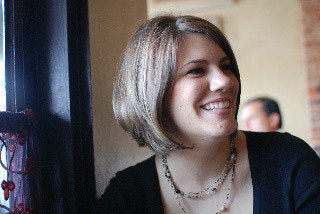 One woman's vagina is causing quite a ruckus in evangelical circles. Well known evangelical blogger Rachel Held Evans spent the past year trying to "live biblically" by following the Bible's instructions -- from calling her husband "master" to camping out in her front yard during her period -- for her new book, "Year of Biblical Womanhood." Last week, Evans learned her book will not be carried by LifeWay, one of the biggest Christian bookstore chains in the country.
Evans claims she is not some radical trying to shake up the church structure. As Slate magazine pointed out in a September post about the book, Evans' blog draws thousands of "highly evangelical readers" every day and she speaks at Christian universities across the country. Her father is a professor of Christian thought and Biblical studies at a small religious college in Tennessee where Evans still lives with her college sweetheart.
"A Year of Biblical Womanhood" is Evans' follow-up to her successful 2010 memoir, "Evolving in Monkey Town." According to the Amazon book description, "Evans embarked on a radical life experiment—a year of biblical womanhood. Intrigued by the traditionalist resurgence that led many of her friends to abandon their careers to assume traditional gender roles in the home, Evans decides to try it for herself, vowing to take all of the Bible's instructions for women as literally as possible for a year."
The basic premise of the book is simple, and its language is "super-PG" Evans told Slate, with no bad words and none of the mildly feminist thinking that has got her into some squabbles in the past. Evans' references of the currently infamous v-word are twofold: firstly in the description of a woman raped in the Congo, and second in a description of a teenaged Evans signing an abstinence pledge card as a promise "to God and my vagina."
In March, her editor at Thomas Nelson suggested she take that second vagina out, lest it be passed over by stores like LifeWay, which is considered to have some of the strictest editorial standards while controlling 160 stores in 26 states, according to the magazine.
On her blog, Evans admitted to having conflicted feelings about the request. "[My publisher] won't let me use the word "vagina" in my book because we have to sell it to Christian bookstores, which apparently have a thing against vaginas," she wrote. "I make a big scene about it and say that if Christian bookstores stuck to their own ridiculous standards, they wouldn't be able carry the freaking Bible."
Outraged fans have rallied around her.
Evans is quick to point out that LifeWay has declined to comment on why her book will not be carried, and she mentioned a source who said off the record it may have been more of a content issue. The book was panned in a blog post on John Piper's blog, and some have even questioned Evans' evangelical credentials.
Evans told Slate that she wishes the saga had played out differently.
"I often hear from evangelical leaders, 'Oh we're really eager to have more female leaders,' " she said. "I want to say, 'This is my voice. This is what it sounds like.' "
Click through the slideshow to see most and least Christian states in the United States:
PHOTO GALLERY
Most and Least Christian States
Calling all HuffPost superfans!
Sign up for membership to become a founding member and help shape HuffPost's next chapter