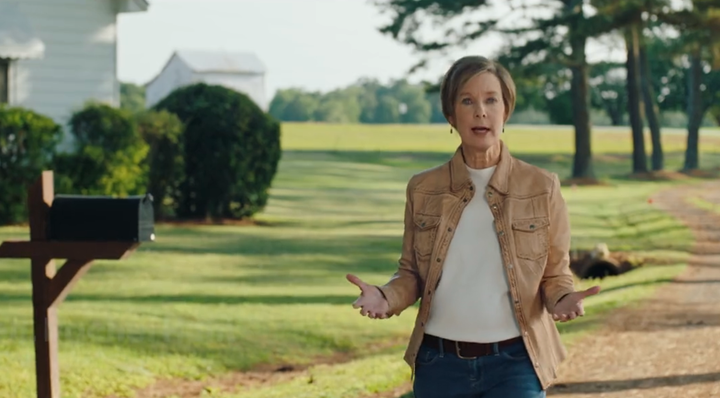 Twitter blocked a Democrat's campaign video from being promoted on its platform because it expressed support for abortion rights, according to email conversations obtained by HuffPost.
The video, created by North Carolina state Sen. Rachel Hunt (D) for her campaign for lieutenant governor, centers on abortion rights in North Carolina and the fall of Roe v. Wade. Hunt says in the video that she's running for lieutenant governor to combat anti-choice Republicans who recently passed a 12-week abortion ban in the state.
"When Roe v. Wade came to rural America, women woke up to a different world. A world with a bit more time. Little girls were little girls a little longer. Young women had the freedom to stay or go. The word 'liberty' was finally being used to talk about our lives," Hunt says in the campaign video. "The important decisions didn't get easier, but they were hers. A move to the city for college, for a career, for life ― those dreams didn't have to end with an unplanned pregnancy."
"I'm running for lieutenant governor because the Republican plan isn't this year's 12-week abortion ban ― it's next year's total abortion ban," she continues. "We're talking about 50 years of precedent. Not just legal precedent, but how three generations of women have lived their lives."
The video is still available on Twitter, but the Hunt campaign cannot currently advertise or promote the video on the platform.
It's common for companies and political candidates to pay Twitter to advertise content, whether it's campaign videos or promotional material for certain products. Hunt's campaign told HuffPost that they had set up a budget with Twitter to advertise certain videos, but then they noticed the money hadn't been spent and the ad hadn't been boosted by the platform.
When the Hunt campaign reached out to Twitter to inquire about the holdup, an employee said the video was blocked from promotion because of "the mention of abortion advocacy."
"Ah yes, the mention of abortion advocacy is the issue here," a Twitter employee told Hunt's campaign Wednesday in an email reviewed by HuffPost. The employee said the company may have "some good news to share on that front" in the next week or so, seemingly suggesting it may change its standards and practices on content discussing abortion rights.
"For now, though, you still won't be able to message around that topic," the employee added.
HuffPost reached out to Twitter for comment and received an automated response with a poop emoji, as is now standard.
Hunt said she's deeply concerned that Twitter believes content regarding abortion rights should be prohibited.
"This campaign is about representing the issues most important to North Carolinians ― including ensuring that all women have the right to make decisions about their own bodies," she told HuffPost.
"I find it deeply concerning that Twitter considers the topic of protecting our fundamental freedoms as prohibited content," Hunt continued. "Regardless, I will continue to focus on sharing my message with voters in every community in every part of the state."
Since business mogul Elon Musk bought Twitter last year, the social media platform has shifted conspicuously to the right. When Musk took over, he immediately invited several right-wing extremists who had been kicked off Twitter back to the platform, including former President Donald Trump. Musk gutted the company from 7,500 employees to now closer to 2,000, laying off people in critical roles and curtailing employees' ability to moderate hate speech and misinformation.
Support HuffPost
The Stakes Have Never Been Higher
Popular in the Community