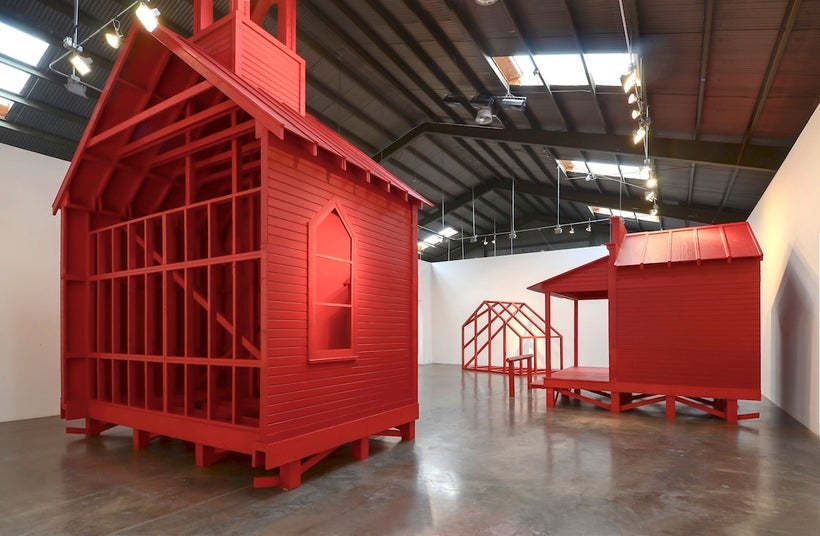 Rachel Lachowicz has made her "mark" in art history by using red lipstick as her signature for feminist interventions that expose the fallacy of gender neutrality in reductivist minimalist aesthetics. She says, "I have a lifetime of making feminist art and decades of using lipstick as a mark that is indexical to femininity as another kind of voice." Her innovative fusion of aesthetic and conceptual complexity has made her an internationally acclaimed artist.
The male voice is so normalized in all cultural discourse, that even in minimalist art, any introduction of a feminine voice is viewed as a deviation from the norm. Lachowicz uses red lipstick as a strategy to translate seminal works by leading (male) minimalists she admires into feminine ecriture. Red lipstick is a signifier of feminine artifice, allure and sexuality. Lachowicz uses the feminist strategy of mimesis to skillfully mimic minimalist aesthetics - but with a feminine twist, by applying seductive lipstick paint that gives voice to the way femininity is culturally constructed and how women are excluded from power. Her feminist politics are the subtext for repurposing the aesthetics of cosmetics to push the boundaries of minimalism. These materials inject an olfactory feminine sensuality into this male-dominated genre - from a pre-feminist era - based on "essentialness" (Clement Greenberg), which denies the cultural meaning of surface and materials.
The title of Lachowicz' impressive exhibition at Shoshana Wayne is incentivized by basketball coach Bobby Knight's infamous misogynistic remark, "I think that if rape is inevitable, relax and enjoy it." In response, Lachowicz stages a theatrical mime by reimagining two Old West architectural symbols of patriarchal authority: a church and a Sheriff's station complete with a pony rail. These pillars of law and order, religion and domesticity, are based on a set from Clint Eastwood's film, High Plains Drifter (1973), an outlaw western that includes two rape scenes. Lachowicz revisits frontier culture because it is the archetypal foundation that still defines American gender politics by mythifying hyper-masculinity and the exclusion of women.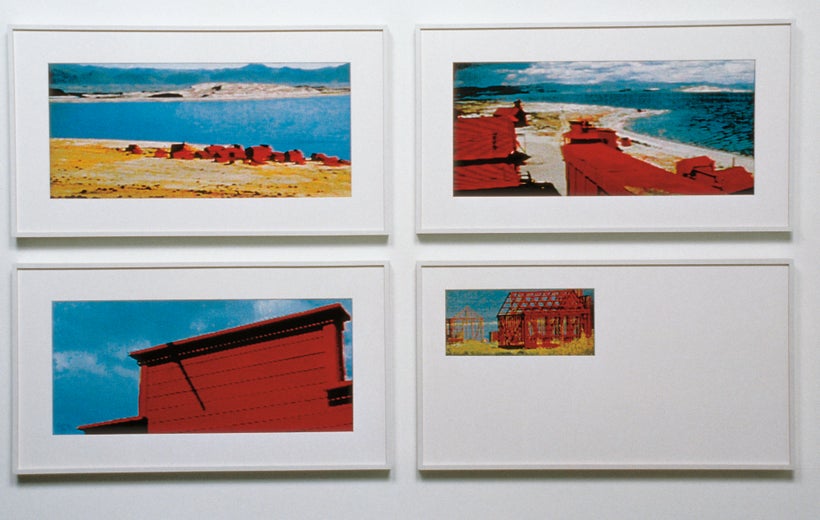 In a side room, Lachowicz includes photographs from video stills of the film where the western town is painted red as a metaphor for the town's changed identity. She makes the film scene even more painterly by adding red lipstick pigment that bleeds out from the red architecture onto geometric forms. These photographs provide the backstory to the sculptures by showing her process of pouring the blood-like lipstick onto segments of the architectural construction. Lachowicz also photographs these building segments laid out on the floor like a puzzle. She says, "I do not separate the act of 'making' and the work itself." Even the labor-intensive process of "cooking" kilos of lipstick pigment and wax in giant vats in her "art kitchen" for two days, is part of a feminist performance which the work documents.
Lachowicz's work is viewed in multiple spaces: the virtual space of photographs, the studio space where it is made, and the gallery space where it is contextualized. She explores different relations between space and scale in this theatrical installation which is an immersive experience. Viewers even see their own reflection in the red mirrored windows as they walk around the buildings and smell the intoxicating scent of a woman. The feminine cosmetic coating of lipstick, dripping like blood from the roof and porch, recontextualizes these frontier buildings from an alternate perspective of a post-structuralist, feminist critique of gender, power and misogyny.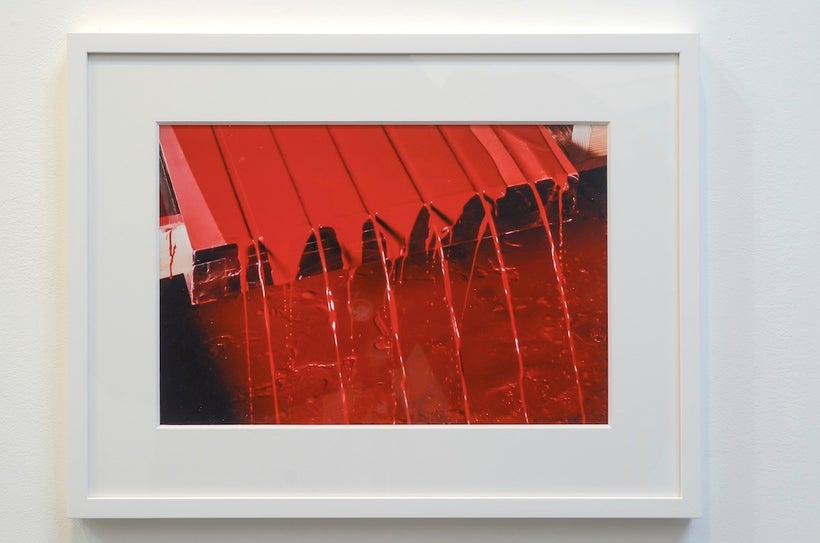 Cosmetics are traditionally considered more frivolous than the industrial materials used by male minimalists, but Lachowicz exposes the chauvinism of privileging materials which signify masculinity over materials which signify femininity. As Lachowicz says, "everything has content and meaning. Industrial materials have cultural meaning and construction is a male domain."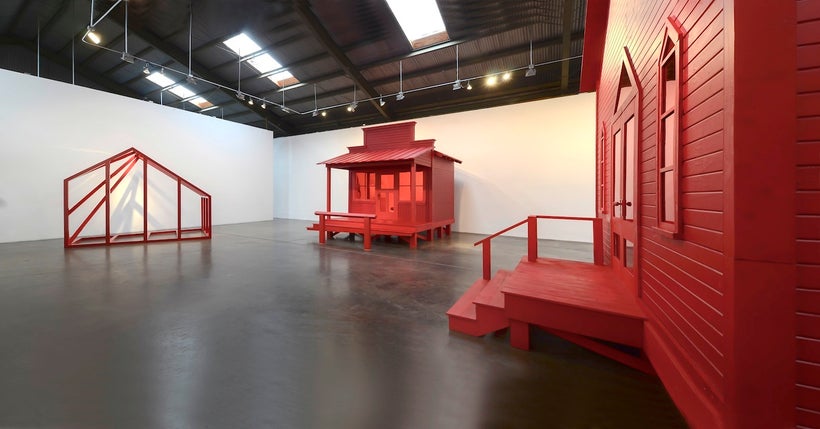 Throughout this theatrical exhibition, artworks reference each other within a broader cultural framework. Lachowicz abstracts a geometric shape from the frontier architectural constructions in a refined, Donald Judd-like red aluminum sculpture. This minimalist work has an empty space inside that encourages the viewer to think about the relationship between the inside and outside. Like Judd's work, it is free from emotion and the artist's touch. But unlike his objects which do not allude to anything beyond their own presence, her shape harkens back to the frontier constructions to show both the cultural and aesthetic impact of different surface values.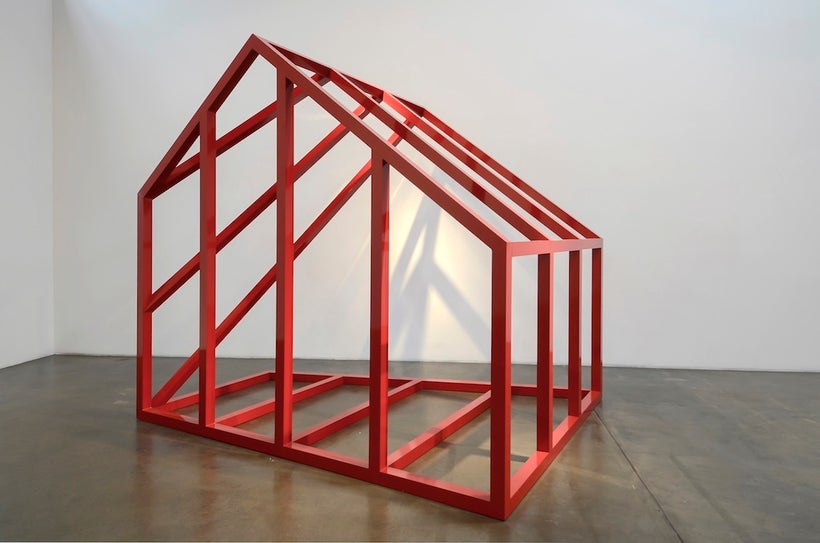 In another side gallery, Lachowicz further abstracts geometric shapes in wall sculptures based on vector drawings she used to fabricate the sculptures. These minimalist works, made from red plexiglass and gator board, are abstractions from her architectural constructions - flattened on the wall. These philosophically charged geometries provide different perspectives on the vertical orientation of most contemporary architecture - since architecture in more egalitarian, matrilineal societies was underground. Although these sculptures can be viewed formalistically as autonomous artworks (in Judd's sense of "specific objects") because they also gesture toward the red lipstick-coated frontier architecture in the exhibition, they document her process of making drawings and flattening them.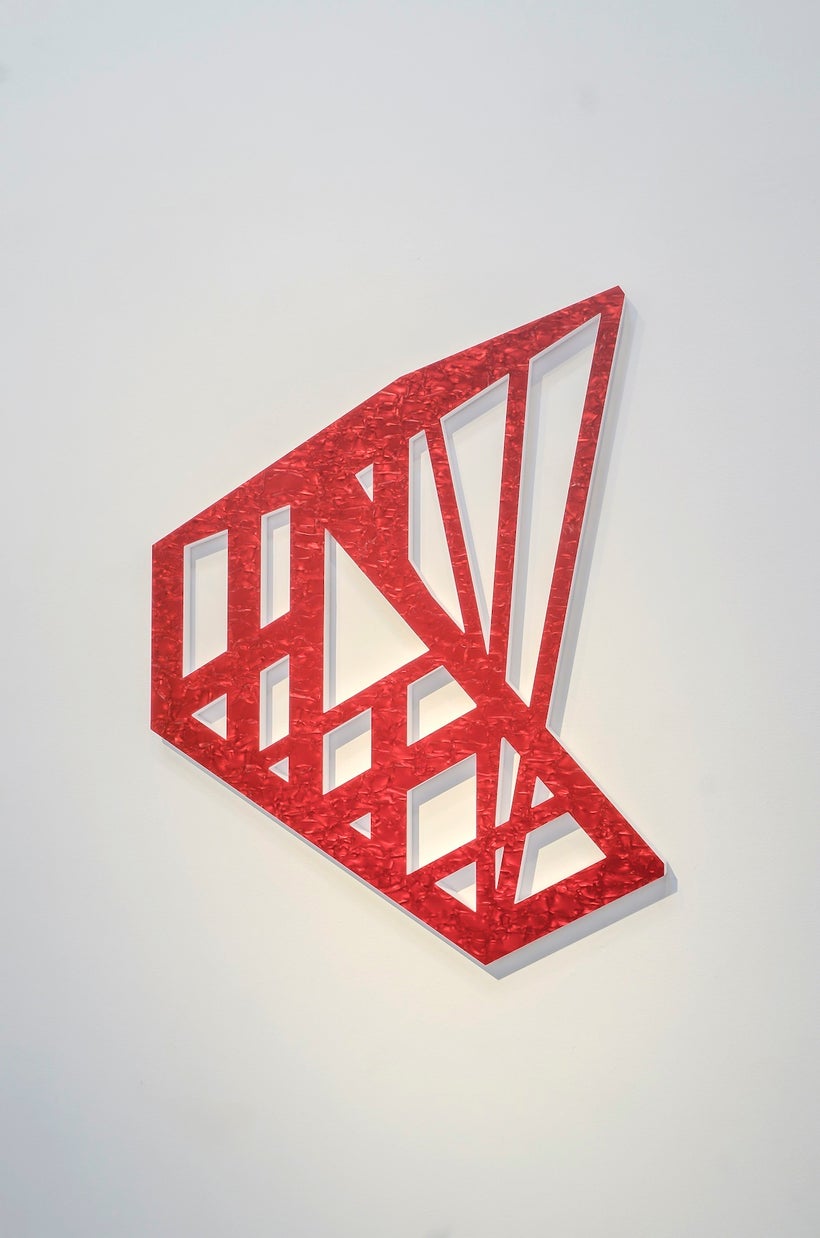 Lachowicz emphasizes that "every aspect of an art object contains information." In this exhibition, she expands the dialogue on minimalism with socio-historic source code from frontier culture, using her signature red lipstick as what she calls a "software patch" to imbue femininity into places where women have traditionally been excluded. Lachowicz's dialectic redefines sculpture as a document rather than an object, and her work fuses a postmodern feminist perspective into high modern minimalist aesthetics. Yet, she is first and foremost an artist, not an ideologist, and this has earned her an important place in the history of art.
Exhibition Dates : January 21 - April 1, 2017
Location : Shoshana Wayne Gallery
2525 Michigan Ave, Santa Monica, California. Phone + 310-453-7535
International Museum Exhibitions and Awards: Lachowicz's work has been exhibited in top art museums worldwide, including: Orange County Museum of Art in Newport Beach, California (2017), Israel Museum in Jerusalem (2017), NSU Art Museum in Fort Lauderdale, Florida (2017), Los Angeles County Museum of Art (2014), Denver Art Museum (2009), Rose Art Museum at Brandeis University in Waltham, Massachusetts (2008), Benaki Museum in Athens, Greece (2006), ICA in London (2005), Albright-Knox Gallery in Buffalo, New York (2005), MIT List Visual Arts Center, Cambridge MA (2003), New Museum of New York (1999), Vorarlberger Kunstverein (1995) and Museum of Modern Art in New York (1994). She was also in the Venice Biennale (1993).
Lachowicz was the recipient of the John Simon Guggenheim Memorial Fellowship (2003) and the Louis Comfort Tiffany Award (1995). She is the chair of the Art Department at Claremont Graduate University.
Calling all HuffPost superfans!
Sign up for membership to become a founding member and help shape HuffPost's next chapter
This post was published on the now-closed HuffPost Contributor platform. Contributors control their own work and posted freely to our site. If you need to flag this entry as abusive,
send us an email
.