Rachel Lindsay's historic, and historically delightful, journey on "The Bachelorette" came to an end on Monday night.
Although she revealed in May that she got engaged on the show and was "very much so in love," we had no idea which guy Lindsay would choose in the end.
Well, now we know who the lucky man is.
After a long finale event, Lindsay offered her final rose to Bryan Abasolo, a 37-year-old Colombian-American chiropractor, leaving runners-up Peter Kraus and Eric Bigger heartbroken. 
Abasolo, who swept Lindsay off her feet early on with a barrage of compliments and bruising kisses, struck many fans as a little too smooth to be sincere. During an awkward hometown date with her family, he apparently raised similar red flags. "My gut is telling me Bryan is a charmer," said her sister, Constance, who questioned whether he was lacking "the sincerity factor." But the Bachelorette saw something deeper in the Miami native, and he felt the same. After being chosen by Lindsay, Abasolo proposed and presented her with an enormous pear-shaped Neil Lane sparkler.
"When I met you, it just seemed too perfect and I was trying to find cracks in what seemed like the perfect foundation," she told her first-place finisher. "But this love has been so mature ... right here, in this moment, standing with you, I see my forever and I see my future."
"I am the best version of myself when I'm with you. You are so easy and effortless to love, and I just want to love you for the rest of my life," Abasolo responded. He finally knelt, asking Lindsay to be his "reina" forever.
She finally accepted the ring and handed him the final rose, and the two gleefully celebrated being betrothed at last.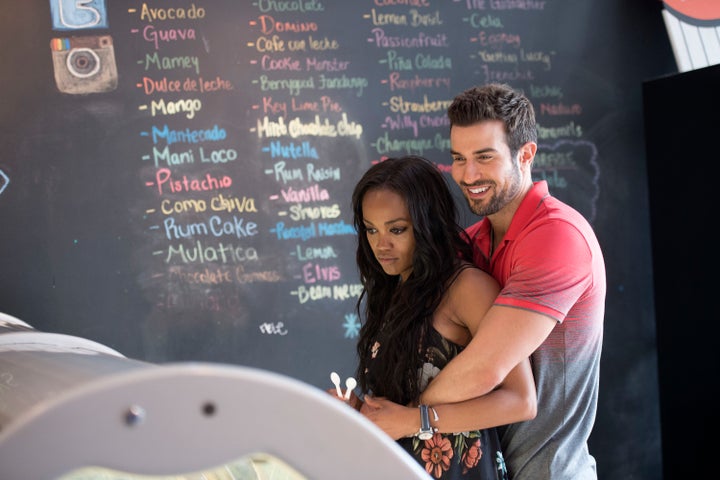 Before the dramatic proposal, Lindsay suffered one last heartbreak: In a messy and emotional conversation during their final date, she broke up with Kraus, a fan favorite beloved for the gap in his teeth (which matches Lindsay's). 
Though the two quickly hit it off on her first one-on-one date of the season, the relationship hit the skids after Kraus revealed during the fantasy suite date that he had no intention of proposing unless he was sure about marriage ― even if she picked him at the end. "I didn't come this far and put my life on hold ... to just have a boyfriend at the end of it," she told him. 
During the evening portion of their final date, the proposal argument began anew, and they found they were unable to resolve the impasse. After a long, teary conversation, he finally said he could be willing to propose because he didn't want to lose her ― but Lindsay didn't feel he knew what he wanted. "I can't do tomorrow and you tell me you just want to be my boyfriend," she told him. "Then," he responded, "I can do nothing but wish you the very best." Though they never technically said goodbye, their weepy leave-taking left little doubt that hearts were breaking.
Earlier in the episode, Lindsay also said goodbye to Bigger, who overcame a rough beginning to the season to become a dark horse finalist and audience favorite. Though he captured her attention with his carefree dance moves and emotional openness, Lindsay also professed to being concerned that Bigger had never been in love before. 
Her final break-ups were, no doubt, tough to get through, but Lindsay has seemed blissfully focused on the future since then. She's been planning engagement parties in both her hometown of Dallas and in Miami (Abasolo's hometown), according to her "Bachelor" buddy Astrid Loch, and she's given glowing interviews about how happy she is to have found someone to plan a life with.
Now, the pair is free to be seen together in public ― and, hopefully, start planning the "Bachelor" wedding special of the decade. Now that's a happy ending. 
Do people love "The Bachelor," "The Bachelorette" and "Bachelor in Paradise," or do they love to hate these shows? It's unclear. But here at "Here to Make Friends," we both love and love to hate them — and we love to snarkily dissect each episode in vivid detail. Podcast edited by Nick Offenberg.
Want more "Bachelor" stories in your life? Sign up for HuffPost's Entertainment email for extra hot goss about The Bachelor, his 30 bachelorettes, and the most dramatic rose ceremonies ever. The newsletter will also serve you up some juicy celeb news, hilarious late-night bits, awards coverage and more. Sign up for the newsletter here.
Calling all HuffPost superfans!
Sign up for membership to become a founding member and help shape HuffPost's next chapter
BEFORE YOU GO
PHOTO GALLERY
Tweets About "The Bachelorette" Season 13 Finale