Correction on 9-1-11: Rachel Maddow was not working at Air America Radio at the time of 9/11. She joined AAR in late March, 2004, when it started. Her radio career from 2000-2004 included a year at WRNX and two years at WRSI, both in Western Massachusetts.
On Saturday, August 20, I arrived two hours early at an 1839 church in the tiny town of Cummington, Massachusetts. I was attending a fundraiser for a beloved landmark grocery that is transitioning from private to cooperative ownership in October. I was super excited because the event headliner was one of my heroes, MSNBC show host Rachel Maddow. I'd traveled hundreds of miles to see her.
Soon, nearly 300 people filed into the church, chatting about their hoped-for candidate for the U.S. Senate, Elizabeth Warren and their opinion of the senator she would replace, Scott Brown. They, too, were eager to see Rachel Maddow in the flesh for the first time. She didn't disappoint, but I'll get to that in a minute.
The grocery is called The Old Creamery because that's what the building was in the 1800s. It churned out 20,000 lbs. of butter per month from Western Mass. dairies. Looking around town or in The Old Creamery, one sees people here care about historical preservation, community, the environment and sustainability. Call residents old-fashioned, and they'll thank you.
The Old Creamery, Route 9, Cummington, MA
The Creamery's two owner/operators have run their business for 10 years with those values in mind, employing 26 locals and supporting 100 local businesses -- farmers providing veggies, fruits, lamb, chicken, pork, food suppliers, printers, artists, etc. The Creamery isn't just a natural foods grocery. It's also a café, a deli, a bakery, a hang-out and a stop-off for take-out dinner. From January to June, the Creamery hosts musicians, poetry readings, film nights, and cooking classes.
When the owner/operators Amy Pulley and Alice Cozzolino wanted to sell, they spread the word via their customers. (How many businesses consult the community before they contact a realtor?) Some of their patrons began more than a year ago forming a cooperative to buy the Creamery. Today, they're well on their way to raising the initial $250,000 needed for renovations this winter. Their longer-term goal is $1.2 million.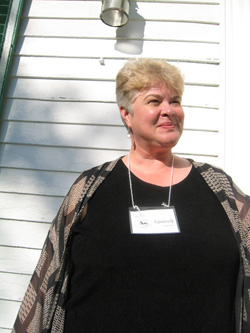 Saturday's event started with Kimberly Longey (photo at left), president of the Old Creamery Co-op Board (also COO of FreePress.net), introducing Pulley and Cozzolino. The crowd showed their love with loud shouts, whistles and cheers. "We feel the kind words, the hugs, from our customers," said Cozzolino.
Longey restated the Co-op's financial goal, then announced a new $20,000 challenge grant ending August 31. The business over, it was Maddow's turn. When she strode into the room, it was apparent we were all fans of the Rachel Maddow Show because another round of thunderous applause raised the old roof.
Next came a call for Maddow to "get up higher." So turning around, she placed one foot up onto a much higher platform on the dias and without using her hands, effortlessly lifted her nearly six-foot frame to that height. This feat drew more applause from the audience, mostly ages 45 and up.
Maybe some folks wondered how the Creamery Co-op Board could afford Maddow, who broadcasts to the nation from New York City. They soon learned that Maddow is also a fan of The Old Creamery. And that when she's not in New York, she lives in the area.
They also learned that Maddow in person is a comedienne -- that when she's let loose, as on this day, she's bursting with humor. And energy. Frequently shifting in her chair, changing leg and feet positions, using arms and hands to punctuate her words, she demonstrated double the energy one sees on her nightly show. She began by making two declarations: "I'll tell you right now I'm supporting Elizabeth Warren for the Senate" (crowd cheers), and "A true martini can only be made with gin" (more applause). She then sat down and began telling us how she landed in Western Mass.
I started out in California, going to public school there. Then I did my graduate work in England. But I ran out of money way before graduating, and it was illegal for me to work there. So I had to make a decision. My dad suggested I move in with his California friend, a Religious Right Republican (crowd laughter) who offered me a room with no view -- no windows. They figured that without any distractions, I could write my doctoral thesis.

Or, I thought, I could move to Northampton, Mass. (near Cummington). I'd heard 20/20 had called it "Lesbianville" plus some teachers of mine in California had moved to Goshen (nearby). So I weighed Northampton's qualities and saw I could be pretty miserable there, too. It was cold (I later went through a lot of cars in the snow). It was rural and people had dogs, and both of those sounded unpleasant. Plus I had no friends there. So I decided that Northampton would be a properly dismal place while I finished my dissertation.
Maddow then described a series of odd jobs she held (or didn't hold) during those early days:
I worked for Indigo Coffee Roasters, was a delivery person, but frequently had to be delivered myself -- towed out of snow banks. One job was washing buckets. And once I was recommended for a job digging out tree stumps like this: "We know this Rhodes scholar who..." That job lasted one afternoon.

Then I was dared to audition for a job on the "Dave in the Morning" radio show. That worked, and I became "the news girl" for a year. I got my thesis done, then in August, 2001, I went back to England to defend it and get my doctorate. I thought I would move to either San Francisco or New York and go into AIDS activism and prison reform. But just then, I was offered and took a spot on Air America (ed: Democratic radio show, now off air), and right away, September 11 happened. In reporting about this, I realized, "I can do that; I can explain stuff.

I was up here when 9/11 happened, and we didn't have a TV. What I wanted was to head for the Creamery to be with people. So I did. And that's what the Creamery is to me -- it's a pathway, a way of keeping us together. This area is home to me.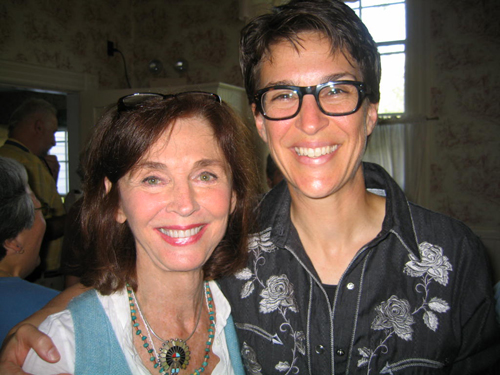 Writer Linda Hassler and MSNBC host Rachel Maddow
The bulk of Maddow's time then turned to Q&A about her network's role, her bosses, her show's role, Washington and broadcast news media. But there was still some humor left when the last questioner asked Maddow for "a good summer cocktail recipe." Her answer involved "smashing cherries." The recipe may be had through The Old Creamery quite soon along with a sandwich they will name in Maddow's honor. "The Rachel Maddow?" she inquired. Stay tuned at www.oldcreamery.coop.
The Co-op has sold approximately 425 of the 500 shares it issued at $150 each.

Calling all HuffPost superfans!
Sign up for membership to become a founding member and help shape HuffPost's next chapter