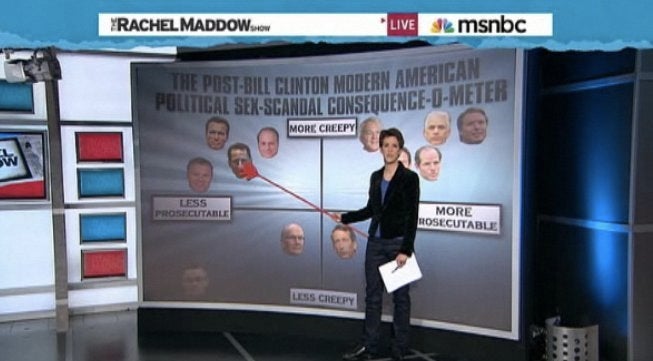 Rachel Maddow addressed the Anthony Weiner scandal by placing the Congressman on a patented chart that she came up with called the "Post-Bill Clinton Modern American Political Sex Scandal Consequence-O-Meter."
Weiner was, of course, a so-called "friend of the show." Maddow did not mention the fact that Weiner had come on her show and told her the same falsehoods about his infamous Twitter photo that he told other journalists. Instead, she ran through a fairly comprehensive list of (all male) politicians who had found themselves caught up in sex scandals, and put them all on her chart. The chart, which Maddow acknowledged bears a resemblance to New York magazine's famous Intelligence Matrix, had two axes: from More to Less Creepy and from More to Less Prosecutable.
Maddow placed Jim McGreevey, Mark Sanford, John Ensign, David Vitter, Eliot Spitzer, Mark Foley, Eric Massa, Chris Lee, Larry Craig, Arnold Schwarzenegger and John Edwards in various places on the chart before getting to Weiner. (She used a red "grabby hand" as a pointer.) Edwards "won" the contest, with Maddow dubbing his scandal both the creepiest and the most prosecutable.
Weiner wound up fairly high on the "creepy" axis, but fairly low on the "prosecutable" axis. Maddow dubbed his case "kind of creepy."
WATCH:
Calling all HuffPost superfans!
Sign up for membership to become a founding member and help shape HuffPost's next chapter