Rachel Maddow tore into the Associated Press on her Thursday MSNBC show for what she called the news service's "shockingly bad article" about the way in which the abortion debate played a significant role in the Wichita, Kansas district attorney primary race.
Incumbent district attorney Nola Foulston stepped down from her post and two Republican candidates were campaigning for her seat. The Associated Press wrote that one of the two candidates, deputy district attorney Marc Bennett, had support from Foulston to succeed her, a factor that was described in the article as "a liability," as Foulston was unpopular amongst anti-abortion voters.
During her tenure, Foulston did not prosecute the late Dr. George Tiller, who was being charged at the time with performing illegal late-term abortions. After charges were dropped, he was shot to death by an anti-abortion activist.
According to the Associated Press, "While Foulston has insisted she was simply upholding the law, many abortion opponents blame her for derailing [Attorney General Phill] Kline's prosecution and, ultimately, for Tiller's death." The piece also quoted the president of anti-abortion group Operation Rescue. The man who shot Tiller had the name and phone number of Operation Rescue's policy director on a piece of paper stuck to his dashboard.
Maddow seemed shocked by the Associated Press' description of the race in Kansas and inclusion of a quote from Operation Rescue. "What? This is just astonishing," Maddow said. "Yes, the blame for the doctor being shot to death by the anti-abortion activist...lies with the district attorney who didn't prosecute that doctor for something or other. He didn't get prosecuted so obviously, he had to be shot, so says Operation Rescue, and so writes down the Associated Press, thus resulting in newspapers all over the country printing this absolutely wack-a-doo, uncontested, more than insinuation."
Maddow said that the article appeared in the press almost a week earlier, and she had not said anything because she kept expecting the AP to retract the piece. "The AP besmirched Tuesday's Kansas primary with this trash that they published," Maddow said. "Before this week is up, the AP ought to retract what they published and they ought to apologize."
Before You Go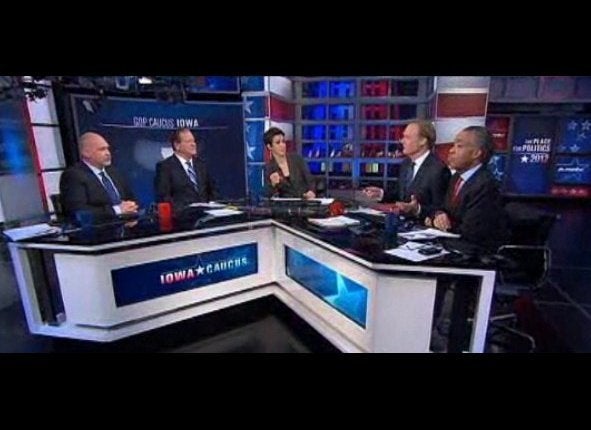 Rachel Maddow
Popular in the Community