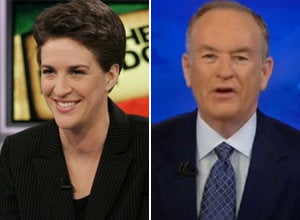 Rachel Maddow called Bill O'Reilly a "race-baiting f*ck," CNN tried to hire Keith Olbermann and Chris Matthews wanted Phil Donahue out of MSNBC.
The cable news business is notoriously competitive, as Sherman captures in his feud-heavy, 6,000-word-plus article. Below, just a sampling of some of the feuds unveiled in the piece -- read the full article at NYMag.com for more.
Rachel Maddow vs. Bill O'Reilly
After O'Reilly called Maddow an "NBC News loon," Maddow said she wanted to respond by wearing a loon suit. "Sorry, you really hurt my feelings," she said referencing O'Reilly. "I am a loon. I'm on the Canadian dollar bill. It's awful...but you, however, are also a race-baiting fuck."
Keith Olbermann vs. Joe Scarborough, Dan Abrams, & MSNBC colleagues
Olbermann is portrayed in the article as a cable news star, but one that can be difficult to work with. MSNBC boss Phil Griffin acknowledges, "It's always complex because of management and Keith." Olbermann refused to comment about Joe Scarborough ("I have no comment about him") and downplayed Dan Abrams' time running the network ("Dan never really ran it. He's always tried to ride my coattails"). "There's a story that [Olbermann] told his producers to communicate with him by leaving notes in a small box positioned outside his office," Sherman writes of one Olbermann legend floating around 30 Rock.
Jon Klein vs. Jim Walton
Recently-fired CNN/US President Klein clashed with CNN/Worldwide President Jim Walton on several issues, Sherman writes, including importing Olbermann to CNN in 2006. Klein wanted to bring MSNBC's star to CNN, but Walton resisted, telling colleagues, "I'm not gonna be the guy who's gonna turn CNN into an opinion network." Walton also cast doubt on Anderson Cooper, the star Klein was building his network around. "We may be creating a star, but not for us," Walton told Klein. Walton unceremoniously fired Klein last month.
Chris Matthews vs. Phil Donahue
In 2002, a gossip item ran saying that Matthews, who saw himself as MSNBC's biggest star, saw Donahue as a huge threat to the network. Donahue was gone soon thereafter, though Matthews told Sherman he had nothing to do with that decision.
Related
Popular in the Community