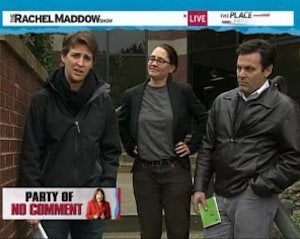 Feeling the professed frustration of Christine O'Donnell's lack of "public events," Rachel Maddow and the producers of the Rachel Maddow Show made a quick jaunt to the Republican Senate candidate's campaign headquarters on Tuesday, only to be booted from the office.
Bill Wolff, executive producer of the Rachel Maddow show, described an encounter with an unreceptive O'Donnell official:
"What show are you representing?" the man asked him, according to Wolff.
"The Rachel Maddow Show," Wolff said he responded.
By Wolff's account, the man told him "that's unacceptable," and described Maddow's behavior toward O'Donnell as "classless." He then directed a little "visual scorn" at the producers, Wolff said.
Show producer Laura Conaway described the experience as "a little like getting bounced from a bar," and later explained that "as we left they asked the young man who had let us in to position himself outside the door so that no one else would just get buzzed in that way."
The producers, who claimed to have entered the office without cameras to avoid an "ambush" interview, said they were treated as if they had "stormed in."
"We can't find the O'Donnell campaign and when we did find them they insulted us and told us to leave," Maddow said. "It's hard to cover both sides."
The impromptu visit was attempted, Maddow said, only after "a lot of different means" of communications were tried unsuccessfully.
Earlier in the day, the Maddow crew had stopped by an event held by Democratic Senate candidate Chris Coons to talk to supporters.
Calling all HuffPost superfans!
Sign up for membership to become a founding member and help shape HuffPost's next chapter