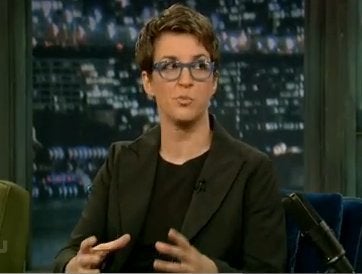 Rachel Maddow revealed Monday night on "Late Night with Jimmy Fallon" that she suffered from swine flu.
"I had the flu," she told Fallon. "The capital F Flu. I went and I got diagnosed, and everything, and I got the special swine flu drugs. I'm better!"
"The audience should be in a bubble right now," Fallon told her.
"It was a really stanky flu and I had to take a week off," she said.
Maddow added that while health care is usually "the most boring topic in the whole world," it's "been really fun to cover" because of the "dramatic," "crazy" opposition.
Maddow would also divulge that her first date with partner Susan Mikula was at a shooting range.
"I like making liberals shoot guns, I just don't think we should be able to take them home," she said.
In the second segment, Maddow and Fallon made a White Lady cocktail.
Related
Popular in the Community