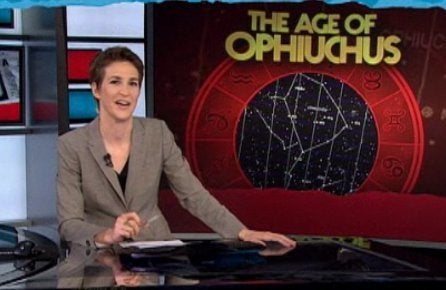 Speaking on her Thursday show, Maddow took viewers on a whirlwind tour of the changes to the Earth's magnetic fields that led some astronomers in Minnesota to the new signs. She even managed to bring the Tampa International Airport in Florida into her discussion. Then she dropped a bombshell: her own sign had supposedly changed, from an Aries to a Pisces. Maddow insisted that she was sticking to Aries, thank you very much:
"Despite not believing really in astrology, I insist on remaining an Aries. And never mind the freaking Minnesota Planetarium Society and their big facts about the universe. No matter what they say, I am not trading the mighty Aries ram for some tiny pair of fish and life as a Pisces. I'm not doing it! But I am sort of psyched that even as we tiny little things on the Earth's crust lament that things on the Earth's crust, things here in our world can't change, the very Earth, the universe, mocks us by itself changing and by forcing us to adapt. I love that."
WATCH:
Calling all HuffPost superfans!
Sign up for membership to become a founding member and help shape HuffPost's next chapter