It was a vintage Rachel Maddow stemwinder. A deft, 25-minute weaving of carefully curated sound bites, screenshots of news reports, slick maps and graphics, all strung together to make the case that something fishy is afoot. It's a style Maddow has perfected, and it has propelled her to the top of the ratings heap.
There was just one problem. Maddow's theory was so flimsy that it could be debunked by a quick glance at a map, let alone a phone call with an expert.
Janet Malcolm of The New Yorker recently described Maddow's show as "a piece of sleight of hand presented as a cable news show. It is TV entertainment at its finest. It permits liberals to enjoy themselves during what may be the most thoroughly unenjoyable time of their political lives."
Thursday night's entertainment came as an attempt to pin the ambush that killed four Green Berets in Niger earlier this month on President Donald Trump's newest proposed travel ban, which was scheduled to go into effect this week but was struck down in federal court. Maddow seized on the revised ban's inclusion of Chad, one of Niger's neighbors and a U.S. partner in counterterrorism efforts in Africa.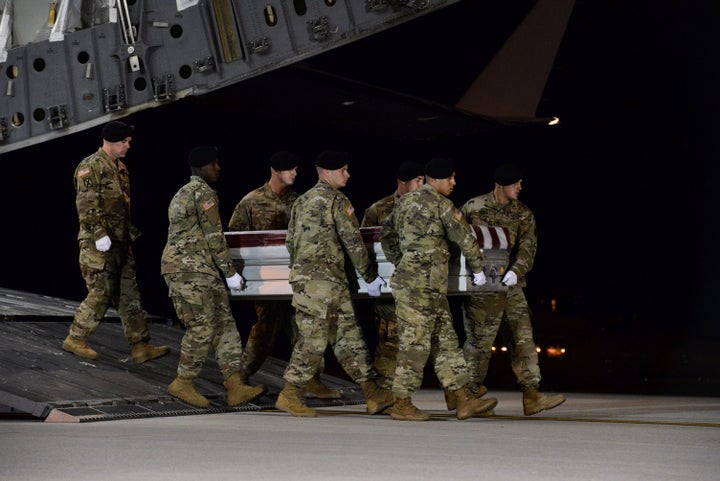 An expert, Maddow noted, warned that the decision "could put Americans in harm's way." Last week, when the Chadian government announced that it had completed the two-week process of pulling out all of its troops from Niger, the move was viewed as related to the travel ban, she claimed.
An uptick in extremist attacks has ensued, Maddow added, which "might explain why we have just had these four absolutely unbelievable gut-wrenching emotional days in American politics and in D.C. in particular."
Maddow's segment was designed to strongly suggest, without outright stating, that Trump's addition of Chad in his latest travel ban prompted the country to remove its troops from Niger, leading to an increase in extremist attacks and ultimately claiming the lives of four U.S. soldiers.
Chad's pullout from Niger "had an immediate effect in emboldening ISIS attacks," Maddow said.
That appears to be false. According to the Council on Foreign Relations and accounts from local residents, the attacks that have increased can be traced back to militant group Boko Haram, which is based just across the border in Nigeria. A group of Boko Haram militants broke away and formed the Islamic State West Africa, Laura Seay, an assistant professor in Colby College's Department of Government, told HuffPost. But they are separate from the so-called Islamic State in the Greater Sahara, the group that reportedly carried out the ambush (although no group has claimed responsibility for the attack).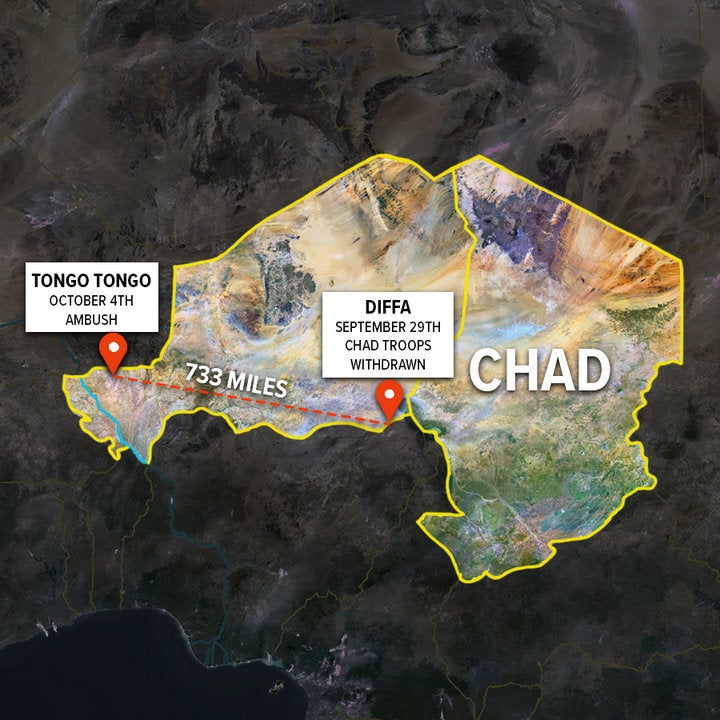 Chadian troops were present in Niger specifically to ward off the Boko Haram threat ― they had nothing to do with Islamic State in the Greater Sahara. They were also based almost 800 miles away, in an area called Diffa that's long been battling the group, Seay said.
Any expert asked about Chadian troops battling ISIS in Niger would have said "No, that's crazy," Seay added. "Everybody that I know is appalled by this. I would like to think that Maddow's researchers are more responsible."
Plus, the pullout of Chadian troops isn't necessarily related to the travel ban, as Maddow implied. "It may have already been planned and [the travel ban] was the straw that broke the camel's back," Seay said. "Chadians didn't want to keep their forces there forever and were at least looking to scale down. If we do see the travel ban lifted I'm not sure you'd see the Chadians go back in."
Maddow quoted a colonel who said the ambush was "not expected." But an attack of this nature was "almost inevitable," Seay added, seeing as American special forces teams are operating in remote areas in an "advise-and-assist" capacity, training military personnel across the region. Army Green Berets, for example, have gone to the Mali-Niger border 29 times in the last six months.
And even though they're technically in an advisory capacity, it's not uncommon for these troops to end up in the line of fire, she noted. "They go on patrol with local military so they're technically not fighting. But really they're right there together."
"There has been an increase of violence in this area and nearby areas for more than a year, and the overall security situation has been getting worse," said Andrew Lebovich, a visiting fellow with the European Council on Foreign Relations.
The Rachel Maddow Show declined to comment to HuffPost.
The Trump era has been a boon for the Rachel Maddow Show. It was the highest rated cable news program in total viewers and the coveted age 25-54 demographic in the most recent quarter this year.
"By reducing the story to its mythic fundamentals," Janet Malcolm wrote earlier this month, "Maddow creates the illusion of completeness that novels and short stories create. We feel that this is the story as we listen to and watch her tell it."
It's a tactic that right-wing hosts like Sean Hannity and Alex Jones have perfected, building myths using unrelated or unreliable information in ways that brought us the birther lie and the Benghazi controversy, putting the country on a path to fake news and the Trump presidency.
On Thursday, Maddow reduced the story so thoroughly that it lost any semblance of the larger truth.
CORRECTION: An earlier version of this article stated that Maddow referred to the ambush as "absolutely baffling." Since she was actually referring to the removal of Chadian troops, that has since been removed.
Support HuffPost
The Stakes Have Never Been Higher
Related
Popular in the Community