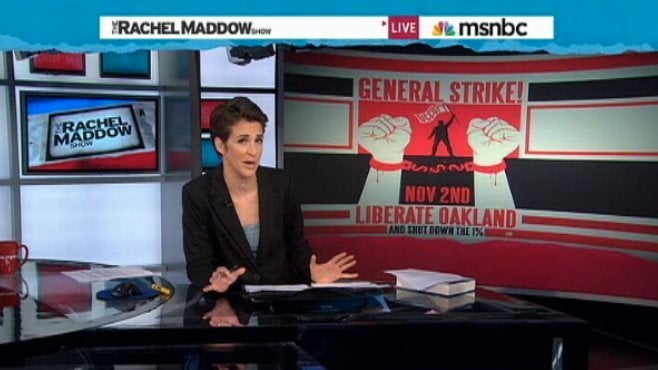 The strike drew tens of thousands of people into the streets all day, and protesters successfully closed the Oakland port by nightfall.
Maddow began her segment by recounting her childhood growing up in a Bay Area suburb. She said she had always been overwhelmed by the visual splendor of San Francisco, and, when she had to go back to her small town, she would take comfort in an Oakland icon: the Grand Lake Theater, an old movie theater whose luminous neon sign stands out in the city's skyline.
As it happened, the Grand Lake was one of the businesses that shut down in support of the general strike on Wednesday. Maddow said this was in keeping with the mood of a general strike, which, far from targeting a specific business or practice, is a way to show that, in her words, "the people striking are all on the same side together."
Maddow then noted that Oakland has seen a general strike before, in 1946. She drew parallels between that action and Wednesday's. In both cases, she said, the strike did not arouse mass popular support until police violently cracked down on peaceful protesters. She played a clip from a documentary about the 1946 strike, featuring a man denouncing the police for "beating me off of my own streets." The Oakland police have faced intensive criticism--and plunged the city's mayor into a deep political crisis--for their aggressive raid on the Occupy Oakland protests, including their attack on Iraq veteran Scott Olsen.
Maddow said that the decision by the police to launch what she called "a shock and awe campaign of militarized force" had been the catalyst for Wednesday's general strike. She concluded that the message of the strike was simple. "This about saying the system shouldn't only work for the rich," she said. "Period."
WATCH: