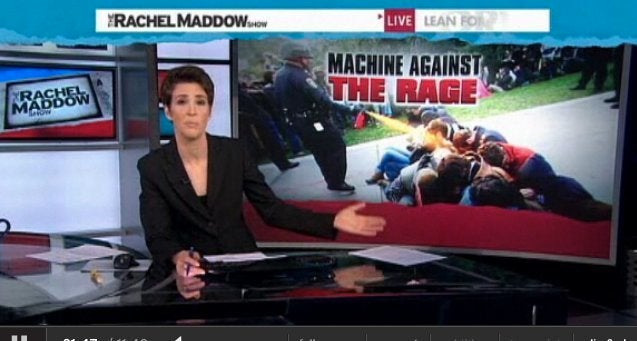 Rachel Maddow discussed what she believed was the violent nature of "nonlethal weapons" on her Monday show.
Maddow was speaking after a string of Occupy protesters in various cities across the United States had been significantly injured by police.
Iraq War veteran Scott Olsen at Occupy Oakland was hit in the head with a police projectile after tear gas was used to disperse protesters. Olsen suffered a fractured skull. Seattle's Dorli Rainey, the 84-year-old woman who participated in the Occupy protests, became an internet sensation after footage of police pepper spraying her went viral. Most recently, police at UC Davis repeatedly pepper-sprayed peaceful protesters who were sitting with linked arms during an Occupy demonstration.
Maddow took viewers through a variety of "nonlethal weapons" that, according to her, "are not meant to kill you, even if they hurt so bad you wish they did." Maddow said the argument for using these types of weapons, such as taser guns, was that those "in the military field and the criminal justice field...switch from a gun to a nonlethal means to getting what [they] want without using deadly force."
Maddow further argued that nonlethal weaponry was not used often as a substitute for lethal force, but rather "increases the number of occasions [and] types of occasions when force is used at all." She contrasted this concept with the aforementioned Occupy incidents in which protesters were significantly injured despite police using "nonlethal" means.
Maddow said that "new weapons with new uses mean that [police] have the opportunity to use force a lot more than [they] did before." She further hammed this point and said, "Without having pepper spray as an option, I cannot believe that Seattle police would have shot 84-year-old Dorli Rainey. Without tear gas, Oakland police would not have shot Iraq war veteran, Scott Olsen. Without pepper spray, UC Davis campus police, I do not think, would have shot those 11 protesters with live ammunition." She added that "because police have these nonlethal ways to use force, they used it." Maddow called this "the day-to-day reality of the protesters in the Occupy Wall Street movement across the country right now."
WATCH:
Calling all HuffPost superfans!
Sign up for membership to become a founding member and help shape HuffPost's next chapter