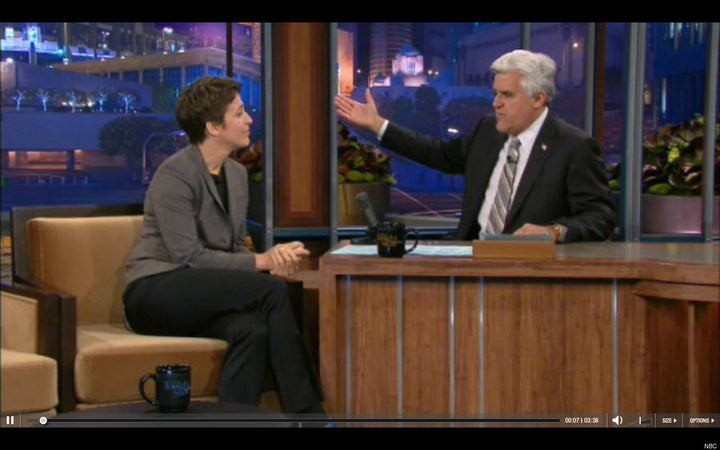 Rachel Maddow visited "The Tonight Show" Wednesday, where she discussed her recent visit to the Gulf to cover the oil spill.
When Leno asked Maddow about her reaction to the Gulf visit, Maddow said she was distressed, and nearly panicked during a boat ride on the oil-filled waters.
"I was more upset than I thought I would be by just being there," she said. "Being there, it's claustrophobic. I remember being out on the water — there was a lot of oil — and I had this sort of panicky feeling like I needed to get to fresh air."
"I didn't have a panic attack but I felt very bad," Maddow continued. "There [was] sort of a flashing sign in my mind saying 'this is broken, this is broken.'"
Throughout the segment, Maddow stressed that the oil industry has not done enough to improve safety technologies in the past 40 years, and that even the limited clean-up technology was not being properly used.
"The oil industry generally...hasn't come up with any new clean-up technology since before I was born," she said. "The technology is so lame...But even that lame technology that we have, we're not doing it right...we could be doing a much better job."
WATCH:
For his part, Leno seemed eager to ensure that justice would be served.
"Somebody need to go to jail here?" he asked.
Maddow responded that while jail time for guilty parties might be warranted — and would be a step towards justice for the families of the 11 victims killed by this "man-made catastrophe" &mdash improving safety regulations and ramping up clean-up efforts should be top priorities.
"You shouldn't be allowed to drill somewhere, if when something goes wrong — inevitably — at that drill site, you don't know how to clean it up. It just shouldn't be approved that way," she said as the audience applauded.
Calling all HuffPost superfans!
Sign up for membership to become a founding member and help shape HuffPost's next chapter