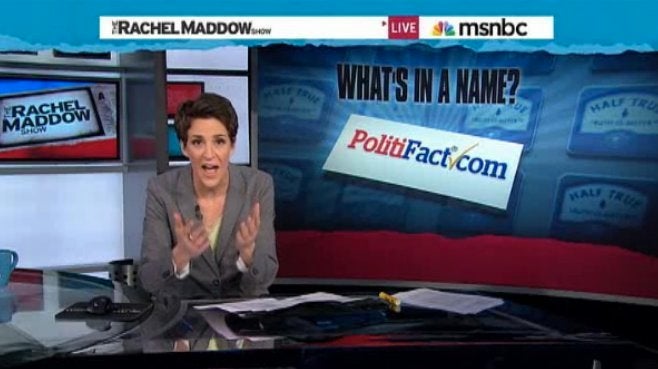 Rachel Maddow lit into controversial fact-checking outfit PolitiFact with notable fury on her Wednesday show, hammering the organization for a series of statements it made about President Obama's State of the Union address.
During the speech, Obama said: "In the last 22 months, businesses have created more than three million jobs. Last year, they created the most jobs since 2005."
PolitiFact found both statements to be true. But, it initially said, "he went too far when he implicitly credited his administration policies. So we rate the statement Half True."
Maddow has tussled with PolitiFact over her own statements before, and the group attracted a torrent of criticism from progressives when it dubbed Democratic talking points about Republican plans for Medicare as its "Lie of the Year" for 2011. But she did not address either of those things on Wednesday. Instead, she looked agog at PolitiFact's latest choice.
"PolitiFact, what is wrong with you?!" she cried. "You think the president calls himself 'Businesses' like it's a nickname for himself? ... what are you talking about?"
As she noted, PolitiFact later changed its rating of the statement after an outcry of, as she put it, "half of the English-speaking Internet." PolitiFact's new rating, though, failed to mollify the MSNBC host, since the group revised its assessment to just "Mostly True."
This prompted what is surely the most impassioned rant heard on "The Rachel Maddow Show" for some time:
"PolitiFact, you are fired. You are a mess! You are fired! You are undermining the definition of the word fact in the English language by pretending to it in your name. The English language wants its word back. You are an embarrassment. You sully the reputation of anyone who cites you as an authority on fact-ishness, let alone fact. You are fired."

WATCH:
Popular in the Community