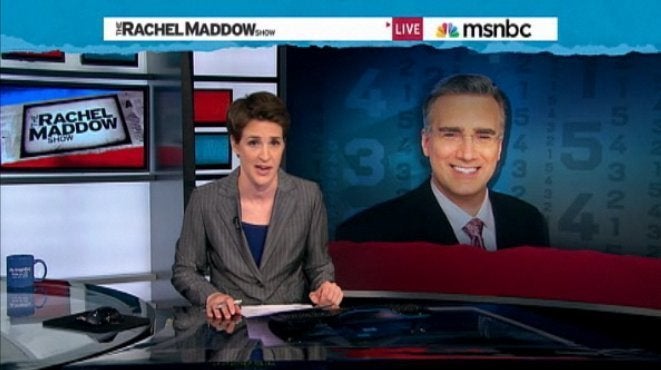 On her first show without him as a lead-in, Rachel Maddow thanked Keith Olbermann for bringing her to MSNBC and for being "freaking successful" in getting liberal voices on television.
Speaking on Monday night, Maddow credited Olbermann with pushing the network to hire her. "There is no way I would have ended up with a show on this network had it not been for Keith," she said, noting that he had made her a regular guest and then his regular fill-in host. She also praised Olbermann for "clearing space" for liberals to openly tout their political views on television.
The way he had cleared that space, she said, was by "not only voicing his own opinion but by being really freaking successful while he did it. If you want to be a pioneer, don't just be the first person like you to do something, be the first person like you to do it brilliantly. That's how you change the world, so others like you get chances too."
Maddow said that she was sorry that "Keith and MSNBC decided to end his run here," but she assured viewers that Olbermann's somewhat messy departure had "no effect on the editorial independence that makes it possible for me to do this work."
Popular in the Community