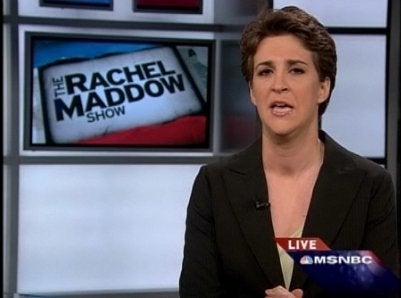 Much was made last week when Tuesday's broadcast of "The Rachel Maddow Show" drew the smallest audience Maddow had seen since she joined MSNBC last summer, averaging 789,000 total viewers. According to Nielsen Media Research, Friday's (May 15) program drew just 763,000 total viewers, setting a new series low. Friday's program also drew Maddow's smallest Adults 25-54 audience ever, averaging just 163,000 demo viewers. Maddow did, however, beat Larry King on Friday, who averaged just 645,000 total viewers.
Maddow's ratings have cooled since the election frenzy of the fall, where she burst onto the cable news landscape with impressive numbers. In March, she averaged 1.133 million total viewers for her lowest month to date — in April, however, she came just shy of that with 1.042 million total viewers (setting a new monthly low). That said, her April 2009 ratings represented a 98% increase over April 2008, in which Dan Abrams' "Verdict" averaged just 527,000 total viewers in the same 9PM time slot.
Maddow's largest audience came on October 30, 2008, when she averaged 3.041 total viewers.
Friday night in Maddow's timeslot, mothership network NBC aired ratings boon "Farrah's Story," which attracted 9 million viewers and may have taken viewers away from MSNBC.