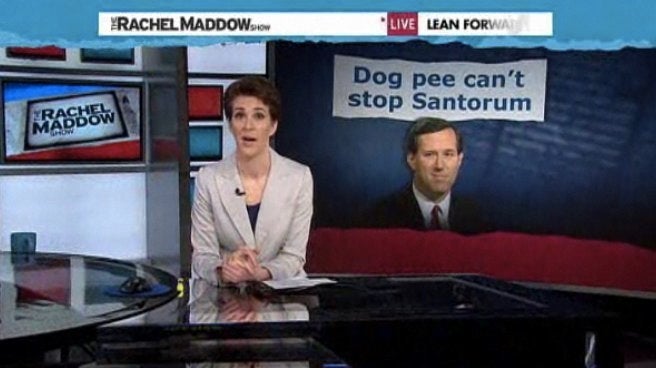 Rachel Maddow tried to help former Pennsylvania Senator Rick Santorum with what she called his new "Google problem" on her Friday show.
Santorum is running for the 2012 GOP presidential nomination, but he has a big problem to overcome. Maddow deftly described his Catch-22: Santorum needs more people to Google him if he wants to gain more recognition and support for his campaign. But when people do Google the term "Rick Santorum," the first few results that pop up have to do with...well, just Google "Rick Santorum" and you'll find out if you didn't already know.
But, as Maddow almost pityingly pointed out, Santorum does not seem to be helping himself, if one of the latest articles about his stump speeches is to be believed. The article, from the Sarasota Herald-Tribune in Florida, is entitled "Dog Pee Can't Stop Santorum." That memorable headline comes from a story that Santorum chose to tell in a speech in Sarasota. As Maddow read the anecdote to her viewers, she sighed.
"Jeez, I can't believe this," she said. The anecdote, reprinted in full below, describes an encounter Santorum had with a woman and a dog on the campaign trail:
The lady comes back she hands me the water. I'm patting the dog. And taking a drink. The next thing I know I have this warm sensation. And I immediately jump up and there on my tan pants, is a wet spot where you do not want a wet spot. So I get up. And she says "let me get that." And I said: "No. That is okay, I'm fine thank you." She says "I can get a hair dryer.' I said "no, were not going to do that either." Then she offered to have me take my pants off and put them in the dryer. And by that time I was almost out the door. I thanked her for the water and for the experience. And said "I'll be fine." I get out the door and I walk out on the side walk. I'm half way through the neighborhood. What do you do? And I looked at the street list. I've been out here for two hours and I haven't met many people. I'm not going to meet very many people. By the time, in 10-15 minutes, it will dry and no one will notice it an it will be fine. So what do you do? Soldier on.

"Dog pee's on you, soldier on," Maddow summed up. She then noted that the origin of the more unsavory use of the term "Santorum" arose from a notorious interview that the then-Senator gave to the Associated Press in 2003, in which he compared homosexuality to "man-on-dog" sex. (This, of course, prompted what is perhaps the greatest reaction from a reporter in journalistic history: "I'm sorry, I didn't think I was going to talk about 'man on dog' with a United States senator, it's sort of freaking me out.")
Now, Maddow said, Santorum has potentially made this whole issue worse. "Mr. Santorum is trying to undo what started as his man-on-dog problem with a new stump speech about a man. and a dog. And a warm sensation," she said. "Run, Rick, run."
She then revealed that, in an act of altruism, her staff had purchased the domain name "dogpeecantstopsantorum.com" so that no political pranksters could use it against Santorum. The domain redirects to Maddow's blog.
WATCH:
Related
Popular in the Community