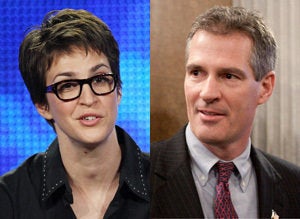 Rachel Maddow isn't planning to challenge Scott Brown for his senate seat in Massachusetts. Whether that's good or bad for Brown will be decided by the pundits -- and donors.
Brown sent a fundraising email on Tuesday, obtained by the Daily Beast, asking donors for help with a political season that "never ends." The message begins:
It's only been a couple of months since I've been in office, and before I've even settled into my new job, the political machine in Massachusetts is looking for someone to run against me. And you're not going to believe who they are supposedly trying to recruit--liberal MSNBC anchor Rachel Maddow.

Rachel lives in western Massachusetts, and recently it was reported that the chairman of the state Democratic Party had apparently tried to reach out to her in an attempt to coax her into a race against me.
Later that evening, Maddow chuckled throughout a denial of Brown's suggestion that she's being recruited to run. "It's completely made up by [Brown]," she told Bill Wolff. Normally the executive producer of The Rachel Maddow Show, Wolff took the host's chair as Maddow recused herself "for the first and probably last time."
The bewildered Maddow found herself in two unexpected positions: a guest on her own show and a fundraising catalyst. "The fear of Rachel Maddow is what he's raising money on in Massachusetts," she observed before joking, "Massachusets donors, open your wallets! Maddow's coming!"
The rumors may have originated with a Facebook page started by a friend of Maddow, as well as a vague Tweet sent by Massachusetts Democratic Party Chairman John Walsh. The MSNBC host suggested that the page was a joke ("there's a Facebook page for a lot of things") and pointed out that Walsh's tweet about the campaign made no reference to her.
"Why didn't they just call and ask me if it was true before sending out the fundraising letter?" she wondered.
Calling all HuffPost superfans!
Sign up for membership to become a founding member and help shape HuffPost's next chapter