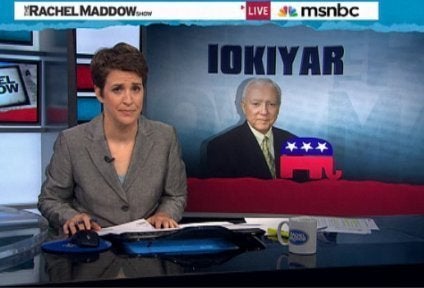 The Illinois Senate race has been dramatic from the beginning. First, Barack Obama was elected President, vacating the seat. Then, former Illinois Governor Rod Blagojevich allegedly tried to sell it. Now, both the Republican and Democrat vying for the seat currently held by Roland Burris can't seem to avoid negative attention.
This week, however, has been Mark Kirk's turn for bad press.
Just weeks after the New York Times broke the story about Connecticut Attorney General and Senate hopeful Richard Blumenthal's false military service claims (he said he served in Vietnam when he actually served stateside), the Washington Post published a story about Kirk's false military service claims.

The Post reported that Kirk has been touting a Navy award that he never won. The campaign called it a misunderstanding and tried to move on, but people had more questions. On Wednesday, the Kirk campaign acknowledged that he never served in "Operation Iraqi Freedom" as previously stated--he served stateside as well.
The comparisons between Kirk and Blumenthal have been made by the media and voters alike, but apparently Republican Utah Sen. Orrin Hatch thinks the cases are quite different--probably because Blumenthal is a Democrat, and Kirk is a fellow Republican.
After the Blumenthal story broke, Hatch penned the Stolen Valor Act, a bill that would make misstatements about military service punishable by up to six months in jail. The bill targets Blumenthal, but Hatch spokeswoman Antonia Ferrier told POLITICO on Tuesday that it would not affect Mark Kirk.
In her show on Tuesday night, MSNBC's Rachel Maddow compared the Kirk and Blumenthal cases, criticized Hatch for his partisanship on the matter.
Related
Popular in the Community