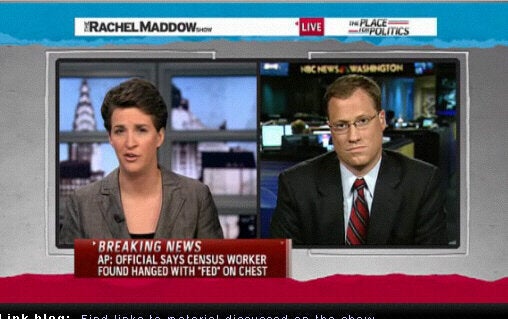 Last week on MSNBC's The Rachel Maddow Show, NBA star Tracy "T-Mac" McGrady and I had the chance to discuss the ongoing crisis in Darfur.
Along with Derek Fisher of the Lakers and Baron Davis of the Clippers, Tracy is one of the three co-captains of the Darfur Dream Team Sister Schools Program. This initiative links American schools to schools in the Darfur refugee camps in Chad, aiming to help provide a quality education to the refugees of Darfur (www.darfurdreamteam.org).
Thanks to Tracy's leadership, the involvement of groups like the Enough Project and UNHCR, and contributions from the public, nearly $200,000 has been pledged and 288 American schools have signed up to participate.
In the segment, Rachel points out that many human rights advocates are disappointed that the campaign promises to act on Darfur -- not just from President Obama, but also from Secretary of State Clinton and Vice President Biden -- haven't yet materialized in the Obama administration's approach. But, she added, "the pressure is not going away," in part because of celebrities "who won't let it go away."
As I told Rachel, "As a candidate, [Obama] had been so clear about the need for American diplomatic leadership ... The answer is not sending in the 82nd Airborne. The answer is real, serious American political diplomatic engagement in support of a sustainable peace in Sudan."
The U.S. needs to work to put forward a peace proposal for Darfur that addresses the causes of the crisis there. And it needs to unequivocally and robustly support the necessary steps to the national election and referendum for southern Sudan that are spelled out but not yet implemented in the North-South peace deal.
Check out the full segment:
John Prendergast is Co-Founder of Enough, the anti-genocide project at the Center for American Progress in Washington, D.C.
Popular in the Community