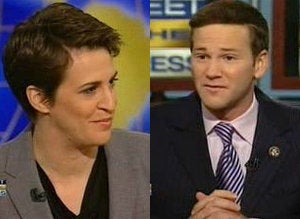 A heated exchange took place during NBC's "Meet the Press" on Sunday when MSNBC host Rachel Maddow accused Rep. Aaron Schock (R-Ill.) of hypocrisy for railing against a spending bill in public while touting its benefits in his home district.
Appearing alongside each other during a panel session, Maddow pivoted from a discussion on job creation to note that Schock had appeared at an event on Friday touting a grant program that he had voted against.
"You, in your district, I just read that you were at a community college touting a $350,000 green technology education program, talking about how great that was going to be for your district," she said. "You voted against the bill that created that grant. That's happening a lot with Republicans sort of taking credit for things that Democratic bills do and then Republicans simultaneously touting their votes against them and trashing them. That, I think, is a problem that needs to be resolved within your caucus. Because you seem like a very nice person but that is a very hypocritical stance to take."
A somewhat taken-aback Schock insisted that Republicans were "not consulted on the stimulus bill" and shouldn't be blamed for the lack of a bipartisan vote for its passage. This didn't really get to Maddow's point. So after some back-and-forth among the other panelists, Schock jumped back in.
"I think the argument that liberals are making is absolutely ridiculous," he said. "With all due respect, Rachel, does that mean you are going to give back your Bush tax cuts that you continue to rail against. The fact of the matter is our country operates and is governed by a majority. And I, along with almost all my Republican colleagues and a good number of Democrats, have voted against the stimulus, the omnibus and all this runaway spending. But we lost those battles in the House... At the end of the day my constituents and their children and grandchildren will be on the hook for the deficit being created by this majority and they deserve to their fair share of federal spending."
New York Times columnist David Brooks -- appearing alongside Maddow and Schock -- chimed in to suggest that the argument over who should take credit for the stimulus' successes exemplified what was wrong with Washington. But that debate seems likely to only grow in prominence leading up to the 2010 elections. This past week, the Washington Times reported that a host of Republican lawmakers were doing exactly the same thing that Schock was -- only with a bit more insincerity.
"More than a dozen Republican lawmakers, while denouncing the stimulus to the media and their constituents, privately sent letters to just one of the federal government's many agencies seeking stimulus money for home-state pork projects," the paper reported.
Regarding Schock's appearance at the green technology education program ribbon-cutting ceremony, the bill providing funds for that program was an omnibus-spending bill that Congress took up last spring. Maddow's point, nevertheless, remained the same.
"If you vote against the omnibus bill," she said at the end of the exchange, "if you complain about the omnibus bill, if you tout your vote against the omnibus bill, it is hypocrisy to then go to your district and go to a ribbon cutting ceremony for something that is funded by the omnibus bill that you voted against."
Watch the exchange at 2:20:
Popular in the Community