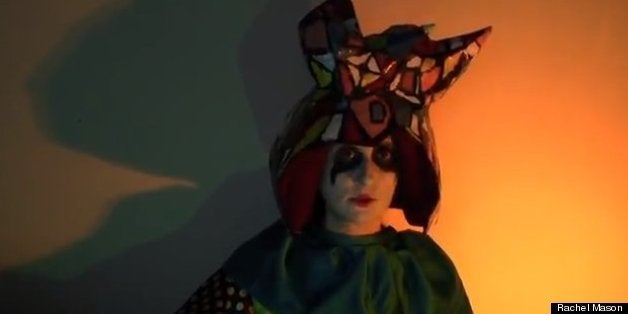 The politically-minded performance artist takes up the hot topic for her newest video piece, in which she delivers Rand Paul's entire 13-hour filibuster dressed as her alter-ego, FutureClown.
Huffington Post: How did you decide to tackle the filibuster in your work?

Rachel Mason: I happened to hear about Rand Paul's 13-hour filibuster on the news and as a performer, it just struck a chord. I perform a lot and think about what it is to simply perform for any duration. It just seemed like an epic durational performance piece.
HP: What interests you conceptually and aesthetically about the filibuster?
RM: In a strange way I would say aesthetically it almost feels like a Gertrude Stein novel. It's this sort of incredible repetition. You have to ad lib at moments, you have to be fast paced, it's like this marathon and there is a kind of athleticism to it. After watching it I started noticing all these nuances in pacing and the ways in which the language repetition gets truly absurd. I was also thinking about the way the Senate has to stand there and listen to this constant, endless babble.
There are so many strange moments, like when Senator Ted Cruz started reading tweets aloud in the middle of the filibuster. There was a moment where he says: "Rand Paul, you're blowing up on Twitter, let me read you some of these tweets." This is the U.S. Senate and he's reading these tweets! It was sort of interesting in comparison to Wendy Davis' filibuster; I would say her filibuster was way more severe. Paul's allowed for a lot of back and forth where other senators could chime in. Davis did not have that luxury; she really, truly just had to stand there and talk and talk.
HP: Tell us more about Future Clown. How did this character come about and how did she become a part of the piece?
RM: I have always had characters that I've used in order to better understand the world. It's almost like the Rand Paul filibuster happened and I immediately knew that FutureClown had to do it. It was almost instant. I've done many performances with FutureClown engaging in scenarios which also struck me in that same way. I don't really know why but suddenly I feel compelled to do a performance in this character.
HP: Is FutureClown simply a costume? Does it inhabit or change you?
HP: Did you perform all 13 hours of filibuster at once or break it into parts?
RM: I was working off of the YouTube video -- Rand Paul's actual YouTube channel. Anytime there was a break in the video I would have to reset it, change the lights and stuff to keep it exciting. I did as much as I possibly could for each cut. It took me three solid days, so I basically did it in one long, long shoot.
HP: What, in your opinion, is the relationship between political speeches and performance art?
RM: It is really amazing watching the senate, there are some truly beautiful performances. In particular I was really struck by a speech that Senator Dick Durbin gave -- it set him apart, like a cameo appearance in a film that stole the show. I was transported by his description of what it was like to be in the capital on 9/11. There was so much drama to it. Then we have Senator Marco Rubio talking about Jay-Z and senators quoting lines from "The Godfather." It is interesting to know this is what actually goes on in our government; this is our reality even though it is so bizarre.
Calling all HuffPost superfans!
Sign up for membership to become a founding member and help shape HuffPost's next chapter